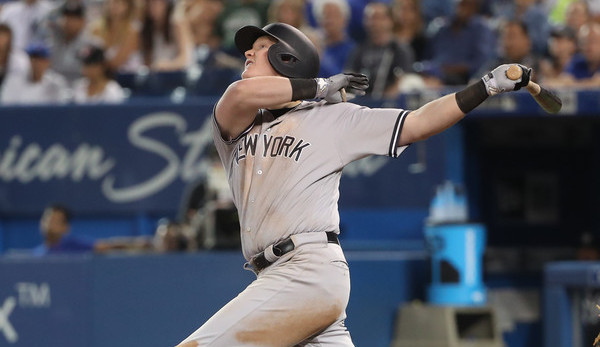 Last night, during their win over the Blue Jays, the Yankees received a much-needed breakout from their offense. They scored eleven runs last night after scoring 15 runs total in their previous six games, and their 17 hits were one short of their season high. No, they didn't face the best pitching, but who cares? The Yankees needed a night like that against any pitching.
Four of those 17 hits belonged to rookie first baseman Garrett Cooper, who wasn't even supposed to be in the starting lineup. Joe Girardi uses Cooper as a platoon bat against left-handed pitchers, but when Clint Frazier felt something in his oblique during batting practice, he was scratched from the lineup and Cooper was inserted. A 4-for-5 effort with a double followed.
Cooper became the first Yankees rookie since Joe Collins in 1950 to record four hits in a game, and that came one day after a two-hit game. He was the only Yankee to put up much of a fight against J.A. Happ on Tuesday. Cooper is 12-for-33 (.364) during his brief big league career, and while he's only walked once, I think his approach has been sound, especially the last two days. He hasn't been hacking wildly at pitches out of the zone.
Last night's outburst notwithstanding, the Yankees have had a real hard time generating offense the last week and a half — they needed Abe Almonte to misplay Jacoby Ellsbury's bases loaded line drive to get the big hit Sunday — and with Cooper starting to show signs of life, Joe Girardi should keep him in the lineup, even against righties. That's obvious, right? He's having some success and building confidence now, so keep running him out there.
Cooper is a first base only guy, which complicates things, but the DH spot is open with Matt Holliday on the disabled list. That pretty much takes care of that. Chase Headley has slotted in at DH the last two nights, and he could always play first or third on any given night, allowing Cooper or Todd Frazier to get the proverbial half a day off at DH. It would be nice if Cooper could play another position. That's not possible, so first base and DH it is.
I'm not the biggest Garrett Cooper fan in the world — a 26-year right-handed hitting first base only guy who never hit double-digit homers until playing in Colorado Springs doesn't excite me much — but my opinion doesn't matter. The Yankees aren't really in position to be picky right now. He's had good at-bats and good swings the last two nights, and the Yankees need as much offense as they can get, so Cooper should keep playing until the reinforcements arrive.