Four-game losing streak. The Yankees have scored six runs in those four games. It was abundantly clear which team went to World Series last year and which team has played one postseason game in the last four years Friday night. The Yankees were out-hit, out-pitched, out-defended, out-everything-ed in the 7-2 loss to the Indians. The Yankees are now 39-42 in their last 81 games.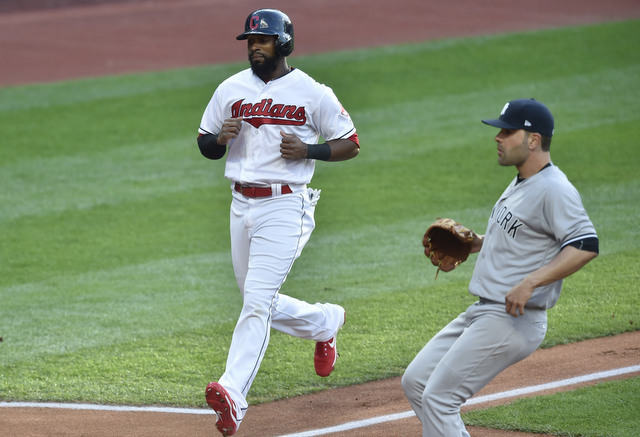 Garcia's Debut
Rough first start for Jaime Garcia, though his defense did him no favors. For the second straight night the right-fielder made an ill-advised throw and allowed a runner to score when the ball skipped away. Thursday night Clint Frazier's throw was airmailed into the dugout. Friday night Aaron Judge's throw short-hopped Todd Frazier at third and hopped into foul territory. Also, the Indians scored a run on a Gary Sanchez passed ball.
Garcia's biggest problem was the walks and the lack of control in general. He walked four batters in his 4.2 innings and threw a first pitch strike to only ten of the 22 batters he faced. The Indians had five hits against Garcia and all five were ground balls. Only three of those 22 batters hit the ball to the outfield. Normally, that's a good thing. When you keep walking dudes and the grounders keep finding holes, it's probably a bad thing.
All told Garcia allowed six runs (five earned) on five hits and four walks in those 4.2 innings. He struck out four. He's better than that. Gotta stop walking dudes though. Keep getting those grounders, hope the defense gets its collective head out of its butt, and go from there.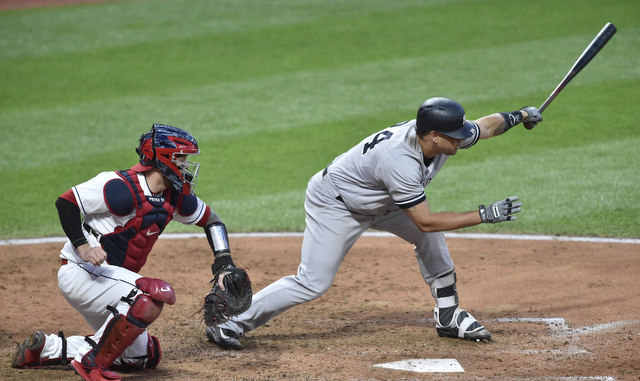 The Yankees Need A Bat (Or Three)
Of course, Garcia could have gone out and allowed two runs in eight innings Friday night, and it wouldn't have mattered. Another miserable night for the offense, this time against another bad pitcher. Trevor Bauer came into this start with a 5.25 ERA (3.90 FIP) on the season. He held the Yankees to one run in seven innings. The run was a Todd Frazier opposite field solo homer. Thanks for coming, Todd.
Getting shut down by Corey Kluber like the Yankees did on Thursday is one thing. Kluber's great and he's gonna have starts like that against everyone. Tip your cap and move on. But Bauer? And Anibal Sanchez and Jordan Zimmermann? Those three have a 5.33 ERA in 299 combined innings this season. They held the Yankees to three runs in 20.2 innings these last four days. Impressively pathetic job by the offense.
The Yankees had their best chance to really get on the board in the fifth inning, after Frazier's homer. Two singles (Ronald Torreyes and Brett Gardner) and a walk (Judge) loaded the bases with two outs, but Sanchez went fishing for a curveball and struck out to end the inning. The score was 4-1 at the time. Gardner singled in a run with two outs in the ninth. Too little, too late is an understatement. The offense needs an exorcism.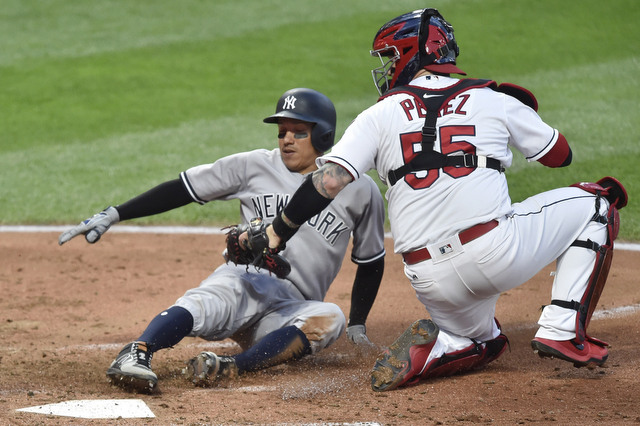 Leftovers
Believe it or not, the Yankees had eleven hits in the ballgame. Eleven hits and somehow only five at-bats with runners in scoring position. Scattered hits, they were. Gardner, Torreyes, Old Frazier, Didi Gregorius, and Chase Headley each had two hits. Judge had the other hit. He went 1-for-2 with two walks and looked more comfortable at the plate than he has in weeks. Hopefully his slump is coming to an end.
Matt Holliday, meanwhile, went 0-for-4 with two strikeouts and is now hitting .138/.202/.248 in his last 31 games and 129 plate appearances. He has no business being in the lineup. Young Frazier went 0-for-5 with two strikeouts and is 5-for-34 (.147) in his last eight games. That eight-game slump is going to be the justification for sending him to Triple-A when Aaron Hicks is ready even though Holliday should be the one to go. Not a doubt in my mind.
Mop-up man Chad Green was electric out of the bullpen, striking out five of the eight batters he faced in his 2.1 scoreless innings. Green now has a 1.74 ERA (2.29 FIP) with a 38.9% strikeout rate in 46.2 innings this year. He's been so good. Tommy Kahnle got touched up for a run in his inning of work. Good he got out of his system now rather than the next time the Yankees have a lead, which should be sometime in 2018.
And finally, the Yankees had a runner thrown out at the plate on a truly phenomenal play by Indians third baseman Giovanny Urshela. Here's the video. I'm not even going to try to describe it. Just watch. The Yankees have been playing like crap but I can't fault anyone for anything there. Just an outstanding play by Urshela. Maybe the best defensive play turned against the Yankees this year.
Box Score, WPA Graph & Standings
The box score and updated standings are at ESPN and the video highlights are at MLB.com. We have a Bullpen Workload page too. Here's the loss probability graph:

Source: FanGraphs
Up Next
Same two teams Saturday night, in the third game of his four-game series. That's a 7pm ET start. Jordan Montgomery and Danny Salazar as the scheduled starting pitchers.