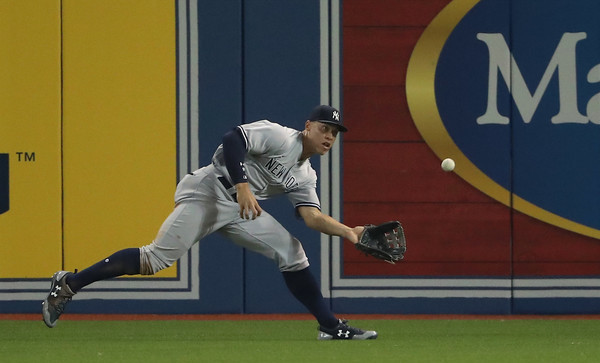 The Yankees and Red Sox will continue their three-game weekend series later tonight at Fenway Park. That's a 7pm ET start. Remember when they used to play baseball on Saturday afternoons? That was fun. Anyway, here are some links and notes to check out until first pitch.
Yankees not considering moving Judge to first base
According to David Lennon and Bob Klapisch, the Yankees have not considering moving Aaron Judge to first base to unclog the outfield logjam and potentially address first base long-term. Judge did play first base in high school, you know. He moved to the outfield in college because Fresno State already had a pretty good first baseman. Even if the Yankees were considering moving Judge, they wouldn't do it midseason. They'd wait until Spring Training.
Two thoughts on this. One, Judge's right field defense is way too good right now to move him. He's an asset out there, particularly his throwing. Move him to first base and you're wasting his arm. And two, I think it's only a matter of time until Judge winds up at first base permanently. There's a reason you don't see many players that size running around the outfield. It's tough on the knees and tough on the body. That doesn't mean Judge will have to move to first base next year. But maybe in four or five years? Yeah, it's possible. Right now though, it is not a consideration for the Yankees, and that is absolutely the right move in my opinion.
Hal says missing postseason would be a "failure"
It seems the Yankees have gone from "World Series or bust" to "transition year" to "postseason or bust" within the last 18 months or so. Earlier this week, Hal Steinbrenner said it would be a "failure" if the Yankees missed the playoffs this year. "If we don't make the playoffs, it's a failure … It's been a tough last two months for the most part. But I think they're coming out of it … (We're) going to have a strong last five, six weeks," said Hal to Anthony Castrovince.
The continued shift in expectations this year has been pretty fascinating. The Yankees sold at the trade deadline last year and, for the most part, I think people considered this a "step back before taking a step forward" year. Break in some young players, deal with the growing pains, then gear up for 2018. Instead, the young players hit the ground running and the Yankees got off to a great start. They've been a .500-ish team for three months now though. It went from "rebuilding year" to "let's shock the world!" to "please just get a wildcard spot." If the Yankees miss the postseason now, it'll feel like a disappointment. Five months ago, it was kinda expected.
Four Yankees among most improved prospects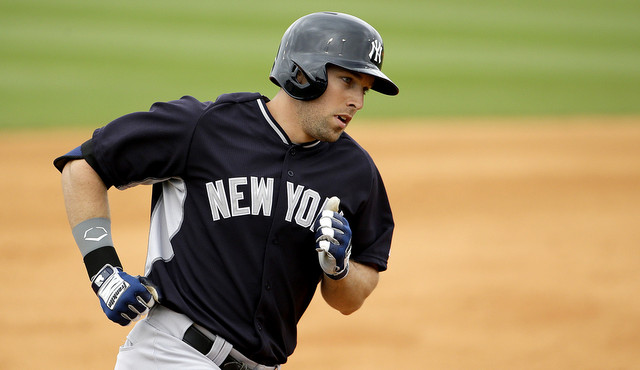 Dan Szymborski used his ZiPS system to find the position player and pitching prospects who have improved their stock the most this season. In a nutshell, he compared each player's preseason projection to their current projection. He lists 18 prospects total and four are Yankees:
RHP Chance Adams: 5.32 ERA preseason to 4.35 ERA now
OF Jake Cave: .617 OPS preseason to .709 OPS now
1B Garrett Cooper: .679 OPS preseason to .751 OPS now
RHP Domingo German: 5.70 ERA preseason to 4.88 ERA now
SS Gleyber Torres and OF Billy McKinney were among the honorable mentions. The Cave projection is most interesting to me because ZiPS basically says he made the jump from non-prospect to potential fourth outfielder this season. From the write-up:
Of the 1,400 projections for hitters run by ZiPS coming into 2017 (about 1,250 "official" ones and 150 for prospects at very low levels for which I have little confidence), only four players got a larger boost than Cave's 92-point OPS boost: Ryan Zimmerman, Aaron Judge, Justin Smoak and Zack Cozart.

…

ZiPS still isn't convinced Cave will be more than a fourth outfielder, but it's damn hard to add 100 points of OPS to a projection in four months.
Huh. Cave will be a minor league free agent this offseason and I think it's likely the Yankees will add him to the 40-man roster and make sure he doesn't get away. He is going to be 25 in December, so he's not super young, but hit .343/.387/.610 (176 wRC+) with 13 homers in 54 Triple-A games while playing center field, and you're going to make yourself worth keeping around.
Electronic strike zone not on the horizon
No surprise here, but commissioner Rob Manfred told Anthony Castrovince the league is not close to implementing an electronic strike zone. The technology isn't there yet, and even once it is available, Manfred is leery of moving away from human umpires. Balls and strikes are everything to umpires. I suspect they'll fight an electronic strike zone tooth and nail when the time comes.
Personally, I don't have much interest in an electronic strike zone. Yes, I would like the umpires to be better behind the plate, but I feel like an electronic zone would take more away from the game than it would provide. Consistency is boring. Also, I get the sense that shifting to an electronic strike zone would have some unintended consequences. We could see some pretty drastic shifts in pitcher (and therefore hitter) performance with an unambiguous zone.
Jeter becomes a dad
And finally, Derek Jeter is now officially a father. Derek and Hannah welcomed their daughter, Bella Raine Jeter, into the world on Thursday, it was announced on The Players' Tribune (of course). Congrats to them. Not a bad gene pool to come from, huh?