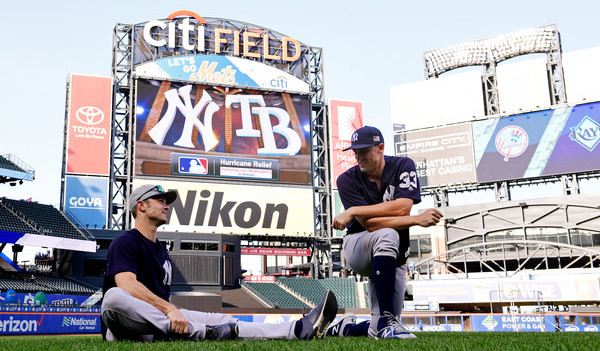 Although the nine-game road trip technically ends today, the Yankees have been sleeping in their own beds since Sunday night. They've split the first two games of this neutral site series at Citi Field with the Rays. Last night's loss was a bummer. Sonny Gray was awesome and an extremely winnable game slipped away. Blah.
This afternoon the Yankees have a chance to clinch their fourth consecutive series win. They haven't won four straight series since early-April/late-May. The last series in that four-series winning streak was the sweep at Wrigley Field. Been a while. Win the rubber game today then, uh, head home? Seven-game homestand coming up. Here is the Rays' lineup and here is the Yankees' lineup:
LF Brett Gardner
1B Chase Headley
DH Gary Sanchez
SS Didi Gregorius
2B Starlin Castro
CF Jacoby Ellsbury
3B Todd Frazier
RF Clint Frazier
C Austin Romine
LHP Jaime Garcia
It is cloudy and humid in New York this afternoon, which usually means rain is on the way. There's not much in the forecast. Maybe a quick shower at some point, but probably nothing heavy enough to delay the game. Hope not, anyway. Today's series finale will begin a little after 1pm ET and you'll be able to watch on YES locally and MLB Network out-of-market. Enjoy.