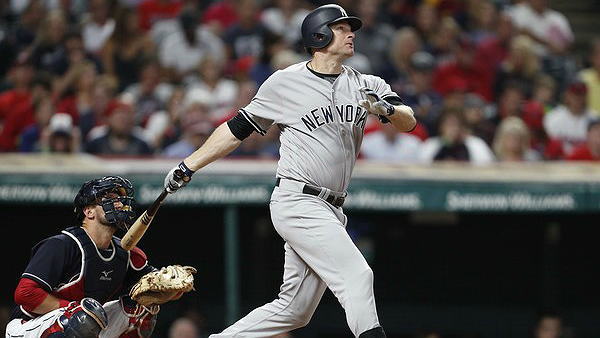 After scoring eight runs in the Wild Card Game, the Yankees may not be inclined to switch up their lineup. Yet one small change could be their most prudent move.
Therefore, I'd advocate for Joe Girardi to move Chase Headley back to designated hitter and have Jacoby Ellsbury come off the bench.
Ellsbury provided a lot to the Yankees' late-season surge. From Aug. 26 to Sept. 20, he went 29-for-73 with nine doubles, two triples and a homer, sporting a .397/.494/.616 (194 wRC+) line. That doesn't include record-setting catcher's interference(!). Filling in after Aaron Hicks' injury, he became a reliable presence and looked like the player the team thought it was getting when he signed in the 2013-14 offseason.
But he's gone cold. In his last eight games of the regular season, he went just 5-for-30 with a double and a walk, striking out six times. He followed that up with an 0-for-4 performance on Tuesday. Just like the 73 AB sample above, there isn't a whole lot to go off, but he hasn't been quite as useful.
Meanwhile, Headley has been similarly cold, which likely led to his benching in the first place. In his last 40 PA, he batted 6-for-36 with three walks and a HBP, no extra-base hits. After three homers in his first five games of the September, his power went back to previous levels. Again, small sample size.
So this move is less about trends and more about what it opens up on the roster. As I detailed last month, Ellsbury is an ideal pinch runner if he's not starting. He was 22-for-25 stealing bases and has an 82.9 percent success rate on steals in his career. He's the Yankees' best option to wreak havoc on the bases now that Tyler Wade was taken off the roster.
With Ellsbury on the bench (and Aaron Hicks still in centerfield), the only is that if he solely pinch runs for anyone, the Yankees won't have a backup outfielder remaining on the bench. They'd have Headley and Todd Frazier for first base. Ronald Torreyes for the middle infield and third. Then no one left for the outfield. Sometimes that's a risk you take though.
The team removed both C. Frazier and Wade from the roster to make room for Jaime Garcia and Jordan Montgomery. Now that they've decided they need 12 pitchers, which may be a mistake, they can simply use Ellsbury as a fourth outfielder and have Torreyes as the emergency man on the corners. Not ideal, but serviceable with Frazier or Wade able to be called up in case of injury.
That option is a no-go if Ellsbury is at DH unless the team is willing to insert the pitcher into the lineup. That is because the Yankees weren't willing to remove Matt Holliday from the roster even though he only serves as a pinch hitter and doesn't serve much, if any, defensive role on the roster. However, Holliday is still a solid option against the Indians' left-handed relievers and should be their best offensive option off the bench.
There were many permutations for the Yankees' ALDS roster. It could have involved 11 pitchers or 12. Two outfielders on the bench or one. The Yankees opted for 12 pitches which leaves them one fewer outfielder on the bench. But, either way, having Headley as the designated hitter would be the prudent move for the ALDS.