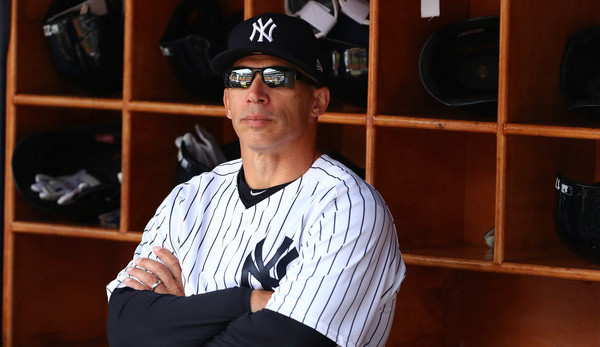 The Yankees will have a new manager next season. Yesterday morning the team announced they have parted ways with Joe Girardi, and "parted ways" is the best way to describe it. Girardi's contract expired after the season, so he wasn't fired and he didn't quit. The Yankees are just moving on now that his contract is up. That's how the Joe Torre era ended. Changing managers is a pretty big deal and I have some thoughts on all this, so let's get to 'em.
1. I've said this before and I'm going to say it again: I firmly believe managers and coaches have a shelf life. At some point their message and managerial style goes stale and it's time for a change, and I think Girardi had reached that point with the Yankees. I thought he did last year, honestly. That doesn't mean Girardi was a bad manager. His tenure in New York was a smashing success as far as I'm concerned. His worst season was 84 wins, and that was with rosters that had no busy winning 84 games in 2014 and 2016. It is entirely possible for the following two statements to be true:
Joe Girardi is a very good Major League manager.
Joe Girardi is not the right manager for the 2018 (and beyond) Yankees.
I think that's what happened here. Brian Cashman came to the conclusion that while Girardi has been very successful overall in New York, it was time for a change because his style and approach had gone stale, and things weren't going to get any better going forward. Girardi is pretty high-strung, you can see it in his face, and that wears on you after a while. It wears on everyone. And I don't think you want to expose your young players to that sort of environment. That doesn't mean Girardi is a bad manager. Not at all. It just means he's not a good fit for the Yankees at this point in time, so Cashman recommended the change and ownership gave the green light.
2. Building on that last point, there wasn't one thing that led to the decision to part ways with Girardi, I don't think. I don't think the non-challenge in the ALDS was the straw that broke the camel's back or anything like that. That was a huge, huge screw up. But I don't think that's why the Yankees made the change. I think this is the result of several smaller things gradually building up over time. Joel Sherman wrote yesterday that Girardi and Cashman had become increasingly at odds over certain strategies and decisions, and Girardi's intense persona only exacerbated things. Perhaps Girardi's apparent lack of trust (or limited trust) in Gary Sanchez had something to do with it. Sanchez is far more important to the Yankees than any manager. That's not a battle Girardi was going to win, assuming the relationship with Sanchez was enough of an issue for the front office to take notice. Anyway, like I said, I think Girardi being shown the door was the result of many small things adding up over time, and eventually reaching a point where it couldn't continue. It happens. Often much sooner than ten seasons into a managerial stint too.
3. I was not surprised to see the Yankees and Girardi part ways. There had been enough rumblings these last few weeks about Girardi feeling burnt out and possibly stepping away to spend more time with his family that this always seemed possible. It's not like the two sides splitting up came out of nowhere. I was surprised to hear both sides confirm this was a decision made by the Yankees. That I didn't expect. If this marriage ended, I expected it to end because Girardi decided to walk away. I didn't expect the Yankees to decide this wasn't working out anymore. That caught me off guard. What happens if the Yankees win Game Seven of the ALCS and go to the World Series? Would that have changed anything? I don't think it would have. This seems like something Cashman has been kicking around for a while, and this decision would have been made regardless of outcome. Maybe winning the World Series would've changed things? That's probably the only way things don't change. That didn't happen though, so even though the Yankees got to within one game of the World Series in what was supposed to be a rebuilding year, Cashman decided to change managers. Tough. Not wrong, necessarily, but a tough business, this is.
4. Personally, I do not have a preference about the next manager. At least not right now. Maybe I'll pick a favorite once some candidates emerge. I don't know enough about any of the candidates — or who the realistic candidates even are at this point — to have a strong opinion either way. What I do think is the Yankees would want a young-ish manager not only open to analytics, but already familiar with them. And also someone who can keep the team a little more loose and even-keeled than the intense Girardi. I doubt they want a stopgap manager. They want a manager who will be around for a while and grow with the young players, you know? Here's the big question for me: how much do the Yankees want to change the culture? Are they willing to really shake things up with an outside hire, which could mean more changes to the coaching staff? Or do they like their current mix and want to ruffle as few feathers as possible? Either way, because the manager and the front office work so closely these days, I expect the Yankees to bring in a manager who already has a relationship with Cashman. I doubt they'll bring in someone who no knowledge of how the team operates and no experience in New York.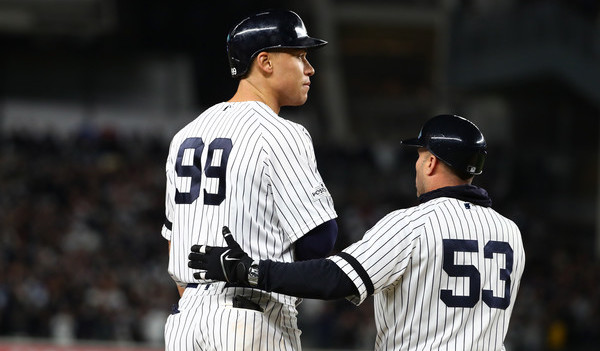 5. As for potential managerial candidates, I compiled a list over at CBS, so I'm going to refer you to that. My guess is bench coach Rob Thomson and third base coach Joe Espada are the two leading internal candidates. Thomson is a Yankees lifer who's done a little of everything over the years, including work in the front office alongside Cashman. Recently both Girardi and Alex Rodriguez (during a postseason broadcast) brought up Thomson unprompted and praised him for his work with the team's younger players. I mentioned Espada on Twitter yesterday and people freaked out, which I guess was predictable, but it's kinda silly. Espada's performance as a third base coach tells you nothing about his managerial qualifications. He checks all the modern manager boxes because he's young (42), he's upbeat, he's very interested in analytics, and he has a good relationship with the front office (Espada was a special assistant to Cashman before joining the coaching staff). And he's bilingual, which only helps. I'm telling you, Espada's going to get serious consideration for the managerial job, and he should. He's already very close with the young players on the roster, plus he's a smart baseball guy with a well-rounded background. I'm sorry you may not like him because he got some runners thrown out at the plate, but Espada's worth considering for the manager's job. I think he and Thomson are the top internal candidates, with Triple-A Scranton manager Al Pedrique a distant third.
6. Two things to keep in mind as the Yankees look for a new skipper. One, they're not the only team looking for a manager. The Red Sox (Alex Cora), Mets (Mickey Callaway), and Tigers (Ron Gardenhire) have all hired new managers recently, but the Phillies and Nationals are still looking, so the Yankees will have some competition. And two, the Yankees' job figures to be very desirable. Yes, you're walking into a situation were you're going to be expected to win the World Series right away, and that can be challenging. You're also getting a) a great core of young big leaguers, b) a strong farm system with several top prospects on the cusp of the big leagues, c) a front office and ownership group willing to spend, and d) state of the art facilities in New York and Tampa. And you're going to get paid well. What more could anyone want in a managerial job? The Phillies and especially the Nationals will give any prospective manager some negotiating leverage. At the end of the day, I think the Yankees have by far the most to offer among the teams still out there looking for a new manager. I don't see them missing out on the guy they want because the decides another team is a better fit.
7. Might as well close with the obvious: Cashman is definitely coming back. As far as we know he doesn't have a new contract in place, but ownership following Cashman's recommendation and parting ways with Girardi confirms it. Hal Steinbrenner is no dope. He wouldn't listen and act on the recommendation of a lame duck general manager if there was any chance Cashman wouldn't be back. Cashman will continue to run the show and I think that is 100% the right move. What he's done over the last two years or so has been pretty amazing. The Yankees went from old and expensive to young and a burgeoning powerhouse in a very short period of time. At this point, I trust Cashman almost implicitly, and if he feels Girardi had worn out his welcome and the Yankees need a new manager, then I believe him. If nothing else, I know a ton of thought and consideration was put into this decision. It wasn't made on a whim.