The following is a guest post from Adam Moss, who goes by Roadgeek Adam in the comments. He's previously written guest posts on Tim McClelland, Frankie Crosetti, the No. 26, Casey Stengel, Leo Durocher, Miller Huggins, Jerry Kenney, the Copacabana incident, Mark Koenig, Earle Combs, Urban Shocker, Michael Milosevich, and Snuffy Stirnweiss.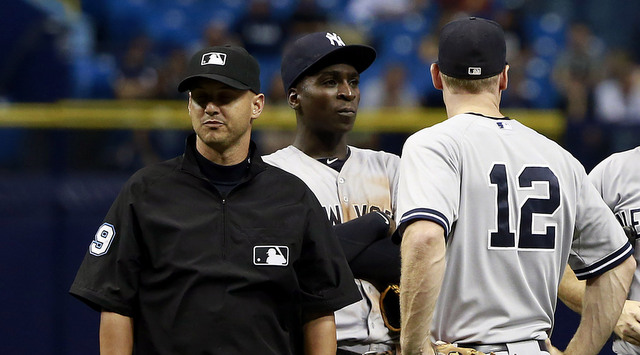 Well that was exciting game Tuesday night. I had a blast watching it (and knowing that my scouting report on Alfonso Marquez was spot on). During the season, there are four-man crews. 92 umpires called games behind the plate this season. During the postseason, there are six, which helps make tougher calls easier (or blow it easier, depending on your point of view). On Monday afternoon, Major League Baseball announced the assignments for the postseason, including the ALDS. Let us look at who we have for this series against the Cleveland Indians.
Home Plate – Vic Carapazza (No. 19)
Vic Carapazza gets us started in Game 1 versus Trevor Bauer. Yeah well, this game has the chance to be the complete opposite of Tuesday night's affair. The Port Jefferson, New York native is a bit of a mess. His numbers read of a hitter's umpire, but unlike Marquez, who was consistent for most of Tuesday night, Carapazza can be all over the place. Statistically, he has a 4.01 ERA with 30 games behind the plate. His WHIP was 1.30, while the hits were a measly 8.3 H/9. Similar to Marquez, he has a high BB/9 at 3.4. However, unlike Marquez, he only has 8.9 K/9. Yep, either you're going to walk or strikeout (or be ejected) with Carapazza. Carapazza provides batters a hitting line of .247/.317/.408 on average.
Like his father in law, Carapazza is a free swinger with the right-arm, with a lot of notable ejections in recent years. Carapazza, as of the end of the 2017 season, has racked up 31 ejections since his MLB debut on April 9, 2010 in a game between the Yankees and Rays at the Trop. (The Yankees lost that game, 9-2 as Javier Vazquez had an awful performance (8 runs in 5 2/3). Somehow, Sergio Mitre had a decent one that night (1 run the rest of the way).) Of his famous right-arm, he tossed Mark Reynolds for throwing his glove in 2012; ejected J.P. Howell in 2011 for throwing the baseball into the ground in frustration; and Turner Ward in 2015 for complaining about Jose Fernandez standing near David Peralta after the former nailed the latter in the shoulder with a pitch.
Carapazza has one Yankees-based ejection, Joe Girardi on May 31, 2013 when a throw by Jon Lester pulled Stephen Drew wide right when trying to force David Adams. His aforementioned father in law has a more famous incident with the Yankees:
First Base – Dan Iassogna (No. 58)
Hothead is a premium this series, apparently. If Vic Carapazza was not enough for those who like to see veins bulge, then MLB put another one in the group. Dan Iassogna is the complete package of hothead and inconsistent strike caller. Corey Kluber and whoever we send out to face the Cleveland Indians are going to have a field day for called strikes. Iassogna's strike zone has caused a 4.22 ERA (60th of 92) and 1.30 WHIP. However, his numbers all read pitcher's ump. Hitters have an average 8.1 H/9 and 8.8 K/9 (low for a pitchers ump) and a 3.5 BB/9 average (also oddball). However, the .241/.317/.411 batting line gives it away. This will be a festival of strikes that no one will like.
As you can imagine, for a hothead, Iassogna has flicked his wrist on numerous occasions. 73 times since his first game on August 20, 1999 in a game between the Boston Red Sox and Texas Rangers in Texas, in fact. He has only ejected a Yankees member once, and that was Joe Girardi, again, on August 20, 2015 (Iassogna's 16th anniversary). He made a very questionable strike call against Brian McCann during a steal by Alex Rodriguez. I would say, looking at the video, Girardi had a pretty good argument. To say the least, let us pray he has a good game behind the plate, but I wouldn't expect it. (We last saw Iassogna behind the plate on August 18 against the Red Sox at Fenway Park.)
Second Base – Dana DeMuth (No. 32 – CC)
Well. We go from two hotheads to Mr. Mellow. Dana DeMuth is the definition of a silent umpire. DeMuth is serving as the crew chief for this series and will have the game behind the plate on Game 3. Dana DeMuth calls a very average game, and that is about what you want in the majors. In 28 games behind the plate this season, the Fremont, Ohio native had a 4.49 ERA (39th of 92) with a 1.37 WHIP. Batters had an average of 8.8 H/9, 3.5 BB/9 and 7.9 K/9 (yikes) with a batting line of .257/.329/.432. All are very decent numbers. Not much to complain about in that department.
Dana DeMuth has not had a good season with the New York Yankees and it comes down to one game, August 25, 2017. Between Carlos Torres having a rough game behind the plate, Dana DeMuth did not step in and help calm things down between the Detroit Tigers and the Yankees. That led to the now famous Miguel Cabrera/Austin Romine brawl that we all know about now. If DeMuth had stepped in where Torres did not, it is very likely none of that would have ever occurred unless Cabrera really had some kind of beef. He was the one who ejected Dellin Betances and Girardi after the second incident in the 8th inning. Let us just move on from that, because I doubt we will be starting any brawls this postseason.
Outside of that game, Dana DeMuth is not going to throw you out unless you really, really provoke him. The last Yankee to really really provoke him before that day was Jorge Posada on September 1, 2010. In his career, he has 45 ejections since his debut on June 3, 1983 at Jack Murphy Stadium. This is DeMuth's 11th Division Series (he also has 5 LCSs and 5 World Series, including the 2013 one) in his 35th season as an umpire.
Third Base – Brian O'Nora (No. 7)
The man who refused to throw out Ryan Dempster on August 18, 2013 but threw out Joe Girardi instead, is the Game 4 umpire, if we get that far. If there's a definition of average umpire, then that's Brian O'Nora. He has a 3.85 ERA in 31 games this season (79th of 92) with a batting line of .247/.314/.416. His WHIP was 1.28 (average), with a 8.4 H/9, 3.1 BB/9, and a 8.1 K/9. Nothing that jumps out, really. Like DeMuth, I expect a good game with O'Nora behind the plate.
The Yankees last saw Brian O'Nora's strike zone on September 14 between the Baltimore Orioles and the Yankees. Of this crew, O'Nora has the honor of being the only man to eject Joe Girardi twice. O'Nora has 38 ejections since his debut on August 4, 1992 at Yankee Stadium, in a game, ironically enough, against the Cleveland Indians. In that game, Curt Young outpitched Dave Otto and the Yankees won 4-3. The Youngstown, Ohio native should provide a good game during his 6th Division Series behind the plate and I would expect it.
Left Field – Jeff Nelson (No. 45)
No it's not our former ace reliever, but it is Jeff Nelson in left field to start the series. One of the newer crew chiefs, he is the third definition of an average umpire. In 31 games behind the plate this season, he managed a 4.32 ERA (good for 52nd of 92) with a 1.27 WHIP. Hitters have a 8.5 H/9, 2.9 BB/9 and a 7.9 K/9 average with a .248/.311/.434 batting line. Once again, nothing to seriously complain about.
The St. Paul, Minnesota native made his MLB debut on May 9, 1997 at Dodger Stadium between the Los Angeles Dodgers and the Montreal Expos. He has since accrued 58 ejections. Nelson has ejected only one Yankee in his time in the Majors. Once again, it is Joe Girardi, this time on October 14, 2012 during the American League Championship Series (Game 2). A blatantly missed call on Omar Infante's attempt to get back to 2nd cause Girardi to get a heave-ho. Yeah, you can see why he was ejected. Let us not have a repeat of this situation.
Right Field – Adrian Johnson (No. 80)
Finally, Adrian Johnson gets his first postseason umpiring assignment. The man who famously gave Johan Santana his no-hitter is getting his first chance to play the game. He won't see the plate this series, but it is a very hitter's umpire zone. Johnson had a 4.52 ERA with 29 games behind the plate. Batters have a 1.35 WHIP, a 9.4 H/9, 2.8 BB/9 (low) and a 8.7 K/9 average with Johnson behind the plate. The average batting line was .266/.326/.449, which reads of hitters umpire. I am going to say we are thankful for that.
Chase Headley will be thankful too, as Johnson is the one who ejected him on May 12, 2017. Headley was tossed arguing a foul ball/HBP call. However, unlike the other 5 umpires, he is the only who has not tossed Joe Girardi at some point as Yankees manager. In fact, Headley's heave-ho on May 12 was his first against a Yankee. We also saw him last behind the plate on July 16 on Game 2 of the doubleheader with the Boston Red Sox at Fenway Park after the All-Star Break.
Conclusion
Game 2 has the serious possibility of being a real headache between a Cy Young Award winner and Mr. Strike, Dan Iassogna. I would expect an ugly game with calls, so the Yankees will have to get it done with the bat. Otherwise, I would expect a pretty rudimentary series. Let us hope it stays that way.