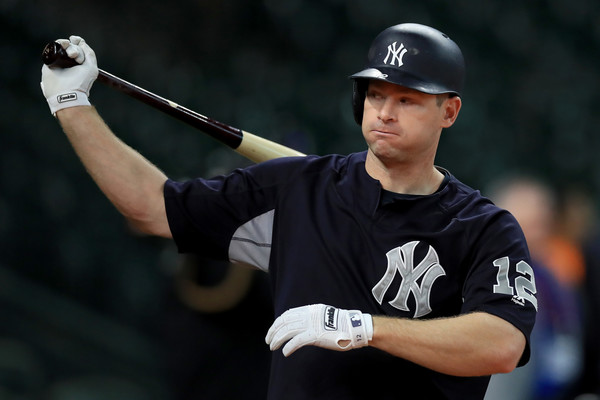 It seems like a lifetime ago that I was writing Chase Headley's season preview piece, which focused largely on how his unimaginably awful April essentially torpedoed his 2016 season as a whole. That wasn't the first time that we saw him forget how to hit for a full month, either, as he closed 2015 on the lowest of notes. And, unfortunately, it wouldn't be the last time, either.
A Hot Start
Headley spent the first month of the season reminding us of the hitter we thought the Yankees had acquired way back in 2014. He hit .301/.402/.494 (142 wRC+) with 3 HR and 4 SB in 97 PA in April, and the underlying numbers didn't stand out as particularly unsustainable. His 14.3% HR/FB was right in-line with league-average, and his .361 BABIP wasn't terribly uncharacteristic for a player with a career BABIP of .328. Given his previous two seasons, nobody really expected Headley to keep it up – but he looked as good as he ever had in pinstripes, and nothing screamed fluke. And then…
Worst … Month … Ever
How bad was Headley in May, you ask? He was bad enough that his April of 2016 looked mildly appealing. He batted .165/.211/.235 in 90 PA, which is "good" for a 14 wRC+. That's not a typo – he had a 14 wRC+ in the month of May. Headley struck out in 29 of those 90 PA, while walking just 4 times; for comparison's sake, he drew 14 walks in April, and struck out just 19 times. What happened?
It's difficult to explain the lack of patience and bat-to-ball skills, but Headley did see his batted ball profile change completely from one month to the next. His line drive rate dropped by nearly 12 percentage points, and his ground ball rate jumped by just over 18 percentage points. His infield fly rate also jumped from 4.8% all the way up to 20% – and the percentage of infield flies that turn into hits is just about as close to zero as one can get. In the span of a month, Headley went from a well-rounded hitter with patience and power to the type of production you'd expect from a pitcher. And it was ugly.
As a result of this, Headley's wRC+ dropped from 142 to 81, and those who even contemplated getting on-board with a resurgence felt foolish.
Four Months of Competence
Something miraculous happened on June 1, though. Headley went 2-for-5 with a couple of RBI against the Blue Jays that day … and he kept hitting after that. He hit .294/.372/.427 (114 wRC+) with 9 HR in 399 PA the rest of the way, and didn't have another truly awful month. Headley wasn't good in September, posting an 89 wRC+ – but it was palatable when compared to the lowest of lows that he has reached with the Yankees in his three-plus years in pinstripes. His bat was good enough to stay in the lineup, for the most part, and that represented a massive upgrade over 2015 and 2016.
For those who may be curious, Headley hit .295/.377/.440 in his 496 non-May PA, with 12 HR. That's a wRC+ of around 120, and it's quite good. Unfortunately…
He Forgot How to Play Defense Again
The Yankees shifted Headley from the hot corner to first base this season, and some of that was due to necessity; it was a revolving door of a position while Greg Bird was on the mend, and his solid bat and capable glove represented the best-case scenario there.
He made it an easy decision, though, with 13 errors, -7 Defensive Runs Saved, and -4.3 UZR/150 at third in 85 games. Headley's defense has been all over the place for the Yankees – it was amazing in a small sample size in 2014 (6 DRS, 39.9 UZR/150), bad in 2015 (-6 DRS, -3.0 UZR/150), very good in 2016 (7 DRS, 8.6 UZR/150), and bad again last year. The acquisition of Todd Frazier was as much about solidifying the team's infield defense as it was adding a powerful bat to the lineup, and that's why he never played another position for the Yankees.
If it's any consolation, Headley did grade out as a good defender at first.
The Bottom Line
Headley finished the season with a .273/.352/.406 slash line (104 wRC+), 12 HR, 9 SB. That essentially made him a league-average offensive third baseman, as they hit .256/.330/.438 (102 wRC+) as a group. Headley's 104 wRC+ was his best since 2013, but his subpar defense at third dragged his WAR down by about half a win, to 1.9, which would make him fringe average there. If only he hadn't forgotten how to hit in May…
2018 Outlook
As is the case with Starlin Castro, Headley is something of a placeholder. Miguel Andujar is knocking on the door (he had a 139 wRC+ at Triple-A), and would have garnered a longer look in 2017 had his defense been up to snuff. And top prospect Gleyber Torres was taking to the position, as well, and may've replaced Headley had it not been for his season-ending injury. Put it all together and you have a player that's on borrowed time with the organization.
Headley is entering the last year of his contract, and he's owed $13 MM. I am confident that the Yankees will try to shop him this off-season, and his contract shouldn't be a deterrent for many teams – particularly if they are confident in his ability to play defense at third base. Should he make it through the winter without being dealt, though, I think he'll end up in the team's Opening Day lineup at third.