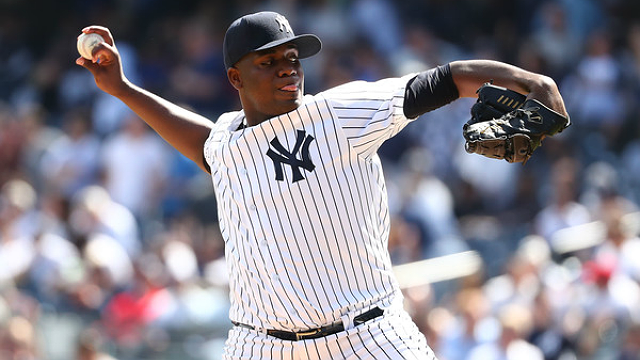 Going into the 2017 season, Michael Pineda had one year left on his contract and had an opportunity to earn himself a lot of money with a strong year. Even if he maintained his previous performance, his high strikeout and low walk rates likely would have convinced a team to give him a significant multi-year deal.
But unfortunately, his season is the story of what can go wrong, even with his numbers improving.
Near-perfect opener
The Yankees have had a wide array of pitchers start their home opener in recent years. You have the aces like Masahiro Tanaka and CC Sabathia. You have the duds who take the ball due to injuries like Carl Pavano. Somewhere in the middle is Pineda.
He was coming off a weak start in Tampa Bay and was facing the exact same Rays squad. The Yankees had received almost exclusively mediocre starting pitching through their first six games and their 2-4 record reflected the so-so expectations for the team going into the season.
And with all that, Pineda came out and damn near threw a perfect game. He recorded 20 straight outs to start the game before an Evan Longoria double broke things up.
Before October, it may have been the loudest Yankee Stadium got this season. The crowd was into Pineda's game. Really into it.
Martha Stewart got into it, too
. Clapping for strike three, applauding him after each inning and then handing him a standing ovation after the first hit.
It goes without saying, but it was the best Pineda has looked in pinstripes. Even better than the 16 strikeout game against the Orioles. He had supreme command of both his fastball and slider and rode them hard for 7.2 innings. He gave up two hits, but the last one, a Logan Morrison solo home run, effectively knocked him out of the game.
The win was the second of seven straight for the Bombers and kicked off a tremendous start to the year for Pineda.
Promising couple months
While Opening Day was his best outing of the season, it wasn't unique for Pineda's start to 2017. It's easy to forget after he missed the second half, but he was one of their best pitchers for the first two months.
Six of his first 10 starts were quality starts. No more than four earned runs in any of the 10 games, three earned or fewer in nine of 10. At the end of May, he had a 3.32 ERA and looked the part of it. He hadn't allowed more than six hits in an outing since his Apr. 5 game vs. Tampa Bay and had gone six innings or more in eight of his starts.
His home run issues were popping up again. He'd allowed long balls in eight of his first 10 outings and gave up six in five May starts. Perhaps part of his success was fool's gold as nine of his 11 homers were solo shots and other two came with only one man on base. Still, with an elevated strikeout rate and the home run environment around baseball, there was room for optimism that he'd returned to his 2012/2014 form.
Some duds and an injury
Things took a turn in June. Pineda allowed five or more runs in four of his final seven starts. Nine homers in that span. His strikeout rate dipped and his walk rate rose.
And the hits went way up. Pineda's first 59.2 IP of the year: 50 hits. Last 36.2: 53. Batters hit .335/.365/.538 off him in that span. Once the calendar had flipped from May, it appeared that hitters were taking the ball off a tee from him.
He still somehow beat the AL Champs in Houston, albeit with plenty of hard contact not falling in, while pitching a superb game against Boston. But the Angels, Rangers and Blue Jays got to him in abundance.
Pineda's season came to an end when he allowed five runs (three homers) in three innings against the Blue Jays on July 5. Reports came soon after that he would undergo Tommy John surgery, which ended his season. It's unclear how much his late-season performance was a result of his elbow injury and how much was worse pitching. Guess we'll never know, but I bet at least some of it was. It's tough to maintain consistency with your elbow hurting.
Pineda finished his season with a 4.39 ERA, 1.9 home runs per nine and a 4.38 K/BB rate. Basically, a typical Pineda line. But for a second there, it looked like we'd get something different.
2018 Outlook
Hitting free agency right after undergoing Tommy John surgery is never an ideal scenario. Pineda is likely looking for a two-year deal, perhaps with the second year being an option. If he'd continued his first couple months, his always promising peripherals would have led to tens of millions on the free agent market. Some team would have bet on him keeping it up. Instead, he'll have to settle for a deal worth less than $10 million perhaps.
With the Yankees contending in 2018 and looking to get under the luxury tax, Pineda's time with the Yankees is almost certainly over. Assuming he doesn't return (or go back to Seattle), all four players in the Michael Pineda-Jesus Montero deal will no longer be in the Yankees or Mariners systems. What a strange ride it's been since that trade.