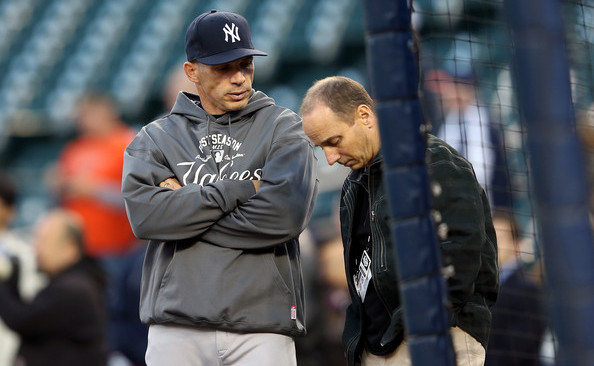 Three weeks ago today, the Yankees parted ways with longtime manager Joe Girardi, supposedly because there was concern he didn't "communicate and connect" well with players. That's kind of a big deal. Managers need to be able to communicate with their players, especially young players who are still learning the ropes in the big leagues. The Yankees have plenty of those.
In the three weeks since Girardi was let go the Yankees have only interviewed two managerial candidates: Rob Thomson and Eric Wedge. Brian Cashman has a third interview with an unknown candidate today — the Yankees will reportedly interview Aaron Boone and Hensley Meulens at some point, so maybe one of them is interviewing today — and I'm sure more interviews are scheduled in the coming days and weeks as well.
The GM Meetings this week put the managerial search on hold for a few days, though even considering that, it sure seems this whole process is moving slowly, doesn't it? The Yankees named Girardi their manager eleven days after parting ways with Joe Torre back in the day, but, to be fair, it was an open secret Girardi would get the job. This time around the Yankees didn't go into the managerial search with a favorite, at least not that we know of.
Cashman admitted last week he has a list of 20-25 candidates, which is an awful lot. He's not going interview 20-25 candidates though. Hal Steinbrenner told Bryan Hoch they will interview "less than ten." The Yankees started with a list of 20-25 candidates, pared it down, and are interviewing who they consider the best options. Going through 20-25 interviews would be nuts and take a very long time. For reference, here's how long it took other teams to name new managers this offseason.
Mets: 22 days
Nationals: 9 days
Phillies: 30 days
Red Sox: 11 days
Tigers: 19 days
The Nationals and Red Sox hammered through their managerial search in under two weeks. The Phillies needed a month. On average, it took those five teams 18.2 days to find a new manager. The Yankees are at 21 days right now, and don't seem particularly close to a resolution. Could the Yankees have a new manager in place by this time next week? Absolutely. Do I think they'll have a new manager in play by this time next week? Nah. Thanksgiving is going to throw a wrench into things, if nothing else.
For whatever reason the managerial search is moving slowly, at least relative to the other teams that hired a new manager this winter. And, honestly, I have no idea whether this is a good thing or a bad thing. I mean, it seems like a bad thing. It makes the Yankees seem indecisive and unprepared. But who knows? Let's talk this out a bit.
1. It's good to be thorough. Managing the Yankees is unlike any other managerial job in baseball. The media demands are different and the expectations are different. Even when the Yankees openly admitted 2017 would be a rebuilding transition year, there was still that expectation to win. The new manager won't have to deal with the never-ending Alex Rodriguez saga — Girardi doesn't get enough credit for handling all that as well as he did — but things will pop up. That's baseball in New York.
The Yankees want to nail this. They don't want a stopgap manager — remember when Jeff Pentland was the stopgap hitting coach? that was weird — they want someone who will be here for the next decade. The Yankees have had only two managers in the last 22 years, which is insane. They want whoever they hire this offseason to still be the manager when Aaron Judge and Gary Sanchez and Luis Severino are in their mid-30s.
And, to do that, they need to be thorough. The interview process is grueling — Thomson and Wedge both described it as a 5-6 hour ordeal — and very in depth. Candidates meet the front office, the analytics folks, hold a conference call with reporters, the whole nine. The Yankees are trying to get as much information as possible to make sure they can make the best decision. Rushing to a decision could lead to a very bad result, and the Yankees definitely aren't doing that.
2. There's no competition. The Yankees are the only team looking for a manager right now. One of the reasons the Red Sox and Nationals had to wrap up their managerial searches quick is because other teams were looking for a manager at the same time, and they wanted to make sure they got their man. Alex Cora interviewed with several teams, so the Red Sox had to act quickly to get him. Same with the Nationals and Dave Martinez.
The Yankees have no such concerns. They're not competing with any other teams. They can interview all the available managerial candidates without worrying another club will swoop in with a job offer. Maybe they'll lose a candidate to a coaching job elsewhere, like Joe Espada. Espada presumably didn't want to wait around for the Yankees to complete their managerial search and possibly lose out on the Astros' bench coach job, so he took it. I guess something like that can happen.
Point is, the Yankees are the last team standing. Any candidate who wants a managerial job has one place to turn. That affords the Yankees the time to be thorough and go through a prolonged interview process. The Red Sox and Nationals and Mets didn't really have that luxury. They had to make quick decisions or risk losing their top choice to another team. That isn't the case with the Yankees.
3. Could it hurt free agent pursuits? It might. It very well might. Tough to make a good pitch to a free agent when you don't know who the manager will be, right? What if Shohei Otani gets posted sooner than expected and begins the process of interviewing teams and whatnot? Tough to make a good impression if you show up with no manager.
For what it's worth, CC Sabathia said he wouldn't have a trouble re-signing with the Yankees before they hire a new manager — "I trust those guys that they'll hire somebody that we can play for," he told Dan Martin — but Sabathia is a special case. He's been a Yankee the last nine years and is comfortable with the organization. This is his home and he's made it clear he doesn't want to leave.
Trying to lure free agents away from other teams could be an issue for the Yankees if their managerial search continues for several more weeks. Players want to know who they're going to play for. That's human nature. Especially pitchers. Wouldn't you want to know whether your manager has a history of abusing arms? The Yankees aren't going to hire someone like that, but who knows what gets said behind the scenes.
Right now, the Yankees can't tell any free agent targets who will manage the club next season, and that's a bad thing. Sabathia's a special case. He's the exception, not the rule. The hot stove hasn't yet started to heat up, but it will soon, and until the Yankees have a new manager in place, they'll be at a disadvantage. I can't imagine not knowing who your manager (and coaches!) will be would be a fun situation to walk into.
* * *
"We'd love to have a new manager ASAP, but we have a healthy process involved with every decision we make, and the most important aspect is steps we take rather than time frame," said Cashman last week when asked about a timetable for hiring a new manager. It's good to be thorough and the Yankees don't have to worry about losing candidates to other teams, but players want to know who they'll play for. That includes both players already on the team and free agents who are considering joining the team.
Is the prolonged managerial search a good thing or a bad thing? Right now, I think it's neither. I think it's just a thing. Needing three or four weeks to find a new skipper is not terribly unusual. What I do know — and I think we can all agree on this — is the longer the managerial search goes, the worse it looks. It'll look like the Yankees are having trouble finding a candidate they like. Looking bad and being bad are not the same thing though. For now, things are fine. But the sooner the Yankees can wrap this up, the better.