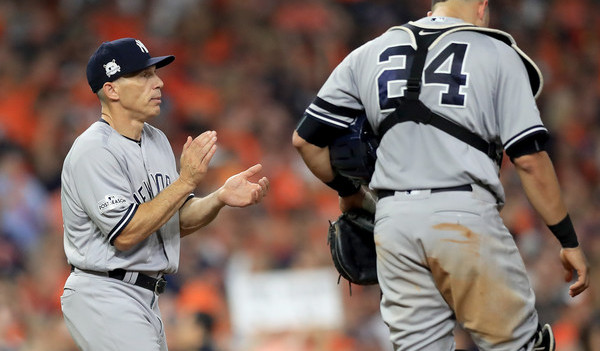 Joe Girardi's tenth season as manager of the Yankees turned out to be his final season as manager of the Yankees. And, weirdly enough, he was dismissed after the club exceeded all expectations and made it to within one game of the World Series. Just consider the preseason projections real quick:
And yet, after the season Hal Steinbrenner admitted the Yankees would have changed managers even if they'd won the World Series. "I'm sure there would have been more pressure. It would have been maybe a more difficult decision to make. But I would have made it because I felt like that was best for the organization moving forward," he said.
There are two parts to being a manager. There are the parts we see and the parts we don't see. The parts we do see are the batting orders and pitching changes, things like that. The parts we don't see is everything that happens behind closed doors in the clubhouse, on the team plane, at the hotel, at home. Those relationships that develop between men who are with each other basically non-stop from mid-February through October.
The stuff we don't see is apparently what led to Girardi being let go after the season. Brian Cashman cited concerns about Girardi's ability to "communicate and connect" with his players, which is a pretty big deal considering communication is a manager's No. 1 priority. The Yankees are building a very exciting team with a lot of young players. You don't want that to be derailed by a manager with communication issues.
The thing is, those alleged communication issues came as a pretty big surprise to us outsiders. At least I thought so. The Yankees played well this season, all their young players had incredible years, the veterans blended in nicely even while having their roles reduced … what was the problem? I don't know. Whatever it was, it was deemed enough of a problem that a change was necessary. After ten years and 910 wins, Girardi is out as manager.
We can't evaluate the behind the scenes stuff. We kinda have to take the Yankees' word on that. The on-field stuff is another matter, though even that is difficult to evaluate. The manager's job is to put his team in the best position to succeed, right? He can do that and it still might not work out. That's baseball. We're not privy to which relievers are and are not available on a given night, things like that. Let's try to evaluate Girardi anyway, shall we?
Bullpen Usage
Girardi has long had a reputation for being a strong bullpen manager, though he was always quite rigid. He likes to have a closer, an eighth inning guy, a seventh inning guy, and if possible even a sixth inning guy. Girardi didn't deviate from his assigned innings all that often during the regular season. Most relievers like to have set roles. Girardi seemed to like having set roles even more than the players.
This season Girardi was thrown a curveball by Aroldis Chapman's early season injury and ineffectiveness, Tyler Clippard's meltdown, and Dellin Betances' walk problems. The plan was Clippard in the seventh, Dellin in the eighth, and Chapman in the ninth. That lasted maybe a month before changes were necessary. Betances became the closer when Chapman was hurt, and at one point, he pitched four times in 24 days because there weren't any save chances. Clippard blew more than a few eighth inning leads during that time.
It wasn't until about midseason, when it was clear Chad Green wasn't a fluke and David Robertson had returned, that the bullpen settled down. And the first half bullpen problems weren't all Girardi's fault, of course. It's not his fault Chapman temporarily stopped throwing his fastball by hitters or that Betances stopped throwing strikes. Should he have realized it sooner and pulled the plug? Eh, maybe. It's not like he was loaded with options though.
Leverage index can help give us an idea who pitched in important situations the most, and as far as I'm concerned, that's the most important aspect of bullpen management. Make sure your best guys are on the mound in the most important situations. Generally speaking, anything with a leverage index of 2.0 or greater is considered high-leverage. Here is the team's leaderboard for high-leverage appearances:
Aroldis Chapman: 18
Dellin Betances: 16
Adam Warren: 11
Tyler Clippard: 9
Chasen Shreve: 7
Jonathan Holder: 5
Chad Green: 4
David Robertson: 4 with Yankees (12 with White Sox)
Tommy Kahnle: 4 with Yankees (10 with White Sox)
I'm surprised Robertson had only four high-leverage appearances with the Yankees. I'm not surprised Green only had four though, because even when it was clear he was a monster, he entered a lot of games in the middle innings, which usually aren't high-leverage spots. That doesn't mean his work was any less important. Clippard getting almost as many high-leverage appearances as Warren despite only being a Yankee for half a season though? Yikes.
Girardi's bullpen usage during the regular season is whatever. That period in May and June when Clippard was blowing games while Betances sat in the bullpen was quite annoying, otherwise it was a typical Girardi season. The postseason, however, was a much different story. Girardi's bullpen work was exceptional in October, particularly in the Wild Card Game, in which Luis Severino recorded one out.
"We talked prior to the game. You bring up that scenario that if he takes line drive off the shin, what do you do? I didn't think that he was going to get one out. I didn't bring that scenario up," said Girardi after the game. "And you know, part of that is trying to decide who to bring in, and we talked about Greenie and Robbie would be the first two guys that we would bring in tonight, no matter when the situation was, to try to put innings out, and to get as much out of them as we could."
That's exactly what happened. Green came out of the bullpen, got some big outs in the first inning, and Robertson bridged the middle innings. Robertson was Girardi's go-to reliever in the postseason and he used him every chance he had, for as long as he could. Robertson appeared in eight of the team's 13 postseason games and five times he threw more than an inning. Chapman was used for more than three outs on several occasions as well.
The postseason is a much different animal than the regular season, and in terms of his bullpen usage, I thought Girardi was just outstanding in October. He went to his best relievers regardless of inning and did as much as he could to put the Yankees in position to win. Sometimes it didn't work out — Robertson gave up four runs and didn't get an out in ALCS Game Six — but for the most part, it did. Girardi's regular season bullpen usage was typical Girardi. In the postseason, he was fantastic.
Platoon Advantage
Throughout Girardi's tenure the Yankees consistently ranked near the top of the platoon advantage leaderboard. Last season 68% of their plate appearances came with the platoon advantage, second most in baseball. The year before that they led baseball with 73%. The year before that they were third at 70%. From 2008-16, the Yankees were consistently one of the best teams at getting the platoon advantage.
That all changed this season, when only 51% of the team's plate appearances came with the platoon advantage, slightly under the 52% league average. And it's not Girardi's fault. The Yankees lean more right-handed with their lineup nowadays, thanks mostly to Aaron Judge and Gary Sanchez, but also keep in mind righties like Todd Frazier and Chris Carter held down regular lineup spots for an extended period of time as well. There are more righty pitchers in baseball than lefties, so yeah.
Is getting the platoon advantage a managerial skill? Yeah, I think so, to some degree. It depends on the personnel, obviously. The Yankees were near the top of the league in plate appearances with the platoon advantage from 2008-16 and part of it was Girardi and part of it was the roster. This year they were middle of the pack mostly because of the personnel, and they still scored the second most runs in baseball.
Instant Replay
In the first three seasons of the replay system, Girardi and the Yankees had one of the highest overturn rates in baseball. They had the second highest success rate in 2016 (69%) after having the highest in 2015 (75%) and 2014 (82%). This year they were had a 67% overturn rate, second highest in baseball behind the Twins (68%). When Girardi challenged, more often than not it was overturned.
Now, that said, Girardi has also ranked near the bottom in total challenges over the years. Last year they challenged the fewest plays in baseball. The year before they challenged the ninth fewest and the year before that it was the fifth fewest. That changed this season. The Yankees challenged 49 plays during the regular season, sixth most in baseball. How about that? The Rangers led the way with 63 challenges.
I'd been beating the "Girardi should challenge more who cares about the overturn rate" drum for a while now, so I'm glad Girardi did challenge more season. That he did so while maintaining that high overturn rate is pretty cool. The problem, of course, is the one play Girardi didn't challenge. In Game Two of the ALDS, Green appeared to hit Lonnie Chisenhall in the hand with a pitch, which loaded the bases and set up Francisco Lindor for the grand slam. Replays showed the ball hit the knob of the bat, but Girardi didn't challenge in time even though Sanchez was telling him to challenge, so the hit-by-pitch count and the grand slam happened.
"There was nothing that told us he was not hit on the pitch. By the time we got the super slow mo, we were a minute — probably beyond a minute — and it was way too late," said Girardi after the game, explaining the non-challenge. "They tell us we have 30 seconds … Being (an ex-catcher), my thought is I never want to break a pitcher's rhythm. That's how I think about it."
That was about as bad an excuse as Girardi could've come up with. They give you two challenges in the postseason! It was a huge moment, Girardi didn't challenge it, and the Yankees paid dearly. Who knows what happens had they challenged. Maybe they lose anyway. Or maybe they win the series in four games instead of five, and they outlast the Astros in the ALCS because the team is better rested. It was a bad, bad, bad, bad decision at the time. The Yankees bailed Girardi out by coming back to win the series.
The Gary Sanchez Incident
Girardi was a staunch defender of his players. He had their backs even when they didn't deserve it. On August 4th, for really the first time during his tenure with the Yankees, Girardi threw a player under the bus. Sanchez committed a passed ball that allowed a run to score against the Indians, and after the game Girardi laid into Gary while speaking to reporters.
"He needs to improve. Bottom line," said Girardi after the game. "I don't have a problem with his effort, but sometimes he shows his frustrations. He's late getting down. That's what I see sometimes, and it's something we've been working on and we continue to work on. He's capable of doing a better job."
Tame in the grand scheme of things, though that was easily the most we've ever heard Girardi criticize a player. And it wasn't just any player, it was his franchise catcher who was already under the microscope. He inflamed the situation. Gary's defense became a Very Big Deal the rest of the season, to the point that people were talking about starting Austin Romine in the postseason, which is madness.
Girardi benched Sanchez after that, and he did it in what was probably the best possible way. Gary sat the next day, which was a day game after a night game, so he was probably going to sit anyway. The next day was an off-day, then Sanchez was the DH the day after that before going back behind the plate. That's three straight days away from catching but only one day out of the lineup, a day he was likely to sit anyway.
A narrative was born that the benching woke Sanchez up at the plate, which I would buy if he hadn't gone 9-for-26 (.346) with three doubles and three homers in his previous seven games, but whatever. Between the benching and the fact Sanchez's calls to challenge the Chisenhall hit-by-pitch were ignored, it seemed as though Girardi did not fully trust Gary, at least behind the plate. That's not good. The manager — the ex-catcher manager — and the team's young franchise catcher should be on the same page. I suppose it's possible Girardi's relationship with Sanchez could've contributed to his dismissal.
* * *
Before the Yankees let Girardi go, there were weeks of rumors that Girardi would make the decision to step away himself, so he could spend more time with his family and avoid getting burnt out. Managing for ten years is not easy, especially in New York. Hal and Cashman had been in Girardi's corner for years and I assumed he still had their support, and if you have their support, you're in good shape. I figured Girardi would be back if he wanted to be back.
Girardi did want to be back. He said so in interviews after being let go. The Yankees are going in another direction though, and it doesn't really matter whether we think it is the right move or the wrong move. It happened and it's done with. Girardi will undoubtedly land on his feet — he's said he wants to manage again at some point, though it seems he'll wind up in a broadcast booth somewhere next year — and the Yankees will likely win a boatload of games next year because they're so talented and deep organizationally, making Boone look smart.
Given how they exceeded expectations so greatly, the case can be made that the 2017 season was Girardi's most impressive with the Yankees. Behind closed doors though, enough problems had surfaced (or were beginning to surface) that the Yankees decided a change in leadership was necessary. Parting ways with Girardi came as a shock to me and I know it did to many others. We're not in the clubhouse though, or on the plane or at the hotel. The stuff we don't see is the reason the Yankees are moving forward with a new manager.