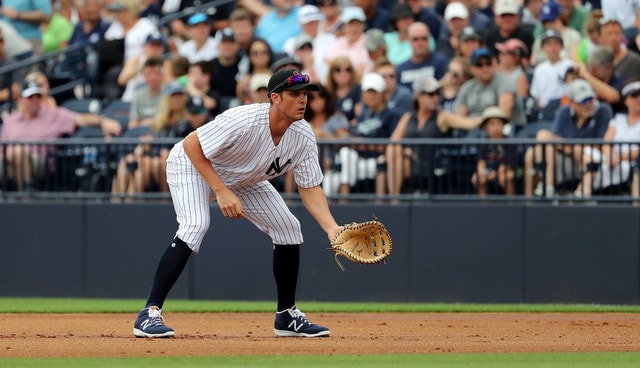 Sounds like the Yankees may not have first baseman Greg Bird for the start of the regular season.
Earlier today, Greg Bird was scratched from his scheduled start and sent for tests on his sore right foot. The Yankees have since announced an MRI and CT scan revealed right foot inflammation, and that Bird will see a specialist in New York on Monday. Opening Day is Thursday.
"I'm worried about it, to be honest," said Brian Cashman to Marly Rivera earlier today. "I'm not sure what we're dealing with. But when Greg, when he can't tee it up, it's a problem for us because he's a vital member of our organization. But we're deep and we have other people that can pick up the slack."
Cashman told Erik Boland that Bird first felt discomfort in the foot after playing nine innings Friday. Bird missed much of last season with a right ankle issue that eventually required surgery, though it's unclear whether this injury is related to that injury at all. I guess that's why he's going to see a specialist.
I suppose the good news is Bird didn't try to play through the injury this time, and the MRI and CT scan apparently didn't show any structural damage. That said, something is wrong somewhere. There's something causing that inflammation, and whatever it is, it's serious enough — or tricky enough — to warrant a trip to a specialist.
If the Yankees won't have Bird on Opening Day — or for any length of time, for that matter — they figure to turn to Neil Walker and/or Tyler Austin at first base. Miguel Andujar is slated to see some first base time in Triple-A this year, though I doubt he's an option there now. The Yankees could also reach back out to Adam Lind.
Between last year's ankle injury and his 2016 shoulder surgery, Bird has played only 94 big league games since making his MLB debut in August 2015. He hasn't had a good spring at all (.154/.267/.231 in 60 plate appearances), though both he and Aaron Boone attributed it to a mechanical issue. I suppose that could still be true, but a foot issue would also explain things.