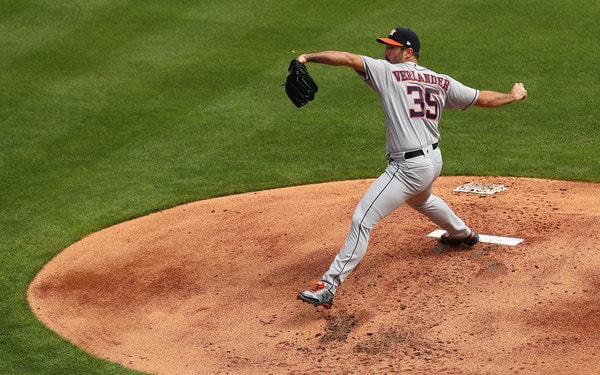 The Yankees spent weeks looking for rotation help last summer and, even after adding Sonny Gray, they spent much of the offseason looking for yet another starter. Not just a depth arm either. They were after guys like Gerrit Cole and Yu Darvish and Michael Fulmer. Difference makers. Not spare arms to stash in the minors.
Prior to last year's trade deadline the Yankees were very loosely connected to Justin Verlander — in fact, the only rumor said there was "no indication" they were after the then Tigers ace — who of course went to the Astros and helped beat the Yankees in the ALCS. Earlier this week Buster Olney (subs. req'd) said the Yankees did indeed want Verlander, but his contract was an obstacle:
Because Hal Steinbrenner's Yankees opened this season ranked just seventh among teams in payroll, they are well-positioned to make significant midseason deals, if needed. Last year, the Yankees wanted Justin Verlander but had to let him pass by on waivers because they didn't have the payroll flexibility to spend. This year, they will likely be among the most aggressive teams, particularly in the August waiver period, with a chance to make an already good club even better.
Needless to say, adding Verlander at the trade deadline would've changed everything. And not necessarily for the better! Maybe the Yankees get Verlander and lose the Wild Card Game. Who knows? Verlander would've been with a different team in a different city in a different division with different coaches. His entire career path would've changed. Adding him doesn't mean the Yankees automatically beat the Astros in the ALCS.
Anyway, I think the larger point here is that the whole "they didn't have the payroll flexibility to spend" thing likely refers to future payroll, not last year's payroll. The Yankees were probably more worried about Verlander preventing them from getting under the $197M luxury tax threshold this year than they were absorbing a few more dollars in 2017. I have two things to say about this.
1. I'm not sure the Yankees would've claimed Verlander anyway. The Astros didn't even claim him. Teams do not make $64M decisions lightly. Anthony Fenech says Verlander cleared trade waivers on August 4th, four weeks before he was actually traded. No team claimed him because almost every high salary player clears trade waivers. Clubs don't want to run the risk of having the contract dumped on them without a chance for prolonged negotiations.
Why not claim Verlander to block him from going to the Astros (or Red Sox or Dodgers or whoever)? Well, because he had $64M left on his contract at that time and that is a giant sum of money. Again, the Astros didn't even claim Verlander! Over the years Olney has been a "why don't teams claim more players to block them from going to rivals?" guy when the answer is, very clearly, transactions involving this much money are not simple. They have long-term ramifications.
Even if the Yankees weren't worried about the luxury tax plan, they probably still wouldn't have claimed Verlander. I know this because literally every team in baseball, including the team that eventually acquired him, did not claim him. Hammering out a trade of this magnitude with a contract of that size takes time, and a waiver claim only affords you 48 hours to talk. No team is willing to risk $64M for a 48-hour negotiating period. I don't think the Yankees place a claim even if they weren't worried about the luxury tax plan.
2. What would adding Verlander have meant for 2018? Let's say, for the sake of argument, the Yankees did get Verlander at the same terms as the Astros. That means the Tigers are still eating $8M of his $28M salary both this year and next. His five-year, $140M extension carries a $28M luxury tax hit. Subtract out what the Tigers are paying him and Verlander would count as $20M against the luxury tax payroll this year and next. Got it? Good.
So what does that do for the Yankees? I'll tell you what it does: Giancarlo Stanton isn't in pinstripes. Never say never, but it's hard to see how they squeeze Stanton into the payroll with Verlander on board. Maybe they find a way to free up more money (trade David Robertson?) or get the Marlins to eat a bigger piece of Stanton's contract (in exchange for better contract, presumably). It just seems so unlikely. The Yankees tried like crazy to create more payroll space over the winter and nothing materialized.
There's an argument to be made for Verlander over Stanton. Maybe, with Verlander on the roster, the Yankees make a push for the more affordable Christian Yelich instead of Stanton. Or maybe they decide to use the open lineup spot for Clint Frazier or Miguel Andujar (or Gleyber Torres). My guess is they would've signed a cheap DH late in the offseason, like Lucas Duda or Logan Morrison. But, who knows. I just have a hard time seeing a scenario in which the Yankees get Verlander at the deadline and Stanton in the offseason given the luxury tax plan.
Had Verlander not helped beat the Yankees in the ALCS, I don't think there would be much (or any) revisionist history about last year's trade deadline. I wasn't all in on Verlander last summer mostly because of the contract, because it would've preventing the Yankees from doing stuff this winter, such as getting Stanton. The younger and more affordable Gray struck me as the better move. And hey, maybe I'm wrong. I'm wrong all the time.
What's done is done. The Yankees don't have Verlander, they do have Gray and Stanton, and they are in position to get pretty much anything they want at the trade deadline. They have prospects and they have payroll flexibility. Hopefully they won't have many needs, and can simply look to improve on whatever they already have. That's the ideal trade deadline scenario.