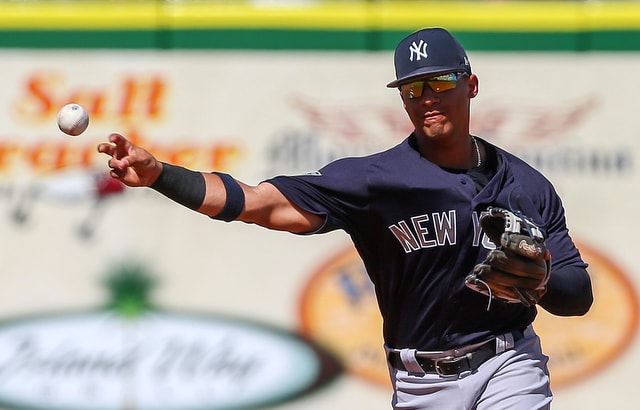 Happy Sunday, RAB readers. A few middle infield thoughts–past, present, and future–for your reading pleasure.
What Comes Up
It's time. The Yankees will reportedly call up Gleyber Torres for today's game, starting his Major League hopefully ending his Minor League one. I know I can't speak for all of you, but I haven't been this excited for a call up since Jesus Montero's back in 2011.  When Aaron Judge and Gary Sanchez got called up, I was excited, no doubt, but they were called up at more 'conventional' times, given the calendar and the Yankees' place in the standings. And like Montero, Torres is a top-10, top-5 prospect in all of baseball. No matter the circumstances, seeing that caliber or prospect come up is exciting. Torres is incredibly talented and has lit things up at AAA this year, despite coming off of an injury. Is it likely that he starts off his time Sanchez style? Probably not. But all he has to do, hype aside, is be better than the guy he's replacing in the person of…
What Goes Down
…Tyler Wade. Presumably, Wade will be demoted today to get regular playing time in Scranton. The other day–while lamenting that Torres was not yet called up–I did some digging into Wade's gamelogs and found that he hasn't been on base since April 5 against the Orioles. That is a really long time! Before the Neil Walker signing, I think most of us wanted Wade to be the everyday second baseman and while that worked itself out, his performance hasn't. Aside from the regular playing time, hopefully the trip back down will give Wade some confidence for him to build on. Given his low hard contact rate and low line drive rate so far–17.9% and 13.6% respectively, with a groundball rate over 60%–Wade will need to work on squaring up the ball and hitting it with authority. It's doubtful we've seen the last of Tyler Wade in the majors this year.
The Form of Shortstop Present
Let's hear it for Didi Gregorius, huh? This isn't exactly a rare sentiment now, but how awesome is this guy? He came to the Yankees fairly raw and unpolished, and now he's essentially the embodiment of what's great about baseball. Didi's turned hard work into results and is on top of the world right now. Is it going to continue this good? Probably not, but he's still likely to improve off of last year, which was an improvement from the year before, which was…And this is all without mentioning his personality. It's hard to think of Didi and picturing him doing anything but smiling. Given Didi's attitude, he's a dude who should be front and center of as much player-centric marketing as possible.
The Ghost of Shortstop Past
Let me preface this with a statement that has become, in my corner of Yankee Twitter, at least, a bit of a Hot Take: Derek Jeter was a great player and the Yankees were lucky to have had him for 20 years. Considering his position, he was a near-elite hitter with elite longevity and consistency. His tenure in New York was nothing but successful for many reasons. His tenure in Miami is going, well, not great (,Bob). The latest example of that is an interview with Bryant Gumbel in which Jeter seems to get pretty defensive about his handling of the Marlins' situation, as well as dancing around the idea of taking, rebuilding, etc. I'll almost grant Jeter a pass for how cringy this exchange with Gumbel was. It says much more about how he was treated by the New York media than it does about Jeter himself. They–who always pride themselves on being tough on players for….its own sake, apparently–let Jeter get away with non-answers and relative evasions for 20 years, so he got used to non-answers and relative evasions. He hasn't yet adjusted to a press that will give him pushback. Maybe he gets better at it, maybe he doesn't. Regardless, this is a bad look for Jeter, as has been the case for much of his tenure as the public face of the organization's new ownership group. At best, he's been a deer in headlights. At worst, he's been Phil Jackson Lite, only he hasn't had time to ruin things beyond repair yet.