Snow and rain meant the first series of the season at Yankee Stadium was a bit messy, but a sweep is a sweep, and the Yankees swept two games from the Rays. They won Wednesday's game 7-2 because their best players were the best players on the field. Good win. More of these, please.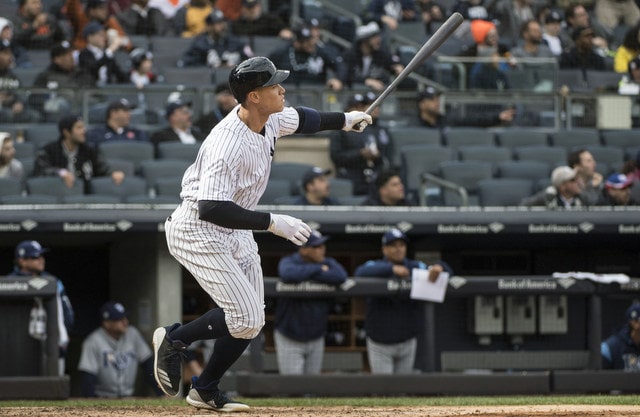 Breaking Out
Know what's pretty cool? The Yankees went into Wednesday's game with 28 runs on the season, seventh most in baseball. (Three of the six teams ahead of them played one more game.) They did all that without Aaron Judge or Gary Sanchez going deep yet, and with Giancarlo Stanton striking out five times in five at-bats in the home opener. The middle of the lineup hasn't fired on cylinders yet.
On Wednesday, the middle of the lineup started to click. Brett Gardner started the afternoon with a single up the middle, and after Judge popped up into foul territory on the first base side, Stanton quickly fell behind in the count 0-2. We were all waiting for the sixth strikeout in six bats. I know it, you know it. Don't deny it. Blake Snell got him to swing over top of a first pitch changeup and foul off a second pitch changeup. The third pitch was a high fastball, possibility to set up the offspeed pitch down. The fourth pitch? Hammer time.
Pretty good way to stop the boos, eh? Stanton made contact and everyone knew the ball was gone. There's no "I hope it gets out!" with Giancarlo. There's "I hope no one gets hurt when it lands!" The ball left Stanton's bat a 117.9 mph. Hardest hit ball in baseball so far this season. Second hardest is Stanton's first Opening Day homer at 117.4 mph. His former teammate Marcell Ozuna is the only other player to crack 117 mph this year.
The Stanton homer gave the Yankees an early 2-1 lead. Two innings later, it was time for Gary Sanchez to snap out of his little early season slump. He went into the game 1-for-19 (.053) on the season and hitless in his last 16 at-bats. A first inning strikeout stretched it to 0-for-17. Sanchez saw a 3-0 count in the third inning and he should've walked. The fourth pitch was a fastball off the plate …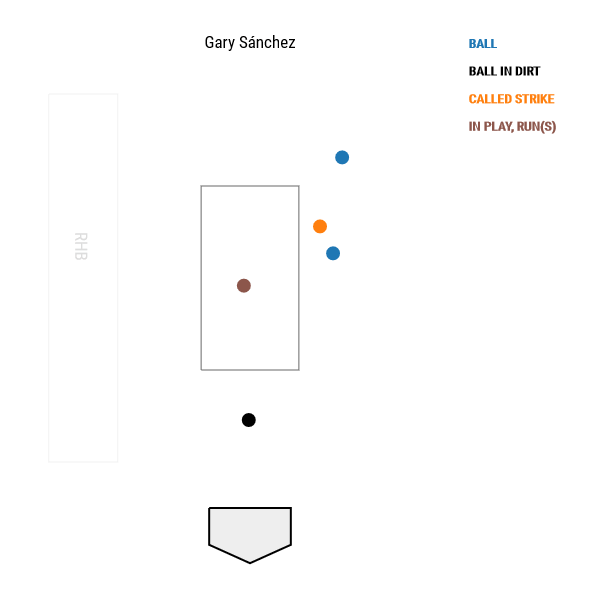 … but home plate umpire Joe West gave Snell the 3-0 autostrike. That kept the at-bat alive, and as the "In Play, Run(s)" note in the graphic spoils, Gary smacked a two-run homer. Judge walked earlier in the inning to set it up. Sanchez's homer was very different than Stanton's. Stanton's homer was a missile to left. Gary's was a high fly ball, and replays showed Sanchez reacting like he thought he got under it. Instead, it snuck over the wall for a two-run homer and a 4-1 lead.
Not to be outdone, Judge got in on the act in the fourth inning, hitting his first homer of the season. It was another two-run shot too. A two-run dinger for each of the three big bats. Judge's homer came against Matt Andriese, not Snell, who exited the game having thrown 90 pitches to get ten outs. It feels like every Snell start against the Yankees is the same. You look up and his pitch count is at 70 in the third inning. The Yankees will do that.
Anyway, the Yankees actually scored a non-homer run in that fourth inning before Judge homered. Tyler Austin walked, stolen second (!), advanced to third on Austin Romine's fly ball to right, then scored when Ronald Torreyes poked a single back up the middle through the drawn in infield. It was classic Torreyes. Right in his wheelhouse: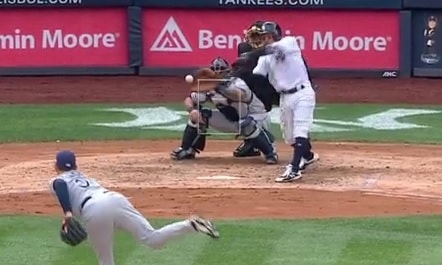 The Torreyes single stretched the lead to 5-1. Judge's home run, which came on a classic Judge swing with a one-handed follow through, gave the Yankees a 7-1 lead. I feel like I saw Judge hit that same exact home run about 35 times last season. Like last year, his first homer came in the team's sixth game. His second homer came in the seventh game and his third homer came in the eighth game. Would be cool if Judge does that again.
Making It Look Easy
The home runs are going to get all the attention and deservedly so, but holy cow, what a start by Luis Severino. He did allow a run in the first inning — Kevin Kiermaier singled and C.J. Cron drive him in with a double to left, juuust out of Stanton's reach — but he settled down quickly after that. Severino's pitch count by inning: 18, 9, 22, 8, 7, 10, 9, 8. He faced only two batters in that last inning.
The end result was two runs allowed on five hits and one walk in 7.1 innings. Severino struck out seven. What stood out most about his outing was how easy he made it look. I mean, the Rays stink, but still. They're Major League hitters and Severino carved them right up. He was the anti-Snell. Snell labored and had to grind through long at-bats. Severino was efficient. He faced 26 batters and only five saw more than four pitches in an at-bat. Eighteen of those 26 batters put the ball in play and six managed to hit the ball to the outfield. That is: Good.
Severino finished with 13 ground ball outs compared to only two in the air. He has a 20/6 GB/FB ratio through two starts now. Last year he posted an above-average 50.6% ground ball rate. Through two starts this year, Severino is sitting on a 72.8% ground ball rate. It's two starts, and neither the Blue Jays nor the Rays have powerhouse lineups, but still. That's really great. Severino getting more quick ground ball outs would take him to another level. Go Sevy.
Leftovers
The bullpen didn't allow a run! Technically. Adam Warren replaced Severino with one out in the eighth and allowed the inherited runner to score. Oh well. Severino is the first Yankees' starter to allow more than one earned run in a start this year. It was Warren's first outing since taking the comebacker to the ankle. He finished off the eighth inning and Aroldis Chapman, who hadn't pitched since Friday, finished the ninth.
Two hits for Romine, one hit each for Gardner and Torreyes, and one walk each for Judge, Austin, and Brandon Drury. Stanton did strike out three times following the homer, so his first two games at Yankee Stadium as a Yankee have gone strikeout, strikeout, strikeout, strikeout, strikeout, home run, strikeout, strikeout, strikeout. He's gotta work on that. Judge is hitting .286/.444/.476 (169 wRC+) and has reached base in nine of his last 13 plate appearances.
Box Score, WPA Graph & Standings
Here are the box score, video highlights, and updated standings. Little too early to be checking the standings, if you ask me, but there they are if you're interested. Here's our Bullpen Workload page and here's the win probability graph:

Source: FanGraphs
Up Next
Hopefully not rain. Getting kinda sick of it. Anyway, the Orioles are coming to the Bronx for a four-game weekend series next. It'll be Masahiro Tanaka vs. Andrew Cashner in the series opener Thursday. That's a 6:35pm ET start, not a 7:05pm ET start. The Yankees are testing out some early start times this month to see how it goes.