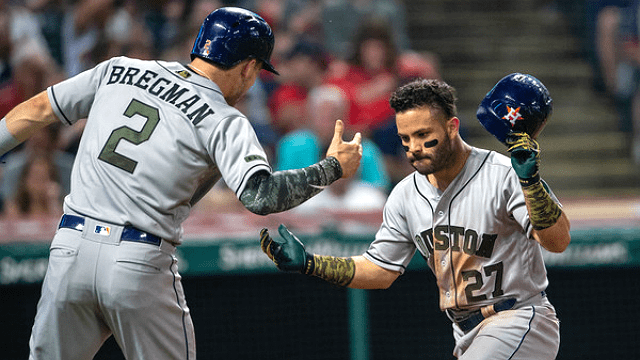 After series against the Rangers and Angels, let's see how the Yankees do in a three-game home set with the class of the American League West.
The Last Time They Met
It's been less than a month since the Yankees took three of four in Houston in the middle of their 17-1 stretch.
Charlie Morton handed them that one loss with a gem of a start in Game 1 and was followed by eight shutout innings from Justin Verlander in Game 2.
Verlander's 14-strikeout masterpiece was upended by Ken Giles' woeful ninth-inning, culminating in a Gary Sanchez homer and a self-punch to the face for Giles.
Giancarlo Stanton homered twice and Luis Severino shutout Houston in Game 3 before the Yankees survived a near bullpen collapse with a 6-5 comeback to take the series finale.
Jordan Montgomery went down with an injury after one inning in the second game, leading the Yankees to get eight innings of shutout relief from Domingo German and others.
For more information, check out Katie's Yankeemetrics post on that series.
Injury Report
The Astros are mostly healthy. Josh Reddick has a left leg skin infection and will miss this series while fellow outfielder Derek Fisher (gastrointestinal discomfort) could return on Tuesday or Wednesday.
Their Story So Far
The defending champions are 34-20 and they just might be better than that record. Their Pythagorean record has them at 41-13 because their pitching staff has held opponents to just 147 runs. No other American League team has held teams to fewer than 200 runs. Their offense hasn't been quite as supercharged as the Yankees, but they still have the same group that produced last year's title run.
Jose Altuve again leads the AL in hits and the rest of the top four hitters in the lineup continue humming along. Verlander, Morton and Gerrit Cole are 1-2-3 in ERA among AL starters (Severino is fourth), leaving Dallas Keuchel and Lance McCullers Jr. as overqualified four and five starters. Their only weaknesses are their bullpen and maybe the back-end of their lineup.
Lineup We Might See
1. RF George Springer (.294/.357.509, 139 wRC+)
2. 3B Alex Bregman (.266/.384/.432, 132 wRC+)
3. 2B Jose Altuve (.330/.377/.457, 133 wRC+)
4. SS Carlos Correa (.272/.357/.471, 127 wRC+)
5. LF Marwin Gonzalez (.214/.291/.315, 71 wRC+)
6. 1B Yuri Gurriel (.278/.304/.373, 86 wRC+)
7. C Brian McCann (.227/.323/.364, 95 wRC+)
8. DH Evan Gattis (.230/.295/.422, 98 wRC+)
9. CF Tony Kemp (.333/.400/.500, 149 wRC+)
Don't be surprised to see a lot of shuffling between McCann, Gattis and fellow catcher Max Stassi (149 wRC+), who has been the best hitter of the trio this season. Jake Marisnick (27 wRC+) may get a start over Kemp vs. CC Sabathia for platoon reasons despite a horrid start to the season.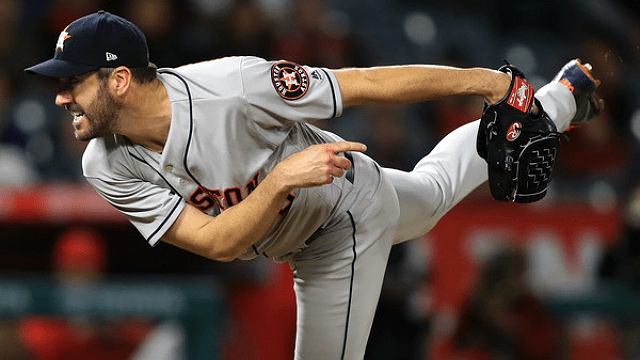 The Starting Pitchers We Will See
Monday (1:05 PM ET): RHP Domingo German vs. RHP Justin Verlander
Verlander has had the best stretch of his career to start the 2018 season and is currently the Cy Young favorite, far and away. That's what happens when you put up a 1.08 ERA over 74 2/3 innings. He's averaging just short of seven innings a start and has a .710 WHIP to go with a career-best 28.1 K-BB%.
If anything could fell him, it's his career-low groundball rate. The Yankees are going to swing and miss a lot against him, so perhaps they poke a few out in the #littleasspark. They've had no luck in their three games vs. Verlander at Minute Made Park and haven't faced him at Yankee Stadium since 2016 when their lone run came on a Rob Refsnyder RBI single. The current roster bats .190/.265/.321 against him with 50 strikeouts in 153 plate appearances.
Last Outing (vs. SFG on May 23) – 6.0 IP, 3 H, 1 R, 1 BB, 9 K
Tuesday (7:05 PM ET): LHP CC Sabathia vs. RHP Charlie Morton
Morton has been similarly dominant to Verlander this season with a 2.04 ERA in 61 2/3 innings. That included 7 2/3 innings of two-hit, 10-strikeout ball on Apr. 30 against the Yankees, the lone loss for the Bombers in their 17-1 stretch.
At 34 years old, Morton is somehow throwing harder than ever, averaging 96 mph on his fastball after throwing in the low 90s up until his brief stint with the Phillies two years ago. He favors assorted variations of his fastball while working off of it with an 80-mph curveball. He's been a magician in Houston.
Last Outing (@ CLE on May 24) – 6.0 IP, 5 H, 2 R, 3 BB, 5 K
Wednesday (6:35 PM ET): RHP Luis Severino vs. LHP Dallas Keuchel
It's funny to say, but of any of the pitchers in this series, Keuchel is the one that has earned a reputation for a Yankee killer. He has a 1.74 ERA in his career against the Yankees and the current team bats just .202/.240/.319 against him. However, he's lost his last two starts against the Yankees beginning with ALCS Game 5 last year. Maybe his Yankee stopping mojo is gone?
Keuchel hasn't been quite as good this season despite a strong 3.39 ERA in 69 innings. His groundball rate has fallen a bit and with that has come a few more home runs, including two by Stanton on May 2. He's still a solid pitcher for Yankee Stadium with his worm killing stuff able to keep the ball out of seats. He's allowed a reverse platoon split this season in a small sample that goes against his prior career numbers.
Last Outing (@ CLE on May 25) – 6.0 IP, 8 H, 2 R, 1 BB, 5 K
The Bullpen
Their bullpen has been a bit of a mess again this season, as the Yankees saw first hand a month ago. Ken Giles' and Will Harris' ERAs are up to 5.06 and 4.08, respectively, after contributing to Sunday's meltdown in Cleveland, where the Astros blew a five-run lead in the ninth inning. Chris Devenski is same solid self and Brad Peacock has been solid despite allowing a walk-off homer yesterday.
Beyond them, offseason addition Joe Smith has an unseemly 6.06 ERA in 19 appearances while Hector Rondon has been good in 21 games despite his blown save on Sunday. Collin McHugh has been a dominant long man after getting squeezed out of the rotation (though again, he gave up a run yesterday). McHugh is the type of guy you'll forget about and then he'll win the Astros a playoff game out of nowhere. Be on the lookout.
The bullpen will be a bit shorthanded after everyone but Tony Sipp, the lone lefty, pitched on Sunday, including two innings each from Smith and McHugh. Definitely possible the team makes a quick roster move to add some short term help, though they could just rely on Verlander to go deep.
Yankees Connection
McCullers' father pitched for the Yankees from 1989-90 while Cole, as you likely know, was a first-round draft pick of the Yankees who didn't sign despite growing up a Yankees fan. It was the right call considering he was picked first overall three years later.
And, of course, McCann was in pinstripes for three solid seasons behind the plate. He hit a little too well in Games 6 and 7 of the 2017 ALCS for my liking, but I still have a soft spot for him.
Who (Or What) to Watch?
I think I've written this a half-dozen times now, but this is a measuring stick series. The Astros may have four more losses than the Yankees, but they're just as formidable.
The top four in the Astros' lineup will make things happen on their own, so one key for this series will be how the Yankees handle their bottom five, particularly guys like Kemp in the nine-hole. If the Yanks keep them off the bases, that makes dealing with Springer through Correa much simpler.