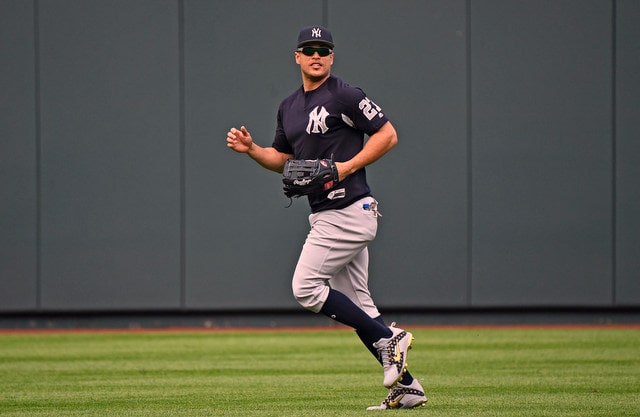 The Yankees picked up their first win in almost a week two games last night, and this afternoon they're looking to clinch their eighth consecutive series win, ignoring whatever the hell that Nationals series was. They are 20-4 in their last 24 games and 29-13 on the season overall. That is baseball's very best record. The Yankees have won 29 of their first 42 games for the first time since the 1998 team went 32-10 in their first 42 games. Pretty great.
Today the Yankees are sending their weakest link to the mound. Sonny Gray owns a 6.39 ERA (5.15 FIP) through eight starts and 38 innings, and after two pretty good starts, he took a step back last time out. A quality outing against a pretty bad Royals team today would be appreciated. The Yankees have to get Sonny on track. He is their single biggest problem, in my opinion. Here are the lineups:
New York Yankees
1. LF Brett Gardner
2. RF Aaron Judge
3. DH Giancarlo Stanton
4. CF Aaron Hicks
5. 1B Tyler Austin
6. 3B Miguel Andujar
7. C Austin Romine
8. SS Ronald Torreyes
9. 2B Gleyber Torres
RHP Sonny Gray
Kansas City Royals
1. CF Jon Jay
2. RF Jorge Soler
3. 3B Mike Moustakas
4. DH Salvador Perez
5. 2B Whit Merrifield
6. 1B Hunter Dozier
7. LF Alex Gordon
8. SS Alcides Escobar
9. C Drew Butera
LHP Eric Skoglund
You're not gonna believe this, but it's raining in Kansas City. There are on-and-off showers in the forecast all afternoon. It was supposed to rain last night and it never did, so hopefully the Yankees are able to avoid another delay. I don't know about you, but I'm getting real sick of this lousy weather. Today's game is scheduled to begin at 2:15pm ET and you can watch on YES locally and MLB Network out of market. Enjoy the game.
Injury Update: Greg Bird (ankle) could return "sometime within the next week," according to Aaron Boone, so that's cool … Tommy Kahnle (shoulder, biceps) has been pitching in Extended Spring Training games and is "getting real close," Boone said. Depending how the next day or two go, Kahnle could rejoin the Yankees at some point during the upcoming series in Texas.
Roster Move: Welcome back, David Hale. Yet again. Third time this year the Yankees have signed Hale to a minor league contract. I'm not sure why he elected free agency and re-signed rather than simply accept the outright assignment. Maybe Hale was able to squeeze a few more bucks and/or an opt-out date from the Yankees? Whatever. Anyway, Hale is back. He's going to Triple-A Scranton.