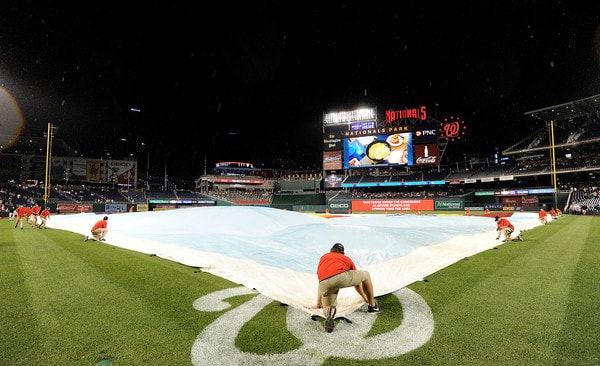 Once again, the Yankees and Nats have been rained out. Both of tonight's games — the completion of yesterday's suspended game and the regularly scheduled game — have been postponed, it has been announced. The two games will be made up on Monday, June 18th, starting at 5pm ET.
The makeup games come in the middle of a homestand. The Yankees will play four games against the Rays at Yankee Stadium, travel to Washington for the makeup games, then go back to New York for a three-game series with the Mariners. Not great, not terrible. The Yankees will play 17 games (well, 16.5 games) in 16 days from June 12th to June 25th though. That bites.
Both the Yankees and Nationals have an off-day tomorrow, though apparently it is not available for makeup games due to travel arrangements. I'm not sure how those rules work, but whatever. Between off-days and rainouts, the Yankees will play five and a half innings of baseball from Monday through Thursday this week. They open a four-game series with the Royals on Friday.
The good news? The overworked bullpen is getting a much-needed breather. Guys like Chad Green, Dellin Betances, David Robertson, and Aroldis Chapman have all worked hard lately, and now they get a nice little four-day break. None of them even warmed up last night. Also, fewer games now means more games with Greg Bird, Tommy Kahnle, and Adam Warren later. Hooray for that.
In addition to these makeup games, the Yankees also have to travel to Detroit for a doubleheader on June 4th, so they traded two off-days for three and a half games next month. Sucks, but what can you do? The Yankees still have three off-days in June, and none of their road series involve long travel. Could be worse.
The Yankees have not yet announced anything, though I assume CC Sabathia will start Friday's series opener in Kansas City. He was scheduled to start tonight and it seems likely the Yankees will keep everyone on turn to ensure all their starters get extra rest.
Pitching Update: The Yankees will start Sabathia, Luis Severino, and Sonny Gray in Kansas City in that order. Domingo German is being pushed back to next week and will be available out of the bullpen this weekend, if necessary.