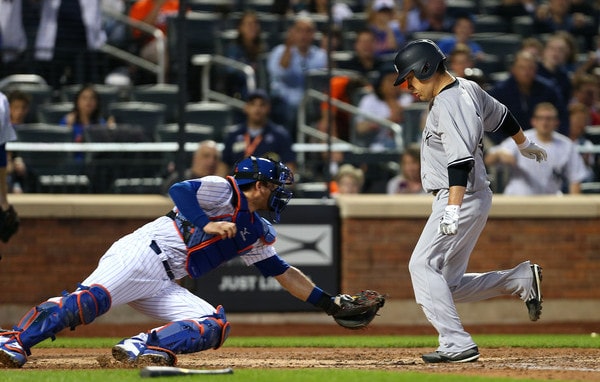 The Subway Series series win over the Mets this weekend came at a price. Masahiro Tanaka went down with "mild" strains of both hamstrings Friday night. He said he first felt tightness in his hamstrings in the third inning, and when he ran the bases in the sixth, things got worse. Strained both hamstrings in one game? A very Mets injury, that is. Fitting it happened at Citi Field.
Tanaka has since been placed on the disabled list and, over the weekend, Brian Cashman said it would be "weeks" until Tanaka returns. That's not good. The Yankees are already without Jordan Montgomery. Losing another starter is bad news. Injuries are part of baseball though. Every team deals with them and the teams that deal with them the best are often the ones left standing at the end of the year.
"It's certainly unfortunate, but it creates an opportunity for others," said Cashman to Dan Martin. "We're forced to find some things out in other areas with some other personnel. That's always healthy, too. We're always open to outside help, no matter what time of year it happens to be. But we also have internal options we can rely on … It's always important to have depth, no doubt about that."
Today's off-day gives the Yankees the flexibility to start Tanaka's replacement pretty much whenever they want. They've indicated the replacement will start Friday — that gives Luis Severino an extra day before his next start — but, if they want, they could push Tanaka's rotation spot back to Saturday. Who will they call up? Who should they call up? I see five potential call-up candidates.
The Case for Chance Adams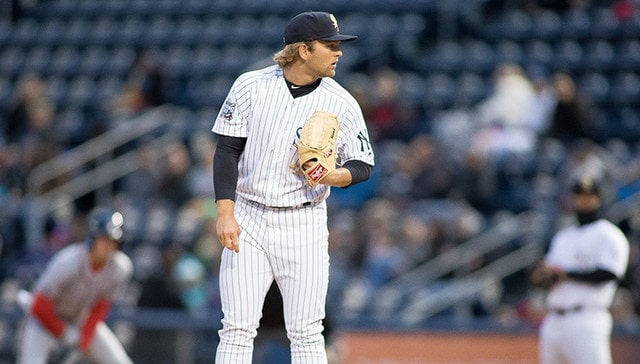 Truth be told, it's difficult to argue Adams should be first in line to replace Tanaka. Among actual prospects, Adams was the Yankees' most MLB ready minor league pitcher coming into the season, but he's struggled so far this year, pitching to a 5.43 ERA (4.70 FIP) with 27.7% strikeouts and 11.1% walks in 12 starts and 54.2 innings for Triple-A Scranton. Yuck.
Adams had surgery to remove a bone spur from his elbow in the offseason, and it's entirely possible — if not likely — the surgery is to blame for his poor performance. He did not have a normal offseason and he was still working to rebuild arm strength in Spring Training and early during the regular season. We're in June now though, and you'd think Adams would be back to normal by now, but apparently not.
Despite the lack of 2018 success, Adams could be the best Tanaka replacement option given his track record and his Triple-A experience. He pitched at the level pretty much all last season and had success, and that's not nothing. Adams will be Rule 5 Draft eligible after the season, so he has to be added to the 40-man roster anyway. The Yankees could get a little head start on things and call him up now.
The Case for A.J. Cole
Cole's done nice work since joining the Yankees, hasn't he? He hasn't pitched much, but when he has, he's been effective. Cole has embraced the team's anti-fastball philosophy and pitched to a 0.82 ERA (3.74 FIP) with 27.9% strikeouts and 14.0% walks in pinstripes. The walks are high, otherwise that's pretty great. Might be worth giving him a shot in the rotation to see whether that anti-fastball success carries over into a starting role.
Two problems here. One, Cole has thrown a whopping eleven innings in pinstripes, so that success comes in a small sample. And two, Cole has thrown a whopping eleven innings in pinstripes! He's not really stretched out. Cole hasn't thrown more than 2.1 innings or 40 pitches in an outing in close to two months now. Asking him to throw even a modest five innings or 75 pitches might be unrealistic. That said, Cole's on the roster, he's pitched well, and he's been a starter pretty much his entire career. It would be silly to rule him out as a rotation option.
The Case for David Hale
Calling up Hale would be the easy move. He's already had two big league stints with the Yankees this season and they keep bringing him back, so they like something about him. Hale's back with Triple-A Scranton now and he's stretched out — he threw 5.1 innings and 88 pitches last Tuesday — so it's an easy move. Call him up, slot him into the rotation, and let him run with it. No need to rush a prospect. Hale represents the path of least resistance and when no option stands out from the rest, the easiest move is often best.
The Case for Jonathan Loaisiga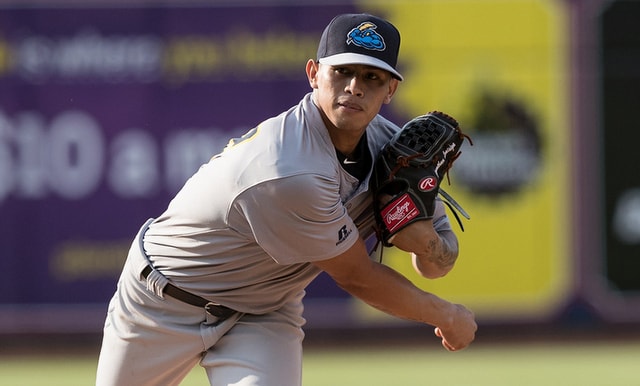 It sure appears the Yankees are preparing Loaisiga for a call-up. Or, at the very least, they're preparing him as a backup plan in case Plan A falls though. Loaisiga made a 49-pitch tune-up start yesterday, one week after Double-A Trenton manager Jay Bell insinuated Loaisiga was being prepped for a call-up during the doubleheader in Detroit. The rainouts in Baltimore meant a spot starter wasn't needed, however, so he didn't get the call.
There are several reasons the Yankees could turn to Loaisiga as Tanaka's replacement. First of all, he's already on the 40-man roster, which makes a call-up easy. Cole is the only other pitcher in this post on the 40-man roster. Secondly, Loaisiga is a rising star in the farm system, and prior to yesterday, he had a 2.30 ERA (2.39 FIP) with 31.6% strikeouts and 2.3% walks in 43 innings this season.
Third, Loaisiga's stuff matches the numbers. He's mid-90s with his fastball and he backs it up with a quality curveball and a quality changeup, and he throws lots of strikes. Lots and lots of strikes. This isn't a dude with shiny minor league numbers and iffy stuff. And fourth, Loaisiga has an ugly injury history. The Yankees may want to get whatever they can out of him now before he breaks down again. Sounds harsh, but these types of moves happen all the time.
"He's had some good games this year. He was impressive in Spring Training. He's a young guy and hasn't pitched a whole lot," said pitching coach Larry Rothschild to Coley Harvey yesterday when asked about a potential Loaisiga call-up. The Yankees are playing coy right now like they always seem to do in these situations, but everything seems to be pointing to Loaisiga getting the call. Is he the right choice though? That's up for debate!
The Case for Justus Sheffield
The best pitching prospect in the farm system — and not by a small margin either — is southpaw Justus Sheffield, who came over in the Andrew Miller trade. He's one of the best pitching prospects in the minors overall, and this season he owns a 2.60 ERA (2.97 FIP) with 29.3% strikeouts and 12.9% walks in 55.1 innings around a minor shoulder injury. Sheffield has made four starts back from the injury, so it's not too recent.
As luck would have it, Sheffield and Tanaka are on the same schedule. Sheffield started in Triple-A on Friday, the same night Tanaka hurt his hamstrings. It's be an easy one-for-one swap. No schedules have to be altered or anything like that. And Sheffield is thinking about a call-up too. He's not oblivious to what's happening in the Bronx.
"Do I want to be the sixth starter? Do I want to be in the big leagues? For sure," said Sheffield to Conor Foley over the weekend. "Am I shooting for that? Is that my goal? Yes, but thinking about it is not going to help me put my work in every four days and getting out there my fifth day."
Simply put, the case for calling up Sheffield is that he offers the most upside among the available in-house options. A southpaw with mid-90s gas and this slider …
… has a chance to be really freaking good. Sheffield is having success in Triple-A now — he's thrown more innings at Triple-A (27.1) than Loaisiga's thrown at Double-A (25), if you care about such things — and he's going to have to be added to the 40-man roster after the season anyway, so there's not much harm in starting the clock now. Sheffield has a chance to be an impact pitcher, and countless top prospects got their first chance because someone got hurt.
* * *
The Yankees have ruled out Luis Cessa — he's making his first minor league rehab start tonight — replacing Tanaka, though I suppose they could do something wonky and replace Tanaka with a bullpen game a la the Rays, but nah. Good teams don't do that. I think we can safely eliminate that possibility. "We pretty much, I think, have an idea of what we're going to do. We're not going to deal with it now because we don't have to, because things can change injury-wise," said Cashman to Bryan Hoch.
Over the last few years the Yankees have done a really good job evaluating their own prospects. With the exception of Tyler Wade, the kids they've called up have all been ready to step right into the lineup and produce. If the Yankees call up Adams, Loaisiga, or Sheffield, I trust that they're ready. And, if the Yankees go with Cole or Hale, I trust them that the kids aren't ready.
Also, keep in mind that whoever replaces Tanaka isn't automatically guaranteed to stay in the rotation. If that pitcher doesn't perform, the Yankees have other options and can make a change. Anyway, this is all ripe for a poll, so let's get to it.
Who *should* replace Masahiro Tanaka in the rotation?