Good win. Nine relatively stress-free innings against a very good Nationals team? Hard to complain about that. The Yankees won Tuesday night's series opener 3-0. They are 34-10 since the 9-9 start.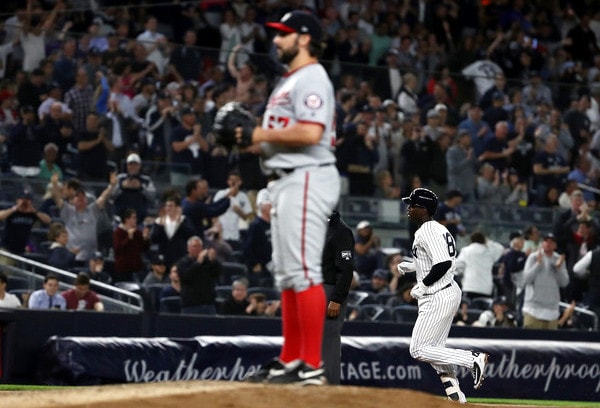 Two Didi Dingers
You think Didi Gregorius is happy May is over? Good grief what an ugly month that was. Gregorius hit .151/.186/.215 (0 wRC+) last month, which is about as bad as it gets. He went into Tuesday's game 8-for-31 (.258) in June. No power at all — all eight hits were singles — and .258 isn't exactly tearing the cover off the ball, but that's much better than May. We've seen some signs of life from the AL Player of the Month for April.
On Tuesday, Sir Didi's power returned. He clubbed two solo homers against Tanner Roark, both to right field and both on pitches right out over the plate. The first was a hanging curveball and the second was a little two-seamer that tailed back middle-middle. The kind of pitches that should've been crushed, but you know what? Gregorius hasn't been crushing those pitches lately. He did in April. Not so much in May (or early June). Good to see him do it again.
The Didi solo dingers gave the Yankees a 1-0 lead in the second and a 3-0 lead in the sixth. In between, the Yankees scored a run on Austin Romine's second inning sacrifice fly. Aaron Hicks drew a walk and went to third on Neil Walker's single to right (Walker was able to go to second when Bryce Harper overthrew the cutoff man). Romine put together a good six-pitch at-bat before lifting the sac fly to left for what was then a 2-0 lead.
The Yankees had a chance to really break the game open in the fifth, when two singles (Romine and Gleyber Torres) and a walk (Aaron Judge) loaded the bases with one out. Then Greg Bird popped up to shallow left, not deep enough to get the run home, and Giancarlo Stanton grounded out to short. Blah. If you're keeping tabs on such things, the Yankees have not scored on anything other than a home run or sac fly since Brett Gardner's triple in the second game of last Monday's doubleheader in Detroit. Last 22 runs all on homers or sac flies.
Almost Six Strong From Sabathia
Last year CC Sabathia had a miserable four-start stretch in May in which he allowed 22 runs in 20.2 innings and had everyone wondering whether he was done. This season Sabathia had another miserable four-start stretch in May, during which he allowed 20 runs in 18.1 innings. Yikes. And, once again, folks were questioning whether Sabathia's days as effective starter were over.
And, once again, the answer is no. Sabathia allowed two runs in seven innings last time out and, on Tuesday, he held a really good Nationals offense scoreless in 5.2 innings. It would've been six scoreless innings had Michael A. Taylor not beat out an infield single on a little tapper that couldn't have traveled more than 15 feet from home plate. Sabathia allowed 18 balls in play Tuesday, and the average exit velocity was 75.7 mph. Fourth lowest by any pitcher in a start this season. Sabathia did have to wiggle out of some jams early in the game, of course.
First Inning: Stranded a two-out runner at first.
Second Inning: Stranded runners on first and second with two outs.
Fourth Inning: Stranded runners on first and second with one out.
Fifth Inning: Stranded runners on first and second with two outs.
Sabathia's final line: 5.2 IP, 4 H, 0 R, 0 ER, 3 BB, 3 K on a season-high 101 pitches. Pretty much a standard late career Sabathia start, I'd say. Andy Pettitte-esque. Bunch of runners on base, minimized damage. Glad last month's ugly four-start stretch is over.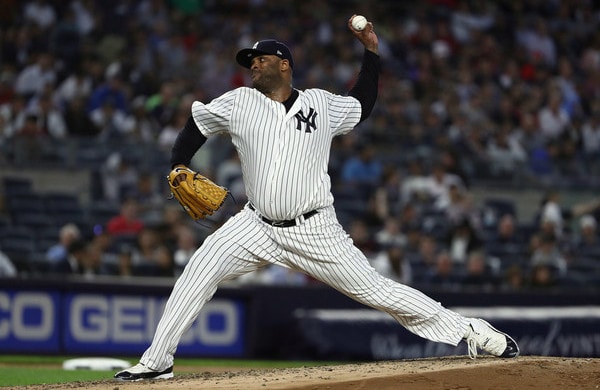 Leftovers
Great night for the bullpen. Chad Green allowed a bloop single and Betances plunked Harper in the foot with an 0-2 curveball, and those were the only baserunners allowed by the relief crew. Green, Betances, and Aroldis Chapman combined: 3.1 IP, 1 H, 0 R, 0 BB, 6 K. Chapman struck out two in a perfect ninth inning for his 18th save. I've said this a bunch already this season, but he's been unreal this year. Total dominance in the ninth inning.
Every starter had at least one hit except Bird and Stanton, who had matching "0-for-4 with two strikeouts" lines. Like I said Tuesday morning, I really wish Aaron Boone would get Bird out of the No. 3 spot. He's still shaking off the rust following the ankle surgery. I'm sure he'll be fine eventually. But, until he's fine, get him out of the premium lineup spot.
Rough night for Harper. He went 0-for-0 with two walks and two hit-by-pitches, and they were painful hit-by-pitches. Sabathia got him right on the elbow and Betances hit him in the foot. He was in obvious pain both times and actually came out of the game after the second hit-by-pitch. That's no way to convince him to sign with the Yankees guys!
And finally, when Sabathia struck out Taylor for the second out of the fourth inning, it was his 1,500th strikeout as a Yankee. Pretty cool. He is fifth on the franchise all-time strikeout list, you know. Only Andy Pettitte (2,020), Whitey Ford (1,956), Ron Guidry (1,778), and Red Ruffing (1,526) have more strikeouts as a Yankee than CC.
Box Score, WPA Graph & Standings
ESPN has the box score, MLB has the video highlights, and ESPN has the updated standings. Here's our Bullpen Workload page and here's the win probability graph:

Source: FanGraphs
Up Next
The Yankees and Nationals will wrap up this quick two-game series Wednesday night at Yankee Stadium. Sonny Gray will be on the mound for the home team. The Nationals have not yet announced their starter for that game, though it's expected to be former top prospect Erick Fedde.