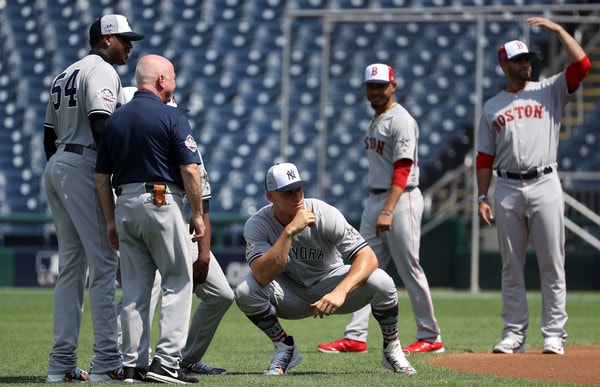 Tonight in Washington, baseball's best players and brightest stars will gather at Nationals Park for the 89th annual All-Star Game. The MLB All-Star Game is, by frickin' far, the best All-Star Game among the four major North American sports. It is not even a contest.
The Yankees have four All-Stars this season: Aroldis Chapman, Aaron Judge, Luis Severino, and Gleyber Torres. Only two will play in the game, however. Chapman withdrew from the All-Star Game due to his achy left knee, and Torres is currently on the disabled list with a hip issue. They're in Washington and will be part of the baseline introductions, though neither will play tonight.
Judge was voted into the American League's starting lineup by the fans and, after not pitching in the All-Star Game last year, Severino is indeed scheduled to make an appearance tonight. Manager A.J. Hinch announced yesterday Severino will be the first guy out of the bullpen for the so-called Junior Circuit. Should be fun. Here are the starting lineups:
American League
1. RF Mookie Betts, Red Sox
2. 2B Jose Altuve, Astros
3. CF Mike Trout, Angels
4. DH J.D. Martinez, Red Sox
5. 3B Jose Ramirez, Indians
6. LF Aaron Judge, Yankees
7. SS Manny Machado, Orioles
8. 1B Jose Abreu, White Sox
9. C Salvador Perez, Royals
LHP Chris Sale, Red Sox
National League
1. 2B Javier Baez, Cubs
2. 3B Nolan Arenado, Rockies
3. DH Paul Goldschmidt, Diamondbacks
4. 1B Freddie Freeman, Braves
5. LF Matt Kemp, Dodgers
6. CF Bryce Harper, Nationals
7. RF Nick Markakis, Braves
8. SS Brandon Crawford, Giants
9. C Willson Contreras, Cubs
RHP Max Scherzer, Nationals
Anyway, Sale joins Hall of Famers Lefty Gomez and Robin Roberts as the only pitchers to start three consecutive All-Star Games. Also, Sale vs. Scherzer is a repeat pitching matchup. This is the first time we've had the same pitching matchup in back-to-back All-Star Games since Red Ruffing and Paul Derringer met in the 1939 and 1940 games. Pretty neat. Here are the 2018 All-Star Game rosters.
It rained in Washington for a few hours this afternoon, though that has cleared out now, so it'll be merely hot and sticky for the All-Star Game tonight. The All-Star Game itself is scheduled to begin at 8pm ET, though the baseline introductions and all that will take place beforehand. You can watch the game on FOX or stream it on FOX Sports Go. Enjoy the All-Star Game.