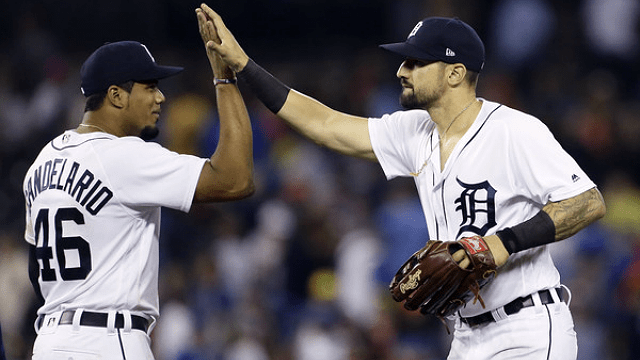 Four more games remain in the Yankees' penultimate homestand and it's another of the AL Central's rebuilding squads. Next up: the Detroit Tigers.
The Last Time They Met
The Yankees made a brief stop in Detroit for a doubleheader on June 4, splitting the two games after losing the nightcap.
Luis Severino dominated the first game, allowing just two runs (one earned) over eight innings while striking out 10. He allowed just five baserunners.
Gleyber Torres, Greg Bird and Austin Romine all homered to knock out Drew VerHagen early in Game 1.
Domingo German couldn't cut it in Game 2 and the Yankees' bats came up short in a 4-2 loss. Giancarlo Stanton was hit by Mike Fiers, who has some history with the slugger, leading to this homer and reaction from Stanton.
For more information, check out
Katie's Yankeemetrics post
on that twin bill.
Injury Report
Miguel Cabrera is out for the year after left biceps surgery while backup John Hicks is also gone for the year. Shortstop Jose Iglesias underwent an MRI in New York on Thursday after suffering a lower abdominal strain and was placed on the 10-day disabled list.
On the pitching side, lefty Blaine Hardy is out with elbow tendinitis while Daniel Norris is on the mend from left groin surgery and could pitch in this series.
Their Story So Far
The Tigers stand at 53-80, tied with the White Sox for the third worst record in the American League and third place in the AL Central. Detroit has lost five straight games, all coming against the similarly putrid Royals and Southsiders. Their 19-46 road record is the worse only than the Orioles in all of baseball.
On the personnel side, a few starters have put up respectable numbers while their offense has been quite poor. The team dealt Mike Fiers and Leonys Martin (get well soon!) at the deadline.
Lineup We Might See
1. 3B Jeimer Candelario (.227/.315/.400, 94 wRC+)
2. 2B Niko Goodrum (.225/.298/.412, 90 wRC+)
3. RF Nicholas Castellanos (.290/.344/.487, 123 wRC+)
4. DH Victor Martinez (.248/.298/.337, 69 wRC+)
5. 1B Jim Adduci (.284/.316/.413, 96 wRC+)
6. LF Mikie Mahtook (.220/.292/.360, 75 wRC+)
7. C James McCann (.221/.269/.317, 57 wRC+)
8. CF JaCoby Jones (.203/.259/.363, 65 wRC+)
9. SS Ronny Rodriguez (.205/.248/.291, 43 wRC+)
I'm guessing Goodrum slides into Iglesias' spot in the lineup and Rodriguez moves onto shortstop. The Tigers have just a three-man bench right now even after adding Dawel Lugo to the active roster in place of Iglesias. That will change Saturday with callups.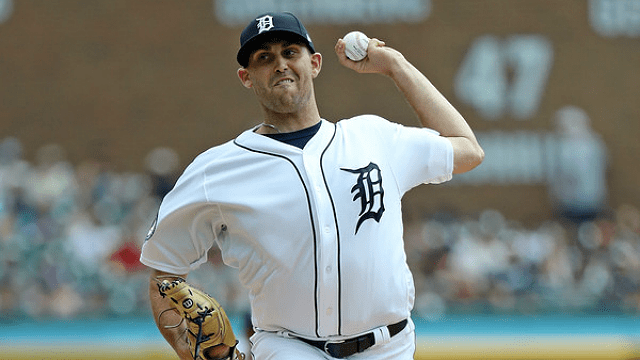 The Starting Pitchers We Will See
Thursday (7:05 PM ET): LHP J.A. Happ vs. LHP Francisco Liriano
After a strong start to the season, Francisco Liriano has come back down to earth some, particularly in the late summer. Liriano has pitched to a 4.82 ERA overall, but the 34-year-old has a 5.32 ERA and 1.90 WHIP since the All-Star break, failing to get through six innings in any of his starts. His walks have risen and he's seen a parade of hits. Ron Gardenhire gave Liriano a few extra days off before this start.
The left-hander has essentially eschewed his four-seamer entirely and uses his sinker 41 percent of the time. Outside of that, he's still the same heavy-slider pitcher we know and love with 1/5 changeups to boot.
Last Outing (vs. CHC on Aug. 22) – 5.1 IP, 7 H, 4 R, 2 BB, 3 K, 1 HR
Friday (7:05 PM ET): RHP Luis Severino vs. RHP Jordan Zimmermann
The other veteran on the staff, Jordan Zimmermann has fared much better in 2018 than 2017. After he was tied for the MLB lead in earned runs allowed last year, he's improved, sporting a respectable 4.38 ERA over 100 2/3 innings. The former National has seen a steep rise in his K rate while also cutting down on his walks, a nice recipe even if he allows 1.61 HR per nine.
Zimmermann throws 45.1 percent fastballs, averaging 91.2 mph with the heater while going to his slider a third of the time and mixing in some curveballs and occasional changeups. His slider has been his most effective pitch and he works it in the mid-80s.
Last Outing (vs. CHW on Aug. 26) – 6.0 IP, 8 H, 5 R, 0 BB, 5 K, 1 HR
Saturday (4:05 PM ET): RHP Masahiro Tanaka vs. TBD
Right now, the Tigers have a four men in their rotation with the fourth, Michael Fulmer, starting Wednesday. Therefore, the Sept. 1 start has plenty of options, one of whom could be Daniel Norris. He made a rehab appearance in Toledo on Sunday, throwing 72 pitches over four innings. As mentioned above, Norris is rehabbing groin surgery he underwent earlier this year.
If not Norris, we could be in for a dreaded bullpen game. Considering the expanded rosters, that could mean a whole slew of young relievers. Oh boy.
Sunday (1:05 PM ET): RHP Lance Lynn vs. LHP Matthew Boyd
Matthew Boyd has been one of the Tigers' most reliable starters this season after being hit hard in 2017. At 27 years old, he's put together 147 innings with a 4.22 ERA and a 3.98 FIP. The good news for the Yankees is that he is much better at Comerica Park (2.56 ERA, 5 HR in 70 1/3 innings) than on the road (5.75 ERA, 12 HR in 76 2/3 innings). He hasn't had a significant platoon split this season.
Featuring a similar repertoire to Zimmermann, the southpaw works off a low-90s fastball with over 30 percent sliders and a mix of 70s curveballs and changeups. According to Fangraphs pitch values, he's had one of the most effective sliders in baseball this season.
Last Outing (@ KC on Aug. 28) – 6.0 IP, 7 H, 5 R, 3 BB, 4 K, 1 HR
The Bullpen
Shane Greene is still the Tigers' closer. Joe Jimenez had emerged as a setup man, but he's struggled of late. Josh Smoker and Daniel Stumpf are the lefties in the bullpen. The group has a high ERA (4.51) but has put together league-average-ish peripherals. Here are their post-All-Star break numbers going into yesterday:
4.67 ERA (24th in MLB)
4.21 FIP (12th in MLB)
0.7 WAR (11th in MLB)
21.7% K rate (18th in MLB)
7.5% BB rate (8th in MLB)
1.31 HR/9 (20th in MLB)
The team needed 4 1/3 innings out of five relievers Wednesday, though they'll receive the boost of September callups in just a few days.
Yankees Connection
Greene was the price the Yankees paid to get Didi Gregorius while 40-man roster presence Johnny Barbato pitched 13 lackluster innings as a rookie for the Bombers in 2016.
Who (Or What) to Watch?
This is the type of offense the Yankees should shut down. Could be nice to see the Wild Card Game starting candidates (Happ, Severino, Tanaka) go on a roll vs. the Tigers.
I like watching Matthew Boyd pitch (and not just because he gave up that monster Gary Sanchez homer last year!)