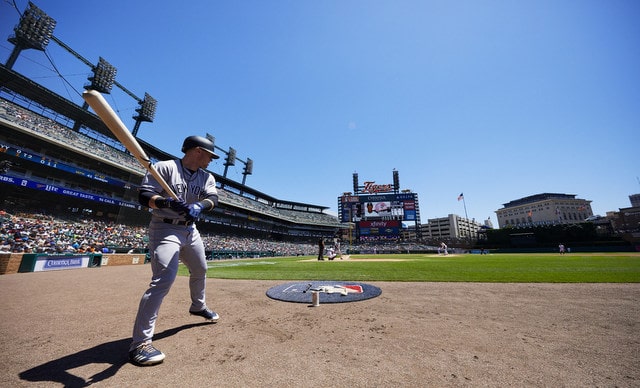 Now is the August of our outfield discontent. Aaron Judge is out, Giancarlo Stanton has a minor-but-nagging injury, and Shane Robinson has started ten of the last 15 games. Neil Walker started in right field yesterday. The perfect back up option–Clint Frazier–is also injured and the Judge injury happened so close to the non-waiver deadline that the team wasn't able to get a suitable replacement in time. Bad timing has defined the Yankee outfield for much of the season, especially now in the penultimate month of the season.
When Aaron Hicks was injured in the first series of the year, Clint Frazier was dealing with his first concussion of the year. When Aaron Judge was injured, Frazier was dealing with his second concussion of the year. There is no better example of how cruel baseball can be with its timing than this. Frazier has shown all year that he's done with AAA and is ready to contribute to the big club in a big way, yet he's been unable to because of things he can't control. Dealing with that alone would be challenging. Dealing with it while also being the subject of myriad trade rumors and speculation, along with an uncalled for, low blow from the team's lead broadcaster is almost daunting. If Frazier can make it through this year in one relatively whole piece, he'll be able to make it through anything as a baseball player.
In April, Aaron Hicks had an above .800 OPS and Aaron Judge had an above 1.000 OPS. Giancarlo Stanton had a .737 OPS that month, while Brett Gardner put up a paltry .601. Then, in May, Hicks OPS'd below .700 while Gardner got hot (.917 OPS) and Judge (.965) stayed hot. Stanton also improved to an .847 OPS. Stanton then had a great June while Judge was solid and Hicks got hot. Gardner, however, cooled off. July saw Hicks, Stanton, and Judge all rake while Gardner was merely adequate. That was the closest we've come to seeing all four of them clicking at the same time. Sure, it wouldn't be likely that all four would hit to their max at the same time and it's hard to complain with the Yankees' results this year (try as we might), but getting them all on the same page at the same time would go a long way towards easing some ruffled hearts and minds.
The latest bit of bad timing–non Clint division–was Judge getting hurt just six days before the trade deadline. At that time, it's unlikely the Yankees were focused on trading for another position player as they were trying to (successfully) beef up their pitching. There was still almost a week before the deadline, though, and we're nearly halfway through August and the situation hasn't quite been addressed. I'm sure the front office is working on it and we just don't know, but it's getting a little too late for a lack of action. There are concerns with acquiring a veteran–the Yankees have already given up prospects and there might be a lack of playing time for said veteran when Judge returns and, of course, the luxury tax concern.
To the the first two, I say, "Who cares?" To quote a great philosopher, we're trying to win a ring around here. Despite the Red Sox's dominance, the Yankees could still win a World Series this year and they should be doing everything they can to help that cause.
To the third, I roll my eyes. The luxury tax plan helps no one but the team's bottom line and I remain unconvinced that they'll go out and spend that savings money, especially with a crowded roster as it is.
It's hard to fault anyone for the Yankees' current outfield situation. When healthy, Judge has been himself. Stanton has turned back into the beast he is, Gardner has been mostly fine–despite a poor second half so far–and Hicks has been the AL's best center fielder not named Mike Trout. Neither Clint Frazier nor Jacoby Ellsbury can or should be blamed for injuries. Aaron Boone can't be blamed for playing the pieces he has. Brian Cashman probably didn't have this in his plans, either, but he's in position to make things recover a bit. Is it likely the Yankees catch the Red Sox and win the division? Not really, but they should make every effort, given how good this team can be and has been at times this year. Bad timing be damned; go get an outfielder and try to win a ring.