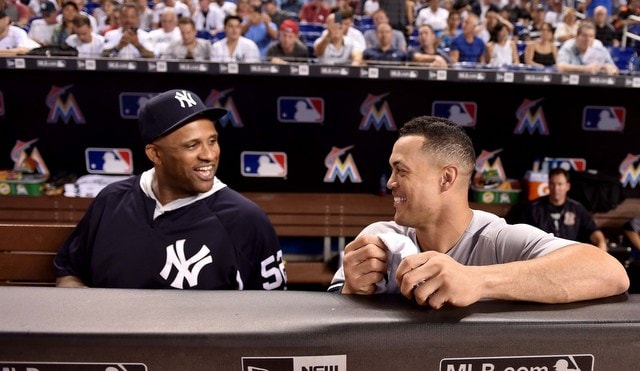 Welcome back, CC Sabathia. Sabathia returns from the disabled list after the minimum ten days — well, eleven days because yesterday was an off-day — after dealing with some knee inflammation. It's going to happen from time to time. The good news is Sabathia only missed one start and is good to go tonight, in the series opener in Baltimore. He returns just in time for Players' Weekend.
The Yankees and Orioles are playing four games in three days this weekend. Fact No. 1: The Yankees are 46-22 against sub-.500 teams this year, the fifth best record in baseball. Fact No. 2: The Yankees are 6-6 against the sorry excuse of a baseball team the Orioles have fielded this season. Annoying. Please treat the team on pace for 115 losses like a team on pace for 115 losses. Here are the lineups:
New York Yankees
1. LF Brett Gardner
2. DH Giancarlo Stanton
3. CF Aaron Hicks
4. 3B Miguel Andujar
5. RF Neil Walker
6. SS Gleyber Torres
7. 1B Luke Voit
8. C Austin Romine
9. 2B Ronald Torreyes
LHP CC Sabathia
Baltimore Orioles
1. CF Cedric Mullins
2. 2B Jonathan Villar
3. RF Adam Jones
4. DH Trey Mancini
5. 1B Chris Davis
6. SS Tim Beckham
7. 3B Renato Nunez
8. LF John Andreoli
9. C Austin Wynns
RHP Alex Cobb
The internet tells me it is warm and not overly humid in Baltimore, and the sky is clear. Should be a nice night for a ballgame. First pitch is schedule for 7:05pm ET and you can watch on YES. Enjoy.
Injury Updates: Didi Gregorius (heel) has started throwing and could begin swinging a bat early next week. He says the swelling has done down significantly … Aroldis Chapman (knee) received a platelet-rich plasma injection and will be reevaluated in two weeks … Aaron Judge (wrist) still isn't ready to start swinging a bat. They're waiting until he is completely pain-free … Gary Sanchez (groin) did not start his rehab assignment today as expected, and instead went through more workouts on a side field. He is going to DH in a rookie ball game tomorrow, then join Triple-A Scranton on Monday … Clint Frazier (post-concussion migraines) could return in September but it is "too early to tell," according to Aaron Boone. Poor Clint.
Roster Moves: Chance Adams was sent down following Wednesday's game to clear a roster spot for Sabathia, the Yankees announced. No surprise there … Chris Rabago, who the Yankees claimed off waivers from the Rockies earlier this week, has cleared outright waivers, according to the Yankees. The light-hitting catcher remains in the organization as a non-40-man roster player. He's in Double-A. The Yankees now have one open 40-man spot.
Rotation Update: J.A. Happ will start the day game and Sonny Gray will start the night game during tomorrow's doubleheader. The Yankees haven't said anything, but with Gray making the start, I'd bet on Luis Cessa coming up as the 26th man to be the long reliever.