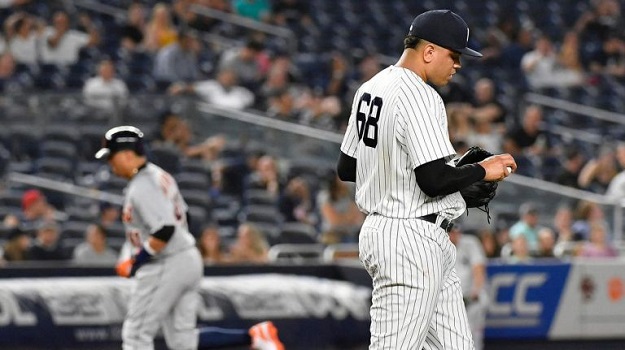 Bad Dellin
Even in a season in which they're on pace for their best record in a decade, the Yankees continue to find new ways to lose games. On Thursday night they suffered one of the most shocking upsets of the season as they coughed up a two-run cushion in the top of the ninth inning and lost 8-7 to the Tigers.
It was the first time they lost a home game they led by multiple runs at the start of the ninth since August 27, 2012 against the Blue Jays. Every other team had at least one such loss in that span. Going back further, the only other time in the last 15 seasons — since 2004 — that the Yankees lost a game in the Bronx they led by at least two runs entering the ninth was June 28, 2012 vs the White Sox.
J.A. Happ threw his worst start in pinstripes, allowing five runs on 10 hits, including three game-changing homers. It's hard to do all that while getting no more than 13 outs. The last Yankee to give up at least 10 hits, five runs and three bombs in an outing of 4 1/3 innings or fewer was Carl Pavano on May 11, 2005. Ugh.
Giancarlo Stanton had a historic night as he finally went deep for his 300th career home run, a two-run shot in the third inning that gave the Yankees a brief 2-1 lead. He became the fifth-fastest to reach the mark in terms of games (1,119).
Fewest Games to 300 Career HR in MLB History:
Ralph Kiner 1,087
Ryan Howard 1,093
Juan González 1,096
Alex Rodriguez 1,117
Giancarlo Stanton 1,119
Harmon Killebrew 1,137

— Katie Sharp (@ktsharp) August 30, 2018
Stanton is also in an exclusive club in terms of his age and power/on-base ability. Among right-handed batters, the only other players to compile at least 300 homers and an OBP of .350 or better through their age-28 season are Alex Rodriguez, Albert Pujols and Jimmie Foxx.
The goat of the game was Dellin Betances, who surrendered consecutive home runs in the ninth inning as a 7-5 advantage quickly became an 8-7 loss. This was the first time in his career he allowed multiple homers in a game. Obscure Yankeemetric Alert: Since 1925, only one other Yankee pitcher allowed back-to-back game-tying and go-ahead homers in the ninth inning of a game: Catfish Hunter on April 18, 1976 against the Minnesota Twins. Betances had been lights-out over the past three months before Thursday's implosion:
Dellin Betances Since May 27
IP
R
HR
Batters
Faced
Thursday
1
3
2
6
Previous 35 Games
33.2
2
1
129
Early Gleyber Day Celebration
The Yankees rebounded from Thursday's crushing loss with another crazy comeback win on Friday. They finished August with a 17-13 (.567) record, which was their worst monthly record of the season — but that still put them in elite company. The last time the Yankees had a win percentage of .567 or better in each of the first five months of the season (combining March/April) was 1998.
Down 3-0 and without a hit through the first 5 1/3 innings, the Yankees exploded for four runs over a four-batter span in the sixth thanks to a trio of homers — a two-run shot by Brett Gardner that cut the deficit to 3-2, a game-tying solo homer by Aaron Hicks and a go-ahead blast from Miguel Andujar. Andujar's dinger was his fifth that either tied the game or gave the team a lead in the sixth inning or later, which leads all Yankees. Oh and he put himself on this graphic too:
Yankees Age 23 or Younger w/ 10+ HR and 25+ RBI in a Month:

Miguel Andujar August 2018
Joe DiMaggio July 1937
Joe DiMaggio June 1937

— Katie Sharp (@ktsharp) September 1, 2018
The Yankees would need another rally, however, after Zach Britton suffered a meltdown as he tried to protect the one-run lead, yielding a game-tying single in the seventh and a sac fly in the eighth. It was the first time in his career as a reliever that he surrendered a go-ahead sacrifice fly.
Britton was saved from goat status by the clutch hitting of Gleyber Torres, who delivered a game-winning bases-loaded two-run single in the eighth inning. It was his fifth game-tying/go-ahead hit in the eighth inning or later, the most on the Yankees this season.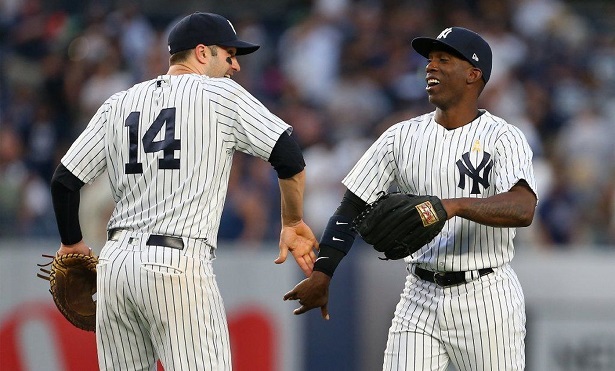 Two is enough
The comeback mojo continued on Saturday as the Yankees overcame another sluggish start offensively and rallied to win, 2-1, despite getting only two hits. This is the third time in the last three seasons they've won a game with no more than two hits; before this stretch, it hadn't happened since 1994.
Oh, and there's this stat too: Their three wins with two hits or fewer since the start of 2016 are the most of any team.
But what made this win so unique is the fact that the Yankees also struck out 10 times. Obscure Yankeemetric alert! Saturday was the 18th time since 1908 (as far back as we have complete boxscore data) that they won a game with two or fewer hits, but it was the first time they also had double-digit strikeouts.
For the second straight night their first hit was a game-changing homer, this time it was a two-run blast in the fifth inning by Gleyber Torres. His 22 homers are the most in Major-League history by a second baseman age 21 or younger in a single season.
Masahiro Tanaka battled through a shaky first inning during which he loaded the bases with no outs and escaped with only one run on the scoreboard. His ability to pitch out of tough situations and limit the damage has been an underrated part of Tanaka's season. He's held batters to a .100 batting average (4-for-40) with runners in scoring position and two outs, fourth-best among MLB starters (min. 40 batters faced), behind a trio of Cy Young contenders: Blake Snell (.063), Chris Sale (.073) and Aaron Nola (.094).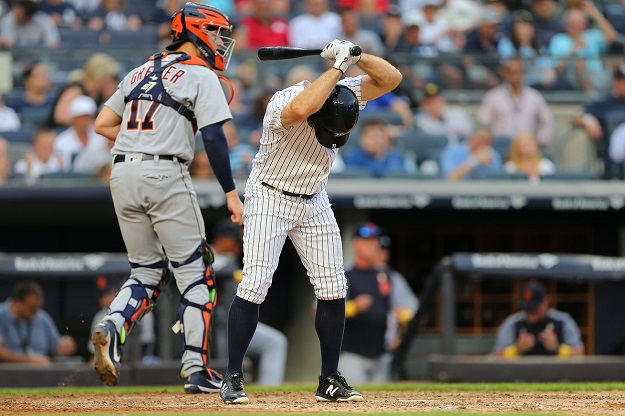 Not enough muscle
The Yankees finished off their homestand with a dud, an 11-7 loss that featured a bunch of heart-wrenching warning-track outs but ultimately too many big deficits to overcome. The Yankees were 33-13 at home in the first half of the season; since the break, they are just 15-11 in the Bronx, and 23 of the 26 matchups have come against teams that entered gameday with a sub-.500 record.
Lance Lynn was awful again, getting rocked for six runs before he was yanked in the fourth inning. His last four starts have been a disaster, especially when compared to the promise he showed in his first three appearances as a Yankee:
Lance Lynn as a Yankee

| | IP | Runs | WHIP |
| --- | --- | --- | --- |
| Last 4 Games | 18.2 | 19 | 1.98 |
| First 3 Games | 16.2 | 1 | 0.96 |
Miguel Andujar went 3-for-4 with a double, pushing his batting average up to .301 and his slugging percentage up to .530. The only Yankee rookie in franchise history to finish a season with at least a .300 batting average and a .530 slugging percentage (min. 300 PA) was Joe DiMaggio in 1936 (.323 BA, .576 SLG).