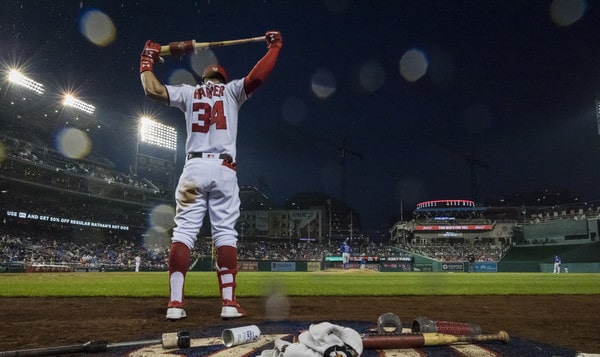 Only 107 days until pitchers and catchers report to Spring Training, give or take. Doesn't seem so bad, does it? No, it does. I miss baseball already. Anyway, here is the offseason calendar in case you missed it earlier, and here are the latest hot stove rumors and news tidbits.
Pursuing Harper is "not part of the plan"
Right on schedule. According to Andy Martino, pursuing free agent Bryce Harper this offseason is "not part of the plan" for the Yankees. The Yankees are going to prioritize pitching this winter and Harper doesn't really fit. That's silly, of course, because you can always make room for a player like Harper. When's the last time a player like this — a star caliber producer in his mid-20s — hit the open market? It's been a very long time.
Anyway, like I said, this report is right on schedule. Day One of the offseason and the Yankees are downplaying their interest in the best free agent to hit the market in years? Textbook posturing. And you know, even if this is true and the Yankees are not planning to pursue Harper, things can change. I don't think anyone in the front office had Giancarlo Stanton in mind at this time last winter. This report means nothing to me. A team downplaying interest in a free agent is Hot Stove 101 stuff.
Yankees are "lukewarm" on Machado
In addition to totally not having interesting in Harper (wink wink), the Yankees are only "lukewarm" on Manny Machado, reports Martino. Martino says the Yankees were put off by Machado's postseason antics, specifically his dirty as hell kick of Jesus Aguilar and his unabashed admission that he's never going to hustle. Machado has had the "dirty player" label for a while, dating back to when he threw his bat at the Athletics, but things really came to a head this October.
To me, the Yankees being put off my Machado's postseason display is far more believable than simply not having interest in Harper because he might not fit the roster. It's going to take a lot of money and a lot of years to sign Machado. If he's playing dirty now and he's not hustling right before his big free agent payday, what happens when he's got that huge guaranteed contract? Teams have overlooked far worse things, of course, and Machado is a great player in his mid-20s. Dude's going to get paid. But I can understand not liking what you saw in the postseason.
145 players become free agents
Earlier this morning 145 players officially became free agents, the MLBPA announced. Here's the full list. As expected, eight Yankees are now free agents:
New York Yankees (8): Zach Britton, J.A. Happ, Adeiny Hechavarría, Lance Lynn, Andrew McCutchen, David Robertson, CC Sabathia, Neil Walker
Several more players will become free agents later this week when their options are declined or they use their opt-outs. Brett Gardner could be among them. The Yankees have until Wednesday to exercise his $12.5M club option or buy him out for $2M. Honestly, neither outcome would surprise me.