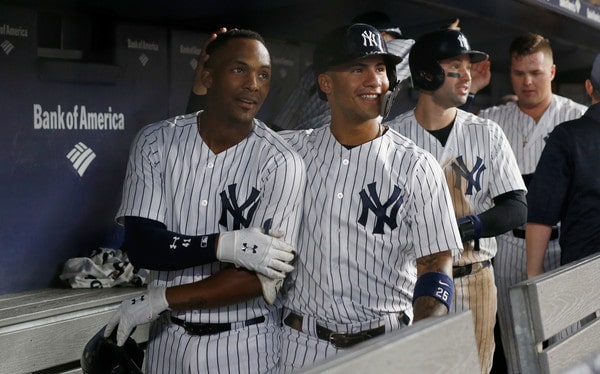 While Greg Bird's year was essentially lost and Neil Walker's was a roller coaster, things went just about as well as they could have for the Yankees' youngest players, Gleyber Torres and Miguel Andujar. Both turned in stellar debut seasons and are likely to finish in the top 3 of AL Rookie of the Year voting, with each having a case to win the award outright. But as always in baseball, there's room to grow for both players.
At the plate, both flashed great power. Andujar hit 27 home runs and Torres added 24, just three fewer despite having 122 fewer  plate appearances. Both sported ISOs over .200, unsurprisingly, with Torres clocking in at .209 and Andujar at .230. That power wasn't horribly surprising from Andjuar as he always had flashes of raw power that needed to–and did–turn into game power. From Torres, though, that was unexpected. With Torres's power also came a relatively high strikeout rate of 25.2%.
That high mark is offset by his power and his walk rate–8.7%–was respectable enough that you could live with those strikeouts. Given that this was a bit of a power outburst for Torres that wasn't necessarily expected, we may see a drop from that in 2019. If that's the case, he'll likely need to cut down on those swings a bit and maybe be a hair more selective at the plate. It might be worth cutting down on outs, even if it means cutting down on power. With Andujar, however, there's no question that he needs to increase his selectivity and discipline at the plate.
Despite high power and a low strikeout rate–16% exactly–a 4.1% walk rate probably isn't going to cut it long-term, especially when the league makes adjustments to Andujar as a hitter. He'll need to adjust to those adjustments, or pitchers will exploit his aggressiveness at the plate, which could lead to an increase in strikeout rate and a drop in productivity. Miggy has power to spare and cutting down for the sake of fewer outs will help both him and the team.
The obvious place for both players to improve is in the field. FanGraphs rated their defense poorly, with Andujar clocking in at a 2005 Yankees-esque -15.5. Torres was "better" with a -7.2. Baseball Reference hit Miggy with a -2.2 dWAR, too, though they liked Torres' defense at 0.5 dWAR. There's no question that Andujar's defense needs to get better or the Yankees will be forced to move him, whether to another position or to another team for a starting pitcher. I prefer the former. And even with that spread in Torres' defense, he still could stand to get better. That proposition will be in the air as the Yankees adjust to Didi Gregorius's impending absence. Will Torres get a chance to repeat at second or will they slide him back over to short? Given that they traded for Adeiny Hechavarria and had him play short when Didi was out at the end of the year, I imagine it's likely that Torres stays at second. That's probably good for his defensive outlook as he can continue becoming comfortable with that position at the highest level.
Both Torres and Andujar had spectacular years in 2018. Were they to repeat them for the rest of their careers, they'd be among the best players in the league each year. However, there is still room for growth on both sides of the ball. It's tempting to dream on what each could become with just a little improvement.