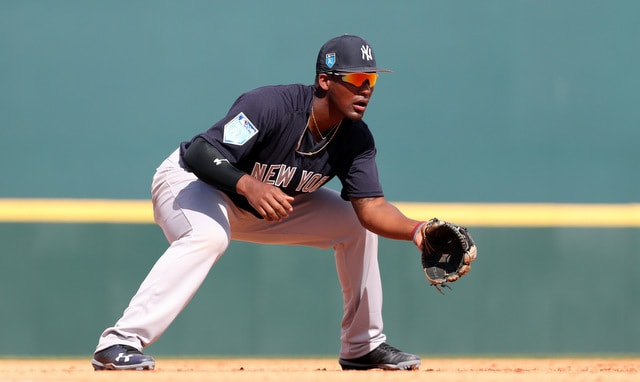 A couple weeks ago, Mike wrote about the Yankees doubling down on Miguel Andujar's defense. The key takeaway was that Andujar's struggles aren't for a lack of effort. His work ethic is virtually unparalleled, though at some point, the results need to follow. The biggest issue with Miggy's defense has been his range, something Mike also addressed last summer.
Good range requires quick reaction time and lateral quickness. Generally speaking, I think a player's reflexes are innate and probably next to impossible to improve. Lateral quickness is something that can be improved via training. Perhaps we see a more nimble Andujar this year, but I'm skeptical that his reaction improves. There is one way to compensate for a slow first step, however: better positioning. That's why I found the following quote Mike used in his most recent piece worth discussing:
"What we're focusing on right now is his pre-pitch setup," [Infield coach Carlos] Mendoza added. "We're trying to put him in the best position so he can react at contact. Making sure that he finds a spot where he's comfortable on his setup so he can have a better first step, a better read on the ball to create better angles. It starts with his setup and his ready position."
Getting Andujar into a comfortable stance in order to make a quick first movement is important, but what about moving Andujar a few steps back? Would he be more comfortable standing a few feet further away from the infield grass, thereby giving him more time to get to wide grounders? It seems pretty logical. Of course, it could also be too good to be true.
One of the nice things Statcast shares is defensive positioning data, which tells us how far away players stand from the plate prior to each pitch. Using this information, I figured we could see how Andujar's counterparts position themselves, while also looking to see if their depth has an effect on their performance.
By the Numbers
Statcast tells us that the typical third baseman was positioned 113 feet away from home plate last year. Andujar was a foot closer to the grass, checking in at 112. Others ranged as far as 118 feet away (Alex Bregman and Matt Chapman) to only 107 feet deep (Johan Camargo). To try to assign some meaning to this, I wanted to compare the depth to player's range and arm strength. My theory was that players who play deeper have better range, stronger arms, and slower first steps than those who play shallower.
For range, I used Range Runs (RngR), which is a component of UZR. Admittedly, UZR is far from imperfect but it's just about the best information available in this instance. Of 31 third baseman who played at least 500 innings at the hot corner last year, there was no correlation between RngR and depth. Bummer.
Arm strength and first step is something that Statcast can measure, but unfortunately, it's not publicly available. The next best thing I could find was the FANS scouting report, which was most recently done at the end of the 2017 season on Fangraphs. It's not what I'd want to look at ideally, but the wisdom of the crowds is worth something. There are grades for arm strength, range, and many other tools for years 2017 and prior. In this instance, arm strength and range are all we need. Once again, though, no correlation. Before the charts, one thing to note that this sample is limited to 21 third baggers. First, arm strength:
Finally, first step:
What all this says to me is that positioning is a matter of personal comfort. There are times when a scouting report will affect a third baseman's location on the diamond, such as bunt situations or against pull-happy lefties. Ultimately, positioning isn't a one-size fit all solution.
What the best third baseman do
Tricks of the trade can be learned from peers, and there are plenty of good third basemen in the league right now. Below, a table of third baseman who had both positive DRS and UZR marks in 2018:
| | | | | | | |
| --- | --- | --- | --- | --- | --- | --- |
| Name | Depth (ft.) | DRS | UZR | RngR | First Step | Arm |
| Matt Chapman | 118 | 29 | 10.9 | 10 | 77 | 75 |
| Travis Shaw | 117 | 9 | 2.2 | 3.9 | 45 | 45 |
| Nolan Arenado | 116 | 5 | 5.8 | 1.4 | 78 | 79 |
| Eduardo Escobar | 115 | 5 | 1.5 | -2.3 | 44 | 52 |
| Yolmer Sanchez | 114 | 5 | 3.6 | 4 | 52 | 64 |
| Jose Ramirez | 114 | 3 | 3.3 | 1.6 | 62 | 67 |
| Mike Moustakas | 114 | 2 | 1 | -1.8 | 71 | 38 |
| Adrian Beltre | 111 | 10 | 2.1 | 1.4 | 72 | 67 |
| Todd Frazier | 110 | 2 | 2.4 | 1.1 | 52 | 47 |
| Jedd Gyorko | 109 | 6 | 1.3 | 1.5 | 41 | 53 |
| Johan Camargo | 107 | 7 | 5.5 | 5.7 | 71 | 53 |
There's a wide range of defensive positioning, again illustrating the fact that its more of a preference than anything else. To no one's surprise, Chapman sits at the top with some outlandishly great numbers all around. He just so happens to play far back. On the other side of the coin, there's Beltre. He's one of the best fielders to ever play the position, yet he's much closer than Chapman. Out of curiosity to see if he moved in as he got older, I went back to 2016 (the earliest available), but Beltre hasn't moved. Again, this points to depth being whatever each player favors.
Why Andujar should try playing deeper
Even though a few defensive metrics don't correlate well with depth, that doesn't mean Andujar would be wasting his time by trying something different. After all, if Chapman plays 118 feet back, why shouldn't Andujar give it a shot? Miggy has a pretty fantastic arm himself, so it's not a matter of arm strength that prevents Andujar from trying it. If he's comfortable playing deep and has some positive results to show for it, great. If not, he can always revert to his old location. This is the perfect experiment to conduct during spring training.
I don't want this idea to come off as some sort of panacea. I've already noted that there isn't a correlation between depth and a few stats, but what I haven't gotten into are certain factors specific to Andujar that need to be considered. For one, Andujar has a bad habit of double clutching before throwing. This is already an issue that could be exacerbated by playing deeper, which gives the runner extra time. On the other hand, Andujar has a rocket for an arm. With his arm strength, I don't think a longer throw would be an issue. It's just a matter of correcting the double clutch, which ostensibly is teachable. Although this idea was born because of Andujar's lack of range, I wouldn't have proposed it if he didn't have the arm for it.
What's next
Spring training is right around the corner and I'm curious to see if there are any noticeable differences for Andujar. We've heard about how much work he's put in this offseason, and given the apparent lack of desire to sign Manny Machado, Andujar's fielding is going to be heavily scrutinized. The unfortunate thing is that it's so difficult to notice changes, particularly when watching on TV. There's no view of pre-pitch positioning or a shot of a fielder's first step. It might not be until partway through the regular season, when some of the returns for various metrics come in, that we can get an idea of any changes or improvements made, if any.
As Mike noted a couple weeks back, it's fantastic that Andujar has the drive to get better. I'd much rather have that than a terrible defender who doesn't care. Still, results need to come at some point, otherwise he's going to be untenable at the position. Moving him off of third is always an option, but his bat wouldn't be as valuable elsewhere. The Yankees know this, and will exhaust every last option before conceding. If no stone is going unturned, perhaps moving Andujar back a few feet is worth a shot.