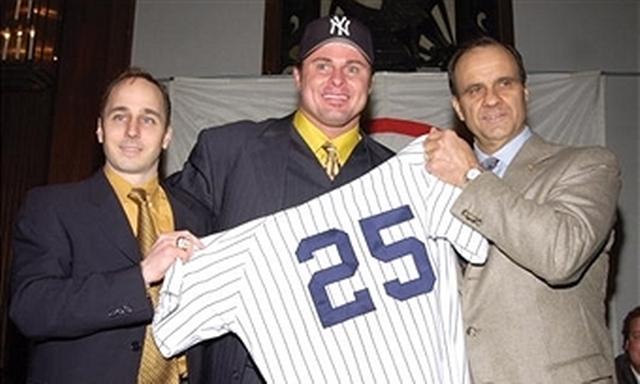 It's been 15 years since the 2002 Yankees fell short of a fifth straight American League title and fourth World Series win in five years. Because that was a time of World Series or bust fervor, it's easy to forget that the '02 squad won 103 games and arguably had the Yankees' best rotation of the decade. So let's take a look back at that team as well as what could have been.
New Faces
Right now, Yankee fans are forced to adjust to a series of bright-eyed young kids coming up to the majors and a few solid veterans. The 2002 Yankees didn't have a transition anything like the current squad, but they did see a few shifts after the 2001 World Series. They had holes in all four corners as Paul O'Neill and Scott Brosius retired while Tino Martinez and Chuck Knoblauch became free agents.
The Yankees being the Yankees, they filled all four holes within eight days. The first move was to trade David Justice to the Mets, one of the rare times the crosstown rivals would hook up for a trade, for Robin Ventura. Four days later, they'd deal reliever Jay Witasick to the Giants for John Vander Wal, who'd man right field.
That move would get overshadowed because it was on the same day they announced the signing of the reigning American League MVP Jason Giambi as their new first baseman. Rondell White would sign for an ill-fated stint in left field four days after that.
The front office appeared done with all five main starters from '01 returning and Steve Karsay signed to be the new set-up man. However, this was George Steinbrenner's team, so anything can happen. By anything, I mean that a 38-year-old David Wells called up Steinbrenner and unilaterally talked him into a two-year deal … even though he had a verbal agreement to sign with the Diamondbacks already. Seriously. 
A dominant regular season
2002 was the first year of the YES Network and those tuning into YES in the inaugural season saw a juggernaut of a team. They lost their first game before reeling off seven straight wins. They won 13 of 14 in mid-May, a stretch that included two three-game sweeps of a perennial Yankees punching bag, the Minnesota Twins.
The offense is what carried the team. Derek Jeter, Jorge Posada, Bernie Williams, all those guys were their normal selves for the most part. However, Giambi and a 26-year-old Alfonso Soriano combined for 80 home runs (41 and 39, respectively) and were a force near the top of the lineup. Soriano led the AL with 41 stolen bases and 209 hits., had more home runs than walks (23) and set Yankees records for at-bats (696) and strikeouts (157) in a season. He also had 51 doubles. Ventura was a surprise All-Star with 19 home runs at the All-Star break, so the Yankees literally had an All-Star at every infield position.
The Yankees were certainly based around hitting (they led baseball in runs scored, OBP and SLG and were second in home runs, third in hits), but their pitching staff wasn't half bad. They had seven pitchers make at least eight starts and all had an above-average ERA+. Orlando Hernandez and Andy Pettitte each had strong years while David Wells rebounded from a bad '02 to justify his contract.
The bullpen had four key pitchers: Ramiro Mendoza, Mike Stanton, Karsay and, of course, Mariano Rivera. Rivera went on the DL twice in '02 (was still dominant when he was healthy), leading in part to Stanton and Karsay each pitching at least 78 games. All four relievers had ERAs below 3.44.
2002 was also the first year the Yankees faced the NL West in interleague play, which led to two memorable moments. One was Barry Bonds hitting an absolute bomb to the back of the upper deck at old Yankee Stadium that Giants PBP man Jon Miller would say was "heading for New Jersey".  The other was Marcus Thames' MLB debut. He had to face the best pitcher going in Randy Johnson yet found a way to come through with a homer on the first pitch he saw.
Trade Deadline
The Yankees made two big trades in early July. The first was trading non-prospect Scott Wiggins to the Blue Jays to acquire slugger Raul Mondesi to man right field with Vander Wal, Shane Spencer and others not quite cutting it. Mondesi was a Steinbrenner move through and through as George wanted the past-his-prime outfielder and paid most of his remaining money.
(Mike's Note: George traded for Mondesi after Tim McCarver said the Yankees needed a right fielder like Raul Mondesi during a nationally broadcast game against the Mets. Enrique Wilson started in right field on June 29th, made a few misplays in the loss, McCarver said they should trade for Mondesi, and a day later the trade was made. Yup.)
They also traded Ted Lilly, who was set to start the following Sunday, and two prospects in a three-team deal with the Athletics and Tigers to acquire 25-year-old righty Jeff Weaver, who they saw as injecting youth into a very old rotation. Weaver would pitch dreadfully in 2003 but was fine as a swingman in '02 before two bad postseason appearances.
The Loss to the Angels
The Yankees led baseball with 103 wins. They didn't get possession of first place for good until late June, but eventually won the division by 10.5 games. Ideally, that'd mean they'd face the AL's worst playoff team (the 94-win Twins) in the ALDS, but instead they got the wild card winners, the 99-win Anaheim Angels. In their four-game set with the Angels, the Yankees led in the 5th inning or later of every single game. Yup. The pitching staff melted down in every game.
Game 1 would be a Yankees classic if it wasn't for the rest of the series. Roger Clemens, arguably the team's worst full-time starter, got the ball in Game 1 and was meh. He gave up four runs in 5 2/3 innings and left with the game tied. Ramiro Mendoza gave up a go-ahead home run to Troy Glaus to begin the 8th, but the Yankees rallied. With two outs in the 8th, Soriano and Jeter walked before Giambi tied the game with a single. That set the stage for Williams, who blasted the winning three-run homer.
Pettitte was pulled early in Game 2 and the Yankees came back again, this time with Soriano hitting a two-run homer in the 6th (off rookie Francisco Rodriguez) and the Yanks led, 5-4, until the 8th. Then, El Duque gave up back-to-back homers before Karsay and Weaver gave up two more runs in the 8th and 9th. A late Yankees rally fell short, 8-6, with a Mondesi pop out as the winning run.
The Yankees led 6-1 top 2nd of Game 3, but Mike Mussina was pulled after four innings after giving up four runs. Weaver, Stanton and Karsay combined to give up five runs over the next four innings as the Yankees lost, 9-6. David Wells and Ramiro Mendoza combined to give up eight runs in the 5th inning of Game 4 and the season was over like that.
What may have been the best pitching staff of the decade gave up 31 runs in four games and Mo only pitched one scoreless inning. You can chalk that up to bullpen mismanagement, but Rivera's injuries that season may have been a reason not to go to him earlier (particularly in Game 2). However, Torre's regular season bullpen load for Karsay and Stanton may have led to their hiccups in the postseason.
Legacy
There is an alternate universe where the Yankees held off the hot-hitting Angels, beat up on the Twins in the next round like they seemed to do every postseason and then met the Giants in Fall Classic for the first time since a great 1962 series.
The season marked the end of a 31-year-old Giambi's peak as '02 was his best year in pinstripes. Williams, then 33, also declined significantly after that year. Mussina and Clemens would rebound in '03 and Rivera would too with a 1.66 ERA.
Spencer, Stanton and Mendoza moved on from the Yankees (besides one more stint for Mendoza two years later). The Yankees would splurge for Hideki Matsui and Jose Contreras the next offseason and win another 101 games. With the postseason success a year later, it just leaves you wondering what might have been in 2002.