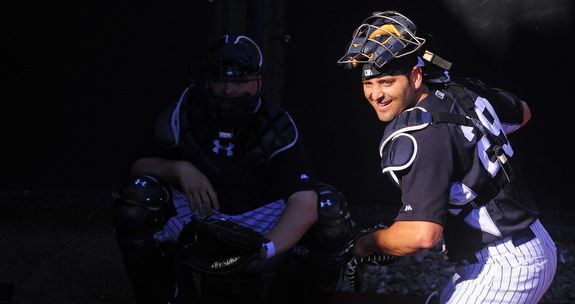 Outside of last season's injury wrecked nightmare, the Yankees have done a good job of fielding quality benches in recent years. Guys like Marcus Thames, Andruw Jones, and Eric Chavez provided some offensive pop while others like Jayson Nix were more about versatility. It's tough for the Yankees to sign quality bench players as free agents — who wants to sit on the bench behind the guys making huge money? — but they've had some pretty good backups the last four or five seasons. Let's run down the 2014 bench.
C Francisco Cervelli
Based on Spring Training, Brian McCann is going to be a great backup for Cervelli this year. Frankie has hit the snot out of the ball these last few weeks, going 14-for-25 with three homers in camp. He's picked up right where he left off last April before getting hurt, which is good to see. Between this offensive spike — he won't hit this well all year, but you know what I mean — and his strong defense (particularly his throwing arm), Cervelli would be one of the two or three best backup catchers in baseball, if not the best.
Unsurprisingly, a number of clubs have been scouting Frankie these last few weeks. Quality catching is hard to find and the Yankees have some upper level depth, so it makes sense teams are honing in on him. It would surprise me if Cervelli was traded before Opening Day but I don't think it's completely off the table. That's the only way he wouldn't make the team. Any idea of a backup catcher competition with John Ryan Murphy and Austin Romine was silly to start with, but if it was a real thing, Cervelli has won. Competition's over. I think we'll see him quite a bit against left-handers this season too. It's not a bad way to give McCann his necessary days off.
IF Eduardo Nunez
I am convinced that Nunez will not only make the Opening Day roster at this point, but he'll also wind up playing quite a bit, likely in a third base platoon with Kelly Johnson. The writing is on the wall. Scott Sizemore has not played much this spring and is currently dealing with a quad problem, so he hasn't had a chance to show what he can do this spring. Dean Anna has been solid but unspectacular in camp and Yangervis Solarte feels like a long shot for the roster even though he's been crushing the ball these last few weeks.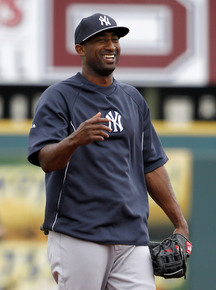 Nunez, 26, now seems to have everything going his way after the Yankees spent most of the winter looking for players to compete against him. He's hit well this spring (8-for-29 with a homer) and he's played all three non-first base infield positions, plus he's already on the 40-man roster. We can't discount that the club really seems to like him and is willing to give him chance after chance either. The competition for the final bench spot is still technically ongoing, but barring injury, I think the job is Nunez's to lose. (Keep in mind that doesn't necessarily mean he'll keep it all season.)
IF Brendan Ryan
Early in the offseason, when Derek Jeter was still a major question mark and guys like Anna and Sizemore had not yet been acquired, the Yankees gave Ryan a two-year contract (with a player option!) to serve as their backup infielder. I can't help but wonder if they wish they had a do-over right about now. The 31-year-old Ryan is essentially the 13th position player, whose only real job will be giving Derek Jeter and maybe Brian Roberts the occasional day off. He sure as heck won't be a pinch-hitter and there will be better pinch-running candidates on the bench.
Ryan's contract is cheap ($6M across three years max) but more well-rounded players like Anna, Sizemore, or even Zoilo Almonte might make more sense for this bench spot. It'll be interesting to see how Ryan is used this year because right now his role is way more specific thank the typical bench player's. As good as his defense is, Ryan is a very limited player.
OF Ichiro Suzuki
The Yankees shopped Ichiro all offseason and they continue to showcase him in Spring Training — you don't think it was an accident he started in center while Brett Gardner played left yesterday, did you? — but no one is biting and it appears he will be on the roster come the start of the regular season. Going from an everyday player, something Ichiro has been since he was 20-year-old, to a bench player is a tough transition to make, but he can be an obvious asset as a pinch-runner/defensive replacement. I suspect we'll see Ichiro more than we think this season thanks to injuries and days off and whatever.
* * *
If the Yankees do find a taker for Ichiro at some point in the next two weeks, Almonte is the obvious candidate to step right into the extra outfielder's role. He can do the pinch-runner/defensive replacement thing, but all provide a little offense from both sides of the plate as a switch-hitter. Cervelli and Ryan are locked into their spots right now and I think Nunez has a firm hold on a bench job as well.
This isn't the most usable group of reserve players in the world — Cervelli is the big bat off the bench right now — but the Yankees are going to live and die with their starters anyway. They don't have many, if any platoon situations, so the lineup isn't going to change much day to day. At least in theory. Jeter and Roberts will need days off their feet while both Alfonso Soriano and Carlos Beltran go back and forth between right field and DH, but that's it. This bench is there for emergencies, not regular use.