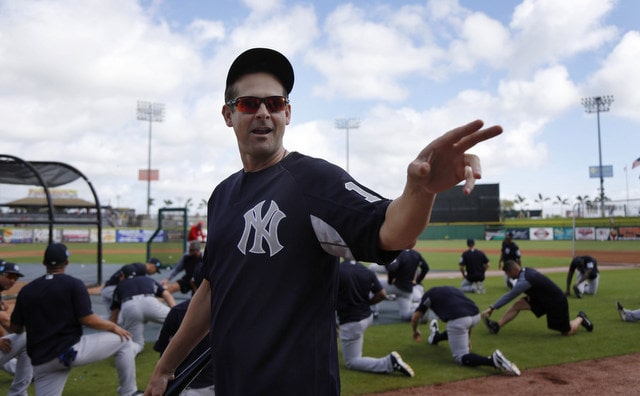 Managerial job security isn't what it used to be. Joe Girardi, in his tenth season with the Yankees, led a team that exceeded all expectations to Game Seven of the ALCS last year. His reward? Unemployment. The Yankees cut ties with Girardi after the season and Hal Steinbrenner said he probably would've authorized the managerial change even if the Yankees had won the World Series. Ouch.
"We do not make changes at that level lightly, so it was a very difficult and challenging decision," said Brian Cashman soon after it was announced Girardi would not be retained. "Easiest call would be plug and play and continue in safe harbor arena. I have never been safe harbor kind of person … Our issues and concerns were the ability to engage, fully communicate, and connect with the playing personnel."
Rather than recycle an experienced big league manager or promote someone from within, the Yankees took a risk and named former Yankee Aaron Boone their new skipper. He has no prior coaching or managerial experience. None. Nada. Boone went from playing to the broadcast booth to managing. He reportedly blew the Yankees away during the interview and convinced Cashman & Co. that he's the right guy for the job.
"I wanted this opportunity and I wanted this challenge. I wanted to be back on this side of things. I want to chase the prize," said Boone to Mike Lupica earlier this month. "I'll say it again, what pulled me back to this side of things was chasing that prize."
That prize is, of course, a World Series championship, something Boone never won as a player. (The 2003 postseason was the only time he played in the postseason in his career.) And that's the goal this year: Win the World Series. This is a win-now roster and a win-now organization. The Yankees brought a rookie manager into a situation where the goal is to be the last team standing, and, to be fair, they are not the only team in recent memory to do that. The Dodgers (Dave Roberts) and Nationals (Dave Martinez) both hired inexperienced managers in recent years.
Boone's first Spring Training as manager went, well, like any other Spring Training. And that's a good thing. It was business as usual. Nothing out of the ordinary happened — aside from that whole "forget to warm up Adam Warren" incident — and, to paraphrase Boone's predecessor, that is what you want. A normal spring. By way of a preview, I have some thoughts and observations about the new manager.
1. Boone has a Torre-esque quality. Specifically his calm and the way he's able to diffuse things with the media. Girardi was a great manager. He was not so great with the media, which is not insignificant. They can make your life miserable. Joe Torre's best trait was, by far, the way he handled the media and diffused unfavorable situations. He was asked about whatever, he shot it down in a way that closed the book, and that was that. Girardi had a tendency to ramble and let things fester for a few days.
This spring Boone has been more Torre than Girardi when it comes to his daily briefings with the media. That Warren situation a few weeks back? It would've been easy for the rookie manager to blame someone else — calling down to the bullpen to tell a reliever to warm up is definitely something that gets delegated to a coach — but instead Boone took the blame, owned up to the mistake, and that was it. It was a non-issue going forward. Boone will be under the microscope all year and he could've shifted blame for that mistake. He owned it and that was that.
The Yankees hired Boone partly because of his communication skills, specifically his ability to interact with his players, but those communication skills also apply to the media. Torre was a master at keeping the peace and limiting distractions. Boone seems to have a similar quality, though, to be fair, he has yet to face a real crisis or even manage a regular season game. We'll see if things change once the games start to count.
2. He's willing to be open-minded. Everyone seems to be looking for the new Joe Maddon, that manager willing to be unconventional and try new things. Why? Because it's different, mostly. Maddon has had success doing that but many managers have had success not doing that. To each his own. But many fans seem to want their team to hire the next Maddon. The next smart manager willing to think outside the box.
Boone, if nothing else, seems to be open-minded. He's talked about batting Aaron Judge leadoff against lefties and Cashman confirmed that was a conversation initiated by Boone. Boone also said that, aside from Aroldis Chapman at closer, he plans to use his setup relievers interchangeably, rather than assign set roles or innings. He doesn't want his speedy baserunners to risk outs on the bases because the Yankees have so much power. Who knows whether anything will actually come of this. For now, Boone is talking the talk. We'll soon see if he walks the walk too.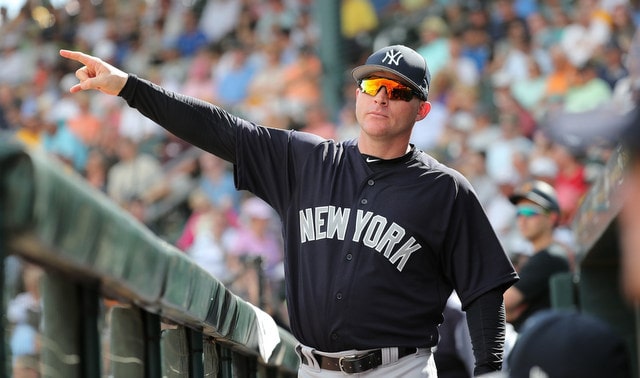 3. Let's talk about the rest of the coaching staff. When the Yankees cut ties with Girardi, they also cut ties with much of his coaching staff. Joe Espada left to join the Astros, and Tony Pena and Alan Cockrell weren't retained. Pitching coach Larry Rothschild stuck around, as did assistant hitting coach Marcus Thames and bullpen coach Mike Harkey. Otherwise the coaching staff is full of fresh faces:
Bench Coach: Josh Bard (had been Dodgers bench coach)
Pitching Coach: Larry Rothschild (retained)
Hitting Coach: Marcus Thames (promoted from assistant hitting coach)
Assistant Hitting Coach: P.J. Pilittere (promoted from Triple-A Scranton)
First Base Coach: Reggie Willits (promoted from player development staff)
Third Base Coach: Phil Nevin (had been Giants third base coach)
Bullpen Coach: Mike Harkey (retained)
Catching Coach: Jason Brown (promoted from bullpen catcher)
Quality Control Coach: Carlos Mendoza (promoted from player development staff)
Bard was Boone's teammate with the Indians back in the day, and he spent time with the Dodgers (another progressive analytics driven organization) in both the front office and on the coaching staff, so has experience on both sides of the table. He'll help Boone quite a bit, I imagine. Nevin is more old school and that's a necessary balance. Sometimes you need that tough love.
The coaches who were promoted from within all have experience with the young Yankees on the roster. Willits, formerly the minor league outfield and baserunning coordinator, worked with Judge during his days in the minors. He also worked with Clint Frazier and Tyler Wade and others. Mendoza was the minor league infield coordinator, meaning he spent time with Wade, Gleyber Torres, and Miguel Andujar. Pilittere has been a hitting coach at various levels over the years and he's worked with pretty much every young Yankee at some point.
Brown, interestingly enough, is making the jump from bullpen catcher to full-time catching coach, meaning he will be tasked with helping Gary Sanchez improve his defense. He and Cashman spoke to Billy Witz about this recently:
"Everything we do as catchers starts from that stance, that setup, whether it's the receiving, the blocking, the throwing," said Jason Brown, the Yankees' new catching coach. "That's the foundation. It's more natural for smaller guys. For Gary, it's something that he's been working on."

…

(Cashman) also said Sanchez was uncomfortable with the pregame workout routine that last year's catching coach, Tony Pena, and manager, Joe Girardi, had implemented.

In the second half of the season, Sanchez returned to the pregame regimen he had used in the minor leagues.
Hmmm. Last year Sanchez went from eleven passed balls in his first 61 games at catcher to five passed balls in his final 43 games, so he went from one every 5.45 games to one every 8.60 games. That's better! Whether it's real improvement or just official scoring noise is another matter. Either way, Brown is now the full-time catching coach. He is in charge of helping Sanchez (and Austin Romine) improve his catching.
The Yankees made sweeping changes to their coaching staff over the winter, but because so many of the new coaches came up from the farm system, they already have a working relationship with many players. They're not coming in blind. Also, Bard caught CC Sabathia with the Indians and Nevin managed both Didi Gregorius and Brandon Drury in Triple-A while with the Diamondbacks, so there is some familiarity there as well. Clearly though, the Yankees wanted some new leadership and new voices in the clubhouse. They have that in Boone and they have it with his coaching staff.
* * *
My fearlessly bold prediction is the Yankees will win a lot of games this season because they are incredibly talented, and Boone will look like a genius manager. He's in position to get a lot of credit. And, when things inevitably go wrong, he'll get the blame. The Yankees will lose three straight at some point. They'll score like four runs in a three-game series at some point. That's baseball. When it happens, fingers will be pointed at Boone.
That comes with the territory. You sign up to be manager of the Yankees, you have to take the good with the bad. Boone is a baseball lifer. He knows the game. I have no doubt about that. I also have no doubt that he's passionate about the job, that he cares for his players, and that he understands the expectations. Girardi was a very good manager and keeping him would've been justifiable. The Yankees decided to be bold though, and while Boone has shown some promising traits, this season will be one giant learning experience. It's all new to him.