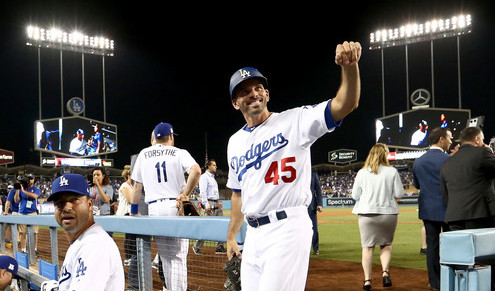 It has been two weeks and six days since the Yankees parted ways with Joe Girardi, and so far they have interviewed two managerial candidates (Rob Thomson, Eric Wedge) and have two more interviews scheduled (Aaron Boone, Hensley Meulens). Hal Steinbrenner told Bryan Hoch today that once the list of candidates is cut down, they'll be brought to Tampa to meet the Steinbrenners for a second round of interviews. Here's the latest on the manager and coaching staff searches.
Woodward a managerial candidate
Dodgers third base coach and former big league utility man Chris Woodward is a candidate for the manager's job, report Mark Feinsand and Joel Sherman. An interview is not scheduled yet but is likely to happen. Sherman says the Yankees intend to cap their interviews at five or six candidates. Thomson, Wedge, Boone, and Muelens are four. Woodward would make it five.
Woodward, 41, was in camp with the Yankees as a non-roster player in 2008. He jumped right into coaching after his playing career ended in 2012. Woodward went from Mariners minor league infield coordinator in 2013 to Mariners infield coach in 2014 to Mariners infield and first base coach in 2015 to Dodgers third base coach from 2016-17. He's said to be highly regarded within baseball and has been considered a future manager for a few years now. John Lott wrote a feature on Woodward last year.
Beltran wants to manage one day
Soon after announcing his retirement earlier this week, Carlos Beltran told Feinsand he would love to manage one day. "With the experience that I have in the game of baseball … I would love that opportunity, for sure," he said. Feinsand asked Beltran specifically about managing the Yankees. His response:
"I would not discount anything; you're talking about the New York Yankees. You're not just talking about any team in baseball. Not taking anything away from any other organization, but the Yankees are a team that anyone would love to put on that uniform and manage that ballclub."
Sherman says Beltran reached out to Brian Cashman to let him know he wants to manage — Cashman danced around the question when asked about Beltran as a managerial candidate the other day, telling Andrew Marchand, "I am aware of his interest in managing in the future. I'll leave it at that for right now" — though it doesn't sound like he'll get an interview. I think Beltran would benefit from spending a few years as a coach just to see how the other half lives before diving into managing. He'll manage one day though. For sure.
Rothschild will return in 2018
According to multiple reports, pitching coach Larry Rothschild will return next season no matter who the Yankees hire to be the next manager. A few weeks ago we heard the new manager will have a say in the coaching staff, but apparently that doesn't apply to the pitching coach. This isn't that unusual. Both Joe Torre (Willie Randolph, Tony Cloninger) and Girardi (Kevin Long, Tony Pena) inherited coaches when they joined the Yankees. Pitching coaches Don Cooper and Rick Honeycutt have been through multiple managers with the White Sox and Dodgers, respectively.
Rothschild, 63, has been New York's pitching coach since 2011, and during that time Yankees pitchers rank third in ERA- (94), third in FIP- (93), and second in fWAR (+139.6). Sherman says the Yankees like Rothschild's "ability to blend analytics with hands-on work with the staff," plus he is widely respected around the game, so that's why they're keeping him. I've said this before and I'll said it again: I think the impact of coaches is overstated. They're important! But they're not miracle workers. Rothschild has a great reputation within baseball and that's enough for me.
Quick Notes
Got a couple quick notes on managerial and coaching candidates. Here's a roundup:
Can't say I blame Leyritz for trying, but yeah, that was never going to happen.