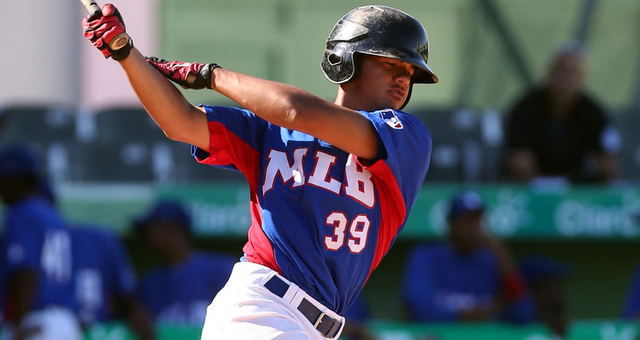 Four years ago, the MLBPA collectively bargained away the earning potential of amateur players. Spending restrictions were put in place for both the draft and international free agency, and while the spending limits are a soft cap, they do come with harsh penalties. Teams are given a bonus pool for the draft and international free agency, and exceeding the bonus pool comes with a hefty price.
Two summers ago, the Yankees decided to flex their financial muscle and go on a massive international spending spree. Their bonus pool was only $2.2M, but they spent upwards of $16M on bonuses during the 2014-15 signing period. As a result, they were taxed 100% on the overage — that's another $14M or so in tax, mean the total cost was $30M+ — and are unable to hand out a bonus larger than $300,000 during both the 2015-16 and 2016-17 international signing periods.
The Yankees were willing to pay the penalties to haul in the vast majority of the top talent available. They signed about four years worth of high-end international prospects in one signing period. Other teams like the Dodgers, Cubs, Giants, Diamondbacks, and Royals followed suit this past summer and blew their bonus pools out of the water. I'm guessing MLB and the MLBPA will look to change the system when the Collective Bargaining Agreement expires next offseason.
Anyway, the 2014-15 signing period was very heavy on position player prospects. There weren't a ton of high quality arms to go around, so almost all the prospects the Yankees landed are hitters. Yeah, some balance would have been nice, but more pitching prospects weren't going to pop out of thin air. The Yankees hoarded position player talent and those players made their pro debuts during the 2015 season. Let's look at the early returns.
Stellar Debuts in the States
Rather than be held back in the Dominican Summer League, a few of the international signees were brought to the U.S. to begin their pro careers this season. The best of the bunch was Venezuelan SS Wilkerman Garcia ($1.35M bonus), a 17-year-old switch-hitter who hit .299/.414/.362 (140 wRC+) with 25 walks and 19 strikeouts in 39 Rookie Gulf Coast League games. He's a solid defender and may wind up at second base long-term, but he offers high-end bat-to-ball skills.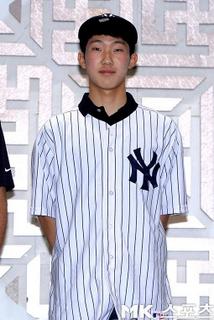 Korean SS Hoy Jun Park ($1.16M) also had a strong debut. Park signed out of high school and is already 19, so it's no surprise the Yankees brought him stateside for his first pro season. He hit .239/.351/.383 (109 wRC+) with five homers, 12 steals, a 19.1% strikeout rate, and a 13.0% walk rate in 56 games for the new Rookie Pulaski affiliate. Park is a legitimate shortstop with strong defensive tools, and the left-handed batter showed this summer he can handle pro pitching, especially big fastballs. His pro debut was rather impressive considering he did not face great competition growing up.
Venezuelan RHP Gilmael Troya ($10,000) is an interesting case because, as his bonus suggests, he was not a high profile prospect at all. The 18-year-old saw his velocity tick up in pro ball, and he now sits in the low-90s consistently. He also has a plan on the mound and the makings of an out-pitch curveball. Troya had a 1.80 ERA (2.97 FIP) with a 27.4% strikeout rate and a 9.0% walk rate in 60 GCL innings this summer. He, Garcia, and Park were the standouts who debuted in the U.S. in 2015.
The Big Money Prospects
When it comes to international free agency, bonuses can tell you quite a bit. The larger the bonus, the more the team likes the player. The bonus doesn't necessarily reflect the market — you had to offer this much to get him because another team was offering a comparable bonus, for example — because teams zero in on these kids when they're 14 or 15 years old. They agree to bonuses months or even years in advance, before other teams get a chance to scout them. I'm not joking when I say they hide these kids at their complexes so other scouts don't see them.
The Yankees gave out seven seven-figure bonuses during the 2014-15 signing period: Dominican SS Dermis Garcia ($3.2M), Dominican 3B Nelson Gomez ($2.25M), Dominican OF Juan DeLeon ($2M), Venezuelan OF Jonathan Amundaray ($1.5M), Venezuelan C Miguel Flames ($1M), Wilkerman, and Park. Like Wilkerman and Park, Dermis Garcia made his pro debut in the U.S. this summer, hitting .159/.256/.188 (46 wRC+) with 25 strikeouts and nine walks in 23 scattered GCL games. (There was a ton of rain in Tampa this year. They went two or three days between games for a few weeks there.)
Garcia, 17, signed as a shortstop but has already moved to third base because he's a big dude (6-foot-3 and 200 lbs.) and lacks the defensive chops for short. He has huge right-handed raw power and a very strong arm, though he needs refinement at the plate and is very much a long-term project. The unteachable skills are there (power, arm, etc.). Now Garcia just needs to work on his approach and things like that.
The other four seven-figure bonus guys debuted in the Dominican Summer League this year. Gomez, 18, put up a .243/.350/.435 (123 wRC+) line with eleven homers, a 24.3% strikeout rate, and a 12.4% walk rate in 58 DSL games. Similar to Dermis Garcia, Gomez is a big bodied (6-foot-1 and 220 lbs.) masher with righty raw power and a strong arm. He might have more power, actually. His defense is fine and his approach is much more advanced than Garcia's.
DeLeon, 18, had a statistically underwhelming season, hitting .226/.344/.336 (108 wRC+) with three homers and a 66/25 K/BB in 53 DSL games, but he might be the most tooled up player from the international class. He has high-end bat speed from the right side and strong center field skills, including a very good arm that would be more than fine in right. Don't read too much into DSL numbers. DeLeon is arguably the best prospect the Yankees signed as part of their spending spree.
The 17-year-old Amundaray was limited to 13 games in the DSL this summer, hitting .111/.346/.167 (72 wRC+) with 12 walks and 12 strikeouts. He's another guy who is more athletic tools than baseball skills, if you catch my drift. Amundaray has good bat speed and he's a good runner, but he's very raw at the plate with less than stellar bat-to-ball ability. He has power from the right side but sells out for it even though he doesn't need to.
Flames, 18, had the best statistical debut of the big bonus guys, hitting .317/.398/.454 (142 wRC+) with three homers, an 18.5% strikeout rate, and a 9.2% walk rate in 54 DSL games. He did spend most of his time at first base though (only nine games behind the plate) because he's not a great defender, so he did most of his defensive work behind the scenes. Flames has a pro body (6-foot-2 and 210 lbs.) and his right-handed hit tool/raw power combo is awfully impressive. He was a third baseman who converted to catching shortly before signing.
The international market is not the place for instant gratification. These kids sign at 16 and begin playing at 17, so they're extremely raw and underdeveloped. The tools are far, far, far more important than the performance. Wilkerman and Park are more advanced than the rest, though Dermis, Gomez, and DeLeon have loud tools and star upside. There's just a lot of work to be done to reach that ceiling.
Low Cost Prospects
The Yankees have excelled at finding low cost Latin American prospects over the years. You can go back to Robinson Cano, who signed for a $150,000 bonus back in 2001. More recently, the Yankees landed Luis Severino ($225,000) and Jorge Mateo ($250,000) on relatively small bonuses. The million dollar guys get the most attention, understandably, but the mid-range market is where organizational depth is built.
The best six-figure bonus prospect is arguably Venezuelan SS Diego Castillo ($750,000), who put up a .331/.373/.444 (130 wRC+) line with five steals, an 11.6% strikeout rate, and a 6.1% walk rate in 56 DSL games. He's similar to current Yankees farmhand IF Abi Avelino in that he has no standout tool, but is solid across the board with great instincts that allow everything to play up. The whole is greater than the sum of the parts.
Venezuelan OF Antonio Arias ($800,000) hit .235/.316/.316 (87 wRC+) in 39 DSL games. The 17-year-old is a pure projection play: he's a high-end athlete with bat speed who is still working to turn those natural gifts into baseball skills. Dominican OF Frederick Cuevas ($300,000), 18, put up a .256/.376/.365 (117 wRC+) line in 57 DSL games. The lefty swinger doesn't have exciting tools but does know his game as a lefty gap hitter.
The international period begins on July 2nd each year, but
it wasn't until November
that the Yankees snagged
Colombian OF Brayan Emery
($500,000). He was originally expected to land a $1M+ bonus, but that didn't happen. The 17-year-old Emery hit .192/.330/.308 (92 wRC+) with three homers, a 29.7% strikeout rate, and a 14.7% walk rate in 61 DSL games this summer. He's a very exciting prospect, with a smooth left-handed swing and power potential to go with right field defensive tools. Emery needs experience more than anything.
Here are some of the other smaller bonus guys the Yankees landed during the 2014-15 international signing period. Again, "smaller bonus" is a relative term.
Dominican OF Lisandro Blanco ($550,000), 18: .291/.391/.355 (122 wRC+) in 41 DSL games. Top notch tools, including great bat speed and high-end athleticism.
Venezuelan OF Leobaldo Cabrera ($250,000), 17: .298/.367/.382 (116 wRC+) in 59 DSL games. His best tools are top of the line arm strength and an advanced approach at the plate.
Dominican IF Griffin Garabito ($225,000), 18: .256/.328/.312 (94 wRC+) in 62 GCL games. Versatile infielder who is known for his bat-to-ball ability. The Yankees liked him enough to bring him stateside in 2015.
Venezuelan C Jason Lopez ($100,000), 17: .240/.337/.301 (91 wRC+) in 42 DSL games. Recently converted third baseman with a very strong arm and some power potential.
Dominican OF Erick Mendez ($250,000), 19: .281/.381/.465 (140 wRC+) in 51 DSL games. Good all-around ability — bat speed, power potential, arm, speed — but needs to face age appropriate competition to really develop.
Venezuelan OF Raymundo Moreno ($600,000), 17: .067/.125/.067 (-33 wRC) in six DSL games. Standout defensive center fielder with bat speed and a knack for trying to muscle up for power at the plate.
Venezuelan OF Pablo Olivares ($400,000), 17: .267/.370/.359 (116 wRC+) in 32 DSL games. Another great defender in center with excellent athleticism. His line drive approach doesn't project to produce much power down the road.
Venezuelan IF Danienger Perez ($300,000), 19: .245/.311/.382 (104 wRC+) in 69 games between the DSL, GCL, and Short Season Staten Island. Perez is a slap-hitting defense first prospect.
The Yankees also signed Venezuelan RHP Servando Hernandez ($200,000), Venezuelan IF Wander Hernandez (unknown), and Dominican LHP Luis Pache (unknown) during the 2014-15 international signing period, but I can't find any information on them. They didn't play at all in 2015. It's possible their contract agreements hit a snag, maybe due to age and identity issues. That stuff still happens on occasion even though MLB enlisted Sandy Alderson to crack down a few years back.

* * *
International free agency is a much different animal than the amateur draft. International prospects usually sign at 16 years old, so we're talking sophomore in high school age. They're very raw, and while recent pop-up leagues have helped, there's not much high-caliber competition in Latin America. These kids aren't on the high school showcase circuit strutting their stuff against other top high school talent from around the country, you know?
All the players the Yankees signed during the 2014-15 signing period are just starting their pro careers. One season — it's not even a full season, these guys played in short season leagues this year and are lucky to have 60 games under their belt — doesn't tell us a whole lot. You've got to start somewhere though. That no one suffered a catastrophic injury or went through a growth spurt that sapped their athleticism makes year one a success.