Got five questions and four answers for you this week. Please use the Submit A Tip box in the sidebar to send us any links, comments, or questions throughout the week.

Donny asks: With qualifying offers expected to be in the $13.3-13.4 million range, there seems to be a very small possibility that Nick Swisher could take that as his overall deal even though he would collect more on the open market, but I doubt his AAV would not approach that. Could you see more FA's taking this route going forward?
Nick asks: Is it almost certain that Swisher will not be around next season? All this talk of getting a fill in third baseman for the rest of the season and then turning him into a right fielder has me thinking. A lot of the recent talk on RAB seems like he's out of the picture come next season. As a fan favorite and clubhouse favorite it's gonna be hard to see him go.
Might as well lump these two together. You're going to see a ton of players decline that one-year, ~$13.5M qualifying offer in favor of a potential multi-year guarantee on the open market. It's a similar process to arbitration but the stakes are much higher given the money, so that just means we'll see fewer qualifying offers overall. I highly doubt you'll see the same kind of handshake agreements we've seen in the past just because that's so much cash. Fading stars will have a tough time turning that down, but otherwise guys like Swisher will pass in favor of the bigger payday. That's what I would do at that point of my career. Get the multiple years while you can.
As for Swisher, I don't think it's 100% certain that he will be gone next year. It's just that he's going to require a pretty significant contract and it's unclear if the Yankees will go that far for a player soon to be entering his decline years with the 2014 payroll plan looming. I'm sure the team would absolutely love to see him accept the qualifying offer, giving them a quality player on a short contract and buying them another year to find a long-term outfield solution. I just can't imagine that happening, Swisher's looking at a multi-year pact worth eight-figures annually given the state of the corner outfield market.
Andrew asks: I was looking over at MLBTR about Michael Ynoa the other day. I remember the Yanks had a deal with him but he went back on it; saw that the Athletics have to either add him to the 40-man or expose him to the Rule 5 in the offseason. Worth a shot to take him in the Rule 5 and stick him in the bullpen next year to see if his fastball plays up? If he's bad send him back, if not, we hold him for a year, then send him down to stretch out as a starter in '14 when he'll only be 21 still.
Ynoa has battled a number of injuries through the years, facing just 37 total batters from 2008-2011. He's healthy now and is pitching poorly in Rookie Ball, with more walks (11) than strikeouts (six) in 12.1 innings. In last week's chat Keith Law provided an updated scouting report after the seeing the right-hander in Arizona: "89-93, touched 94 once, really loose and easy, so there's potential there, but all the lost time means he hasn't advanced much if at all in four years."
The A's haven't gotten what they expected when they broke the bank and signed Ynoa for a then-record $4.25M bonus, and I have a really tough time thinking he can provide a big league team with any value right now. He's more interesting than most Rule 5 Draft guys given the upside, but carrying someone on the 25-man active roster means you think he can help you win games. I'm not sure he's capable of doing that right now. The Yankees have a number of internal options capable of being a long-man next year, forcing the issue with someone like Ynoa seems doomed to fail.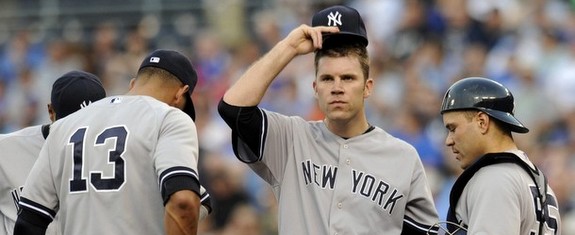 Johnny asks: With this setback for Andy Pettitte, do you think it's time to give David Phelps a rotation spot? I really like this guy and think he can go places and be a mainstay in the rotation for years to come.
Yeah I think so. Freddy Garcia has been perfectly fine and serviceable as the fifth starter since moving back into the rotation, if anything Ivan Nova has been the weak link in recent weeks. The Yankees aren't going to take him out of the rotation though. Phelps has at least shown the ability to get big league hitters out and given the perpetual need for quality starting pitching, it makes sense to given him a little two month audition to see what he has. At the same time, I don't think it's some kind of huge injustice. I don't see Phelps as some kind of ace in the making and he can be very valuable to this year's team as a multi-inning setup man.
Travis asks: Do you think, even though he is currently at the Double-A level, that Mark Montgomery is a viable bullpen option for the start of 2013? Do you think they give him a September call-up?
I was planning to write about Montgomery yesterday, but Eric beat me to the punch. I might as well chime in with my thoughts here. Montgomery has obviously impressed in the minors and the easy comparison is David Robertson because they're both sub-6-foot right-handers with nasty breaking balls who rack up strikeouts. There is a difference between a curveball pitcher (Robertson) and a slider pitcher (Montgomery) though, only because the latter tends to have more of a platoon split. Then again, Montgomery's slider could be so good that it doesn't even matter.
Barring injury or some kind of completely unexpected performance breakdown, I think it's all but guaranteed that Montgomery will debut in the big leagues at some point next year. He has eight whole innings above Single-A to his credit so I'm not sure if a September call-up is in the cards this year, however. I suppose it could depend on the need at the big league level, if some guys get hurt or collapse Cory Wade-style, the Yankees could be forced to turn to him. As good as Robertson is, he was an up-and-down guy in 2008 and early-2009 before finally settling into a full-time role in 2010. Minor league relievers can be tricky to project because the numbers are so good, but I'd always say the odds are against someone coming up and having an immediate impact. Doesn't mean it can't happen though.