The following is a guest post from Adam Moss, who you may know from the comments as Roadgeek Adam. Adam wrote about long-time umpire Tim McClelland and his ties to the Yankees. McClelland did not work due to a back injury last year and recently retired.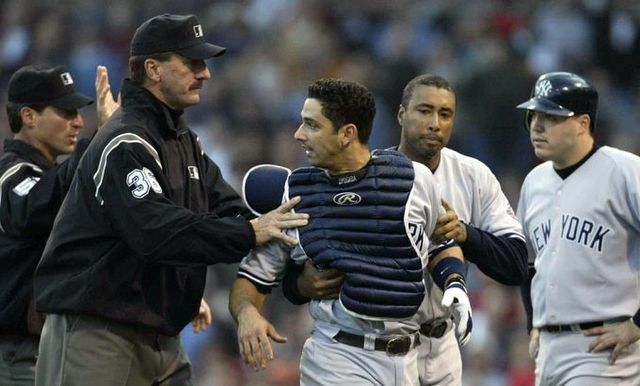 Veteran Major League Baseball umpire Tim McClelland has retired after 33 years in the game. Hired by the American League in 1981, the Michigan State University product umpired his first game on September 3, in a game between the Toronto Blue Jays and the Chicago White Sox (which also included the MLB debut of Jesse Barfield!) Tim McClelland had back surgery in 2014, which kept him out the entire season and had him considering retirement. Earlier this week, that officially happened.
McClelland is notably famous for the day of his first ever ejection, which we mostly know as the Pine Tar Game, July 24, 1983. We Yankees fans know quite well the story behind the Pine Tar Game, with Billy Martin questioning George Brett's bat after a home run that would've given the Royals the lead. The bat supposedly had too much pine tar compared to the league rules, and after talking with fellow umpires Drew Coble, Joe Brinkman and Nick Bremigen, McClelland officially agreed with Martin and called Brett out (overturning the home run).
McClelland immediately ejected George Brett, who wanted a piece of the young umpire at that point. McClelland also ejected Royals manager Dick Howser, coach Rocky Colavito and pitcher Gaylord Perry for trying to get the bat away from the umpires (by using the bat boy) so it would not be brought to the umpire's room and make a trip to the American League office, run by Lee MacPhail. As we know, MacPhail overturned the decision of McClelland and the Yankees lost the game 5-4. It would not be the last time McClelland's had to deal with questionable bats, as in 2003, Sammy Sosa used a corked bat ("reserved for batting practice") against the late Geremi Gonzalez of Tampa Bay. McClelland, now 20 years removed from the Brett incident, ejected Sosa, and the ground out RBI that Sosa made with the bat was reversed. (This is also the most recent time a person has been caught using a corked bat.)
McClelland also gained some notoriety in the 2009 American League Championship Series between the Yankees and Angels. First off, he was the third base umpire in Game 4 when Jorge Posada got caught in a rundown in the 5th inning between third base and home plate. Robinson Cano used this opportunity to advance to third, and both Posada and Cano were both tagged out by Mike Napoli. Instead, McClelland only called Posada out because he felt Cano was touching third base when he was tagged. The other call involved Nick Swisher leaving third base too soon when tagging up to advance to home. On that call, McClelland was quoted: "I'm not sure I believe the replay of that one." In other words, he thinks that he's right.
Tim McClelland was also the home plate umpire for the David Wells' perfect game on May 17, 1998. He has also been a part of seven no-hitters, including Phillip Humber's perfect game in 2012. In all, McClelland worked parts of 33 seasons, umpiring officially 4,236 games with 1,075 at home plate. He's been part of five Division Series (1997, 2000, 2002, 2004 and 2006), nine Championship Series (1988, 1995, 1999, 2001, 2003, 2005, 2007, 2008 and 2009) and four World Series (1993, 2000, 2002 and 2006) as well as three All-Star Games (1986, 1998 and 2003).
As far as ejections, McClelland ejected 77 players, coaches and managers, including the four on July 24, 1983. He's ejected people from the Yankees 12 times, including every single manager from Yogi Berra through Joe Girardi (except for Buck Showalter).
Honestly, losing McClelland is a big loss to Major League Baseball. While some people were very displeased with his ball and strike calling style, which is notoriously slow, he was one of the most respected umpires as voted by the players. I have major respect for the great McClelland, who I honored in my fantasy league this year, and he's going to finish a career that is well-respected. I will miss the great McClelland behind the plate, and I am sure many others will as well.