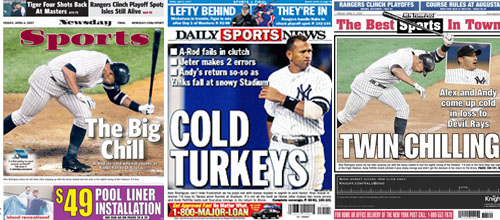 I hope the Baseball Schedule Gods take note: Baseball in New York during the first week of April is a Bad Idea. It's miserable playing baseball in 30-degree weather with snow swirling; it's miserable watching baseball in 30-degree weather. So try as I might, I just cannot fault the Yankees for the way last night's game unfolded.
Luis Vizcaino, the only Yankee with a record, said it best. According to Tyler Kepner of The Times, it was too cold for pitchers to grip their breaking balls. And it showed.
So while Steve Lombardi accurately summed up last night's game, much like Mark McGwire, I'm not here to talk about the past. Instead, let's see how reporters summed up this game.
As the lovely montage above shows, the New York tabloids seemed fit to lay the blame squarely on Alex Rodriguez's much-maligned shoulders. But that wasn't the worst. Note this excerpt from the AP's game summary:
Alex Rodriguez had a great opportunity to turn Yankees fans in his favor.

Once again, he flopped….

A-Rod, who is 4-for-41 (.098) without an RBI in his last 12 playoff games dating to 2004, tossed his bat aside in disgust after the popout and muttered to himself as he waited for a teammate to bring out his cap and glove. Often booed at Yankee Stadium for failing to deliver in crucial situations, he heard plenty of catcalls again — even from a crowd diminished by the cold.
Such drama for the second game of the season. A-Rod completely and utterly flopped. And let's not forget to mention his post-season struggles even though it's April and the regular season. That's sound reporting and writing right there.
To this, I say, "Enough!" Enough dumping on Alex Rodriguez; enough laying the blame for every single Yankee loss on his shoulders.
Leverage Index experiments aside, let's review a few key points that are seemingly glossed over in the articles about last night's game.
The Yankees gave up two unearned runs last night because Golden Boy Derek Jeter made two more errors to add to his league-leading error total. Those errors were costly. Does he get lambasted? No. Other than a brief mention on the cover of the Daily News and some lip service to playing sloppily, Derek gets off free.
Jorge Posada forgot how to catch the ball.
Melky Cabrera cannot bunt. Period. That was a terrible strategic decision and a terrible bunt. Pinch run for the slow Mientkiewicz if you really want to run.
Derek Jeter – oh, him again – grounded into what should have been the second out of the inning in the 8th. His 20-foot fielder's choice sure was clutch. Only a bad play by the Devil Rays kept the inning alive for Alex Rodriguez to come to the plate later on.
Bobby Abreu, with the bases loaded and one out, could have done just about anything to get the run in short of what he did. Instead, he takes a mighty hack at a terrible pitch…and grounds it right back to the pitcher. Maybe a squeeze should have been in order there. It would have been more effective. And this, folks, is your Goat of the Game. Not Alex Rodriguez who had to hit with two outs but Bobby Abreu who simply needed to hit a fly ball. Where are the writers criticizing Abreu?
No one at all mentioned the brilliant decision to pinch run for Jason Giambi in the 7th inning of a tie game. So Joe Torre used Miguel Cairo to run halfway from second to third before the inning ended. Instead of Giambi facing Al Reyes in the 9th, the Yanks had to use Josh Phelps, proving yet again that Joe Torre doesn't know how to use his bench.
So there are six factors that contributed to the loss tonight absent the weather and terrible pitching by the Yanks' bullpen. But of course, the media just dump on Alex Rodriguez. They dump and dump and dump.
They mention Alex Rodriguez's game 1 error but not Jeter's three errors in two games. They mention Alex Rodriguez's pop up with two outs but not Abreu's disastrous at-bat. And Newsday and The Post couldn't even come up with an original headline. Do they sit around their offices wondering how best to dump on A-Rod tonight?
Why do so-called Yankee fans want to see A-Rod fail? Why do his plays get magnified? This guy is the leading slugger in baseball over the last 10 years, and Yankee fans would rather see him play elsewhere. You are the people ruining baseball in New York.
Enough.