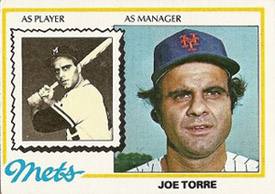 With one poorly-worded statement, the Yankees turned Joe Torre, the man who just refused $5 million to manage, into a sympathetic figure. They could have fired him easily; he could have walked away a week ago. But instead, the Yankees tried to save face, and they failed utterly.
Today, as Buster Oleny detailed, Torre flew down to Tampa this afternoon to meet with the Yankee big wigs. At the time, it even looked like Torre would be coming back. But when Joe landed in Tampa and heard the offer, it was all over.
Torre, as we now know, said no, shook hands and went back home. George Steinbrenner, the outgoing head of the Yankees, told Joe he would be a Yankee for life. Steinbrenner was singing a different tune a week ago when he threatened Torre's job if the Yanks couldn't outlast Cleveland, and for a few minutes, it seemed like the Yankee gambit worked.
The Yankees, you see, never really wanted to bring back Joe Torre. Whether the issue focused around the recent playoff failures, something largely — but not entirely — out of Torre's hands, or his ongoing struggles with the bullpen and younger players, the Yankee higher-ups were done with Torre. And we're not even getting into the issues surrounding the way Torre had assumed the mantle of Face of the Yankees, something that really must have irked Steinbrenner.
With this offer on the table, the Yankees could say they tried to keep Torre. They wanted to keep Torre, right? Five million dollars would have made him the highest paid manager in the game. When Torre turned it down, for fifteen minutes, it seemed like the stubbornness of a man trying to exert his power. Who would have sympathy for a manager turning down $5 million — or up to $8 million if the Yanks made it to October and won the World Series — to manage the marquee franchise in baseball? And, hey, we didn't want you back anyway.
But enter Randy Levine. The Yankees team president had some choice words about the Torre situation. "Under this offer, he would continue to be the highest-paid manager in major-league baseball," Levine said. "We thought that we need to go to a performance-based model, having nothing to do with Joe Torre's character, integrity or ability. We just think it's important to motivate people."
That is just tasteless. After 12 years of nearly unparalleled success, including four World Series championships in five season, the Yankees wanted Joe Torre to justify his existence through a performance-based contract. That's simply insulting.
As this news went down, I was chatting with Emma. She summed this up right away. "How would you feel if your boss offered you LESS money to come back next year? You'd tell him to screw off, right?" she said. "Given that 2 or 3 million is basically peanuts to the Yankees, I have to assume this was just their way of saving face. They got rid of Torre, but hey, it's not their fault! They tried!"
Nate Silver expressed some similar thoughts in a BP Unfiltered post:
Nobody with any modicum of self-pride would be willing to accept a 33% pay cut at a late stage of his career, which is what this ultimately amounts to, from a base of $7.5 million in 2007 to $5.0 million in 2008. And nobody with any tangible sense of the randomness inherent to postseason baseball would be willing to give much benefit of the doubt to incentive clauses that are difficult to achieve under the best of circumstances, and which have little to do with one's own performance.

No. This offer was a public relations stunt, designed to make it look as though the Yankees had not put Joe Torre out to pasture. It was not an offer that had any chance of being accepted, nor was it an offer that that had any chance of facilitating future discussions. It was an insulting offer, quite frankly, and a conversation-ender.
In the end, this Joe Torre situation reeks of Bernie Williams. After 16 years in New York, the Yankees told Bernie he could come to Spring Training on a Minor League contract. They didn't work with him to discuss a graceful exit, and they didn't — rightfully so — want to guarantee him a spot on the roster. Now, the Yanks have done the same with Joe Torre, a manager who deserved better.
Who knows where the Yanks go from here? Who knows what happens with Jorge Posada, Mariano Rivera or Andy Pettitte? The A-Rod question is unsettled, but he didn't really love Torre in the end. We'll get to the next manager soon, and we'll probably see another early-1990s revolving door of Bronx managers. And maybe we should dread the future. If this is how the Steinbrenners are going to run the team, we could be on the doorstep of a few ugly years in Yankee baseball history.