Do you know the last time the Yankees won the World Series without a substantial contribution from a left-handed starter? Nineteen forty seven. Nineteen hundred forty seven. More than sixty years ago. The Yanks won the 12th World Championship in franchise history that year; that's how long ago it was. Is that unbelievable, or what?
The greatest Yankee teams fall right in line with its long tradition of great left-handed starting pitchers: Lefty Gomez. Whitey Ford. Ron Guidry. Andy Pettitte. Heck, even guys like Fritz Peterson, David Wells, Dave Righetti, Al Downing and Ed Lopat have their place in Yankee lore. For all the great catchers and center fielders who have marched through the Bronx over the years, the backbone of the franchise has been its left-handed pitching.
Look at the team now. Pettitte is still around and perpetually solid, but he's in the twilight of his career. Chase Wright and Heath Phillips are fringe big leaguers, and Kei Igawa isn't a starter on a championship team. The best the farm system has to offer is Mike Dunn, who is a nice prospect, but hardly a difference maker. After Dunn, you're talking about guys like Angel Reyes, Zach Kroenke, Wilkins DeLaRosa and Phil Coke, who are nothing more than the best of a bad lot. Point is, there's no left-handed pitching help on the way.
The old adage is that you don't draft for need, you draft the best player available, regardless of position. That's a novel idea, but I've always believed that a team should always have their needs in mind when taking a player, especially after the first round. Quite often the best available player is actually a dozen players, all of whom can be considered interchangeable based on talent, bonus demands, pedigree–the total package, basically. This is a situation where you consider your organization's strengths and weaknesses, and draft accordingly.
This year's draft class has a solid group of lefties for the Yanks to choose from, whether your thing is power arms or command-and-control guys. It's unlikely the Yanks will fix their left-handed pitching problem with one draft class, but this is as good a year as any to start refilling the southpaw pipeline. Here are some notables to keep an eye on.
Brett DeVall, Niceville High (Florida)
One of the top prep left-handers in the class, DeVall's drawn significant attention because of his fastball, which sits 89-91 (touching 93) but plays up because he has outstanding command of the pitch. He's also sports a good slider, but his changeup is still is almost nonexistent, not uncommon for dominant high school pitchers. DeVall's a polished pitcher and he has a chance to climb the ladder a bit quicker than most of his peers. He's a big kid with an ideal pitcher's frame (6'4″, 205 lbs), and he's also an alumni of the famed East Cobb Baseball Program, home to some of the very best high school competition out there. Baseball America recently named him one of the Top 30 Prospects for the draft, while Keith Law had him just outside the top 30. (Sorry, subscription's required for both pieces). He's committed to Georgia, although it's unlikely he'll ever make it to Athens.
Christian Freidrich, Eastern Kentucky

Kentucky is not a traditional baseball hotbed, but it has managed to produce the occasional top talent (Brandon Webb and Joe Blanton come to mind) through the years. That's all about to change though, as the region is loaded with legit talent both at the high school and the college level. Freidrich is the banner member of this new talent wave, and is a far better prospect than either Webb or Blanton were at the time they were drafted. Sporting a low-90's sinking fastball and the best curveball in the draft, he's one of the toughest pitchers in the country to make contact off of (108 H and 219 K in 163.2 career IP) and one of the most durable, having never missed a start for the Colonels. In his first start of '08, Freidrich worked over Bucknell to the tune of 5 IP, 4 H, 3 R, 3 ER, 1 BB, 11 K, 1 WP, 1 HB in a 14-inning game that ended in a tie. Freidrich doesn't have the projection that Ross Detwiler had last year, but he's polished and aggressive, a combination that should allow him to rocket through the minors. Unless he gets hurt, it would be an upset if Freidrich dropped out of the first round.
Jarret Martin, Centennial High (Bakersfield)
Another one of the top prep left-handers available in the draft, Martin brings more explosiveness and excitement to the craft than DeVall. He brings the heat at 92-93, and his 11-to-5 power curve is a legit put-away pitch. His changeup is coming along, and he has a good frame (6'3″, 200 lbs) with a fast twitch over-the-top delivery that kinda sorta resembles Scott Kazmir's. Martin has to improve his command-and-control, but only two batters put the ball in play off him in five innings at the Cape Cod High School Classic, which is a testament to the quality of his stuff. Committed to Cal. State-Fullerton, Martin has a chance to go in the first round to a team willing to open its wallet.
Tim Murphy, UCLA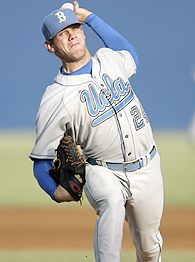 You might be surprised to learn that Murphy isn't even the best lefty starter on his team–that's the uber-projectable Gavin Brooks, who won't be draft eligible until next year. Even though he pitched in high school, Murphy was recruited to UCLA to play the outfield and only ended back up on the mound when the illness of another pitcher created a rotation void. Operating with a 90-92 mph fastball and a power curve that can be unhittable, Murphy racked up a 96-33 K/BB ratio in 76 innings as the Bruins' third starter last year. He's got a good frame at 6'2″, 205 lbs, and went 6 IP, 5 H, 2 R, 1 ER, 3 BB, 4 K against Oklahoma in his first start of '08 Slated to be the team's #2 starter behind Brooks this year, he will be looked up to for his experience and veteran leadership. Murphy could be this year's Nick Schmidt–a sandwich round talent that gets first round attention from teams looking for a safe pick at a bargain price.
Josh Romanski, University of San Diego
Romanski's situation is very similar to Tim Murphy's. He's the second best lefty on his team (lagging behind Brian Matusz, who's a candidate to go first overall), and he was initially recruited to play the outfield. The similarities end there though, as Romanski is a command-and-control guy with four pitches. He's lanky at 6'0″, 175 lbs, and sits at 86-88 with a few 90s. He backs it up with a changeup, (his most reliable pitch), a curveball (his best pitch, when it's on) and another slurvy breaking ball that gets classified as a slider by default. Not that it really matters, but Romanski also plays RF when not on the mound, and bats for himself on days he does pitch. In his first start this year, Romanski got pounded by San Diego State, putting up a 5 IP, 7 H, 8 R, 7 ER, 2 BB, 6 K line, but he still managed to put up the W. I'm a big Josh Romanski fan, and I think he's one of those guys you have to see consistently to appreciate how serious he takes his craft and how hard he battles. Barring injury, he should be a late Day 1 pick (4th or 5th round).
Justin Wilson, Fresno State

Wilson racked up a 1.46 ERA in conference play last year, the best mark in the WAC by more than two full runs. He's similar to Chien-Ming Wang in that he has so much movement on his heavy fastball that he can survive just by throwing it down the middle and letting its natural movement do it's thing. Sitting in the high-80's and touching 92, Wilson can occasionally get himself into trouble when he tries to be too fine and his movement works against him. He rounds out his repertoire with a changeup and a slurvy breaking ball, both of which have plus natural movement. He's a fierce competitor that likes to have the ball in his hand when it matters most, and he's got a knack for making pitches when he needs to. In his first start of the year he went 6 IP, 8 H, 3 R, 1 ER, 1 BB, 3 K, 1 HB in a 4-2 loss to UC Davis. Overshadowed by some of the bigger arms on the Bulldogs' staff (namely RHP Tanner Scheppers, a name you'll know soon enough), Wilson figures to go in the 5th to 7th round range.
I also wanna take a second on do a real quick follow up to the first Draft Preview post of '08, where I looked at some of the top talents which a chance to drop. Of the players mentioned in that post, 3B Pedro Alvarez, RHP Gerrit Cole, RHP Aaron Crow and 1B Eric Hosmer have been confirmed as Boras "advisees." Cross your fingers for Cole, that kid's all sorts of awesome.
If you're interesting in following Alvarez's progress throughout the season, you can check out almost all of Vanderbilt's games this season via their FREE online webcast. The only catch is that it's not compatible with Firefox (IE only), and you need to take two seconds out of your life to create a FREE account first. Okay fine, so that's two catches. But did I mention it's FREE? Big ups to Brian at The College Baseball Blog for the heads up.