"Our first speaker was born in the year 470 B.C., a time when much of the world looked like the Led Zeppelin album Houses of the Holy."
– Ted "Theodore" Logan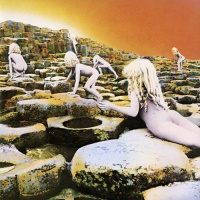 Houses of the Holy is Led Zeppelin's best album. The word "best," of course, is highly subjective; whatever is considered best is usually a matter of opinion and therefore highly disputable. In this case, however, it holds pretty strong. Even the most talented and ambitious bands would have a hard time topping Houses of the Holy with a greatest hits compilation. From Track 1, The Song Remains the Same, through Track 8, The Ocean, the album straight rocks. Not a bad song on it — and I'd go even further and say there's not even a just-decent song on it. When it comes to favorite albums of all time, this one is tops in my book.
On the train ride back to New York yesterday I listened to the album twice. While listening to The Ocean on the walk back to my apartment, I wondered how that album would play out as a baseball lineup. Surely it wouldn't go in order — Song Remains the Same is too powerful to be a leadoff hitter, and there's no way you waste a track like The Ocean hitting eighth. No, such an analysis requires a rearrangement of the tracks.
My only problem was that there are only eight tracks on the album. Eh, so NL lineups have eight real hitters. Just assume the pitcher's hitting ninth.
The criteria wasn't easy to determine. Clearly, the more powerful tracks, including power ballads, are the power hitters. The songs you can listen to over and over and over again are your on-base guys. Faster songs could signify speed, but I wouldn't want to lump slower songs into the slower hitter category, so I didn't take this into account (and really, there aren't any blazing songs on the album anyway). Basically, I listed the songs in order of how awesome I consider them, and then moved them around for nuance — like how The Book looks at lineups. So, without further ado:
1. The Ocean
One of the best rock riffs on the album, if not the very best. True to the statement above about OBP, I've listened to The Ocean more times than any other song on the album, mainly because live versions of it take rocking to a whole new level. It's got power in that it's one of the heavier songs on the album, but it's not a big time power-hitter like the songs you'll see in the Nos. 4 and 5 spots.
2. Over the Hills and Far Away
Even if you're not a Zep fan, you probably know Over the Hills and Far Away. It's one of their most visible songs after Stairway to Heaven (No Stairway. Denied!). You might also know it from douchebag acoustic guitar players who play the opening lick and that's it. Anyway, this is a No. 2 hitter like Mark Teixeira was in The Book analysis. One of the top three hitters on the team, but since it has some power it doesn't lead off. This one obviously has tons of replay value, too.
3. The Crunge
Where's that confounded bridge? This is definitely the weirdest song on the album, and a personal favorite of mine. It's all funk front to back, featuring two licks that repeat throughout (hence Plant asking where is the bridge). Also, the horn/synth on the song sounds so absurd, yet it fits in so so well. The drums are John Bonham at his finest — and that says a lot, since he had one of the best/fastest snare hands in the biz.
4. The Song Remains the Same
This epic track opens up Houses of the Holy, and it really does set the the tone for the album. In fact, in constructing this list I knew right off the bat that Song Remains would hit cleanup. It's a powerful track, featuring plenty of sick Jimmy Page leads, a breakdown into half time, and what is perhaps one of the coolest riffs in rock history (starts at 4:42 on the album track, not on the below-linked live version). Page recalls that it was supposed to be an instrumental at first, but Robert Plant jumped in with some lyrics (he also suggested the breakdown). I had heard somewhere that this was Jimmy Page's response to criticism that he wasn't as good a songwriter as Pete Townsend, but can't find anything to back that up with multiple Google searches.
5. Rain Song
As mentioned in the criteria, power ballad means power, and Rain Song is certainly a power ballad. In my younger days I didn't appreciate the song nearly as much as I do today. It starts off slow, and Zeppelin is supposed to rock, went my immature reasoning. Now, though, it's a song I can get into a groove listening to. It's not overplayed like Stairway, which is a relief because I'd hate to have this song ruined by too much radio play and, again, douchebag guitarists. I can absolutely see Rain Song knocking in plenty of runs in the fifth slot.
6. D'yer Mak'er
This is yet another one you probably all know. It's Zeppelin's foray into reggae, and I'd say it comes out quite successfully. That's another reason I love House: it isn't pegged into one musical genre. It doesn't cover the spectrum like, say, London Calling, but it's not straight blues rockers like Led Zeppelin II (though that's easily my second favorite Zep disc). D'yer Mak'er gets play all over the place, from classic rock stations like Q104.3 to mix stations like 92.3 (sorry for you non-New Yorkers/non-New Jersians). Apparently bassist John Paul Jones didn't dig the track, but he might be the only one. It's one helluva groove. The only difficult part about ranking this song is that I couldn't put it higher.
7. Dancing Days
When I ran the idea of this post by a few people, I got multiple responses of Dancing Days as the No. 2 hitter. If this were a song written by another band on another album, it would probably be a No. 2 hitter, but on this album it's up against stiff competition. It doesn't have the OBP skills of The Ocean, in that I can't listen to it ad infinitum, but it still has a killer lyrical groove. Plus, Page does some excellent work with the lead guitar accents during the verses. Also, the tone he uses for the main riff is something I've never been able to replicate. Bonus points for the synth/organ work.
8. No Quarter
This was an easy designation for the No. 8 spot. It's not that I don't like the song, but it's clearly the worst on an album (again, one good enough to be most bands' greatest hits). The riff is particularly cool, but the song is a slow-paced one and doesn't have the melodic and beautiful acoustic guitar parts to like Rain Song. Still, it's a great listen, and the spot in the batting order is more a function of the rest of the album than it is of this song by itself. After all, someone's got to hit eighth.
If anyone wants to jump in on this, pick your favorite album and put it to a batting order. Don't worry if it has 16 tracks or 8 — though 8 would probably be the minimum.