I love tattoos. Got my first one when I was 18, and then got myself another for my 19th birthday. Then I quit my job to start taking classes full-time and have never had enough of a cash surplus to continue. One day, hopefully soon, I'll start working my way down my arm. This post isn't about me, though, it's about the Yankees pitchers and their ink. Kat O'Brien writes about A.J. Burnett, CC Sabathia, Brian Bruney, and Joba Chamberlain, whose lockers all share a wall, and who all have a number of tattoos.
Apparently A.J. is covered head to toe in ink. Well, except below the elbow; colored tattoos there would mean he'd have to wear long sleeves to pitch. Strangest tatt: a picture of himself pitching on his left ankle. What is he, Steve-O? I suppose the Godzilla tatt makes up for it.
(Also, I did not know that Burnett was in a band with Tim Spooneybarger, which is all sorts of awesome.)
Joba has mostly words — sayings he lives by — tattooed on his body. He claims his entire arm will be covered by next year. Will we see Joba in long sleeves for the rest of his career, or will he be like Burnett and keep them above the elbow?
You might remember Sabathia's tattoos from an earlier post. It looks like he had nothing below the elbow last year in Milwaukee, but now his entire right arm is covered. He keeps a list of loved ones he's lost on his right arm above the elbow.
Finally, Burney. I can't stand the tattoo he has on his forearm. He has 12, so the others might compensate, but man, it's just like the Independent logo. Maybe it's just me, but I think if you're going to get a tatt you don't go pick something off the poster board at the shop.
Just for kicks, here's the one on my left arm.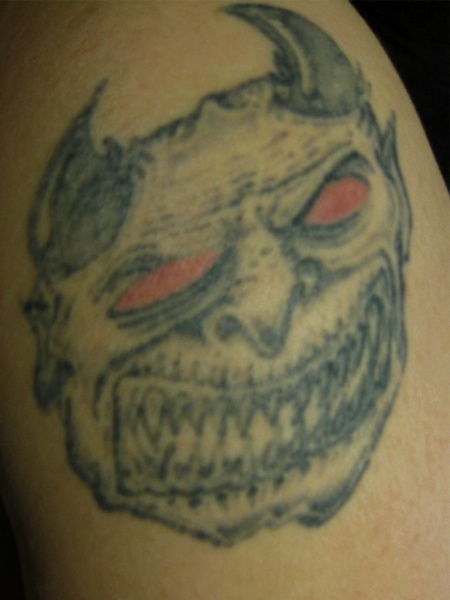 Scary, eh?