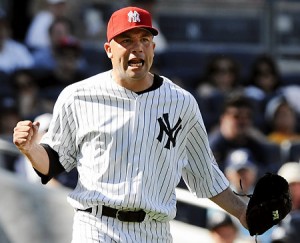 Now that he's been named Thursday's starter, it's time for us to show some love to do-it-all man Alfredo Aceves. He's been called The New Ramiro Mendoza, and his call up on May 4th coincides with the start of the bullpen's turn around. On the date of Aceves' call up, the bullpen's ERA was hovering around 6.50 with a WHIP around 1.50. Since then, those totals have dropped to 4.02 and 1.24, respectively, no doubt thanks in part to Aceves' stellar relief work.
Aceves has allowed just 30 hits and issued 8 free passes in 40 innings of work. He's holding opposing hitters to a .208-.256-.354 batting line, which is slightly worse than Jeff Francoeur's output this season. He's entered games in the 1st, 2nd, 4th, 5th, 6th, 7th, 8th, 9th, 10th and 11th innings. He came in to face a lone righty batter in one outing before picking up a four inning save four days later. His ERA at home is lower than his ERA on the road despite the New Stadium's … ahem … fondness for hitters. Only 16 of the 156 batters he's faced have worked the count full. He's performed his best with that horrific game caller Jorge Posada behind the plate. Simply put, Aceves has been everything the Yanks could have ever asked for, and then some.
So spill your guts here, folks. Tell us how much you love The Mexican Gangster.
Photo Credit: Ray Stubblebine, Reuters