After a dreadful three-plus weeks, Nick Swisher finally showed signs of life offensively last night, when he doubled down the line to start a rally in the fifth and tacked on another run with a solo job an inning later. Astute observers noticed that Swish had changed up his stance since we last saw him, and here's the visual evidence to prove it: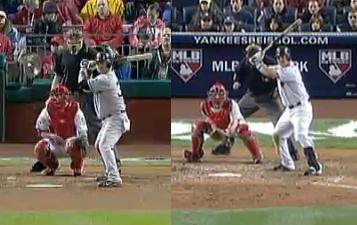 The clip on the left is from the homer at-bat in the 6th last night, the clip on the right is from his 8th inning at-bat against Scott Kazmir in Game 6 of the ALCS. You can't see it from the still photos, but there's less movement in his hands. You can see that he's closed up however, which in theory gives him a better chance on pitches away.
Kenny Rosenthal notes that hitting coach Kevin Long said this is just the first step of a "major overhaul" that will continue into the offseason.
The idea, Long said, is "to eliminate movement, put yourself in better position to react to the baseball.

"Everyone knows he is a great fastball hitter," Long continued. "They've been trying to off-speed him to death. When you have a lot of motion — he has a toe tap and also a long stride — pitches are tough to see, tough to react to."
Of course, the pitch Swish hit last night for the double was a curveball down and on the inner half, but the homer came on a fastball away. Did his new closed stance allow him to reach out and tag that pitch? Maybe. Either way, let's hope Swish keeps hitting for the next five days.