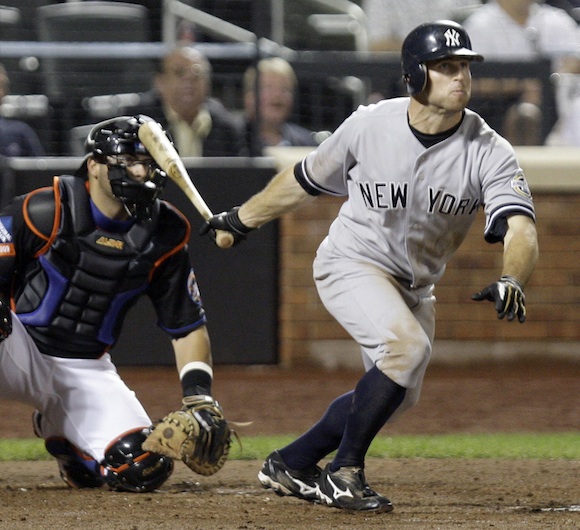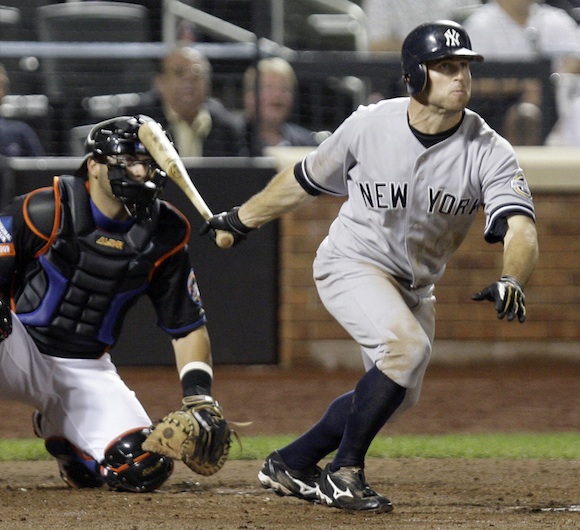 Brett Gardner follows through on an RBI triple during the ninth inning of a game against the Mets. (AP Photo/Frank Franklin II)
As the Yankees gear up to enter the 2010 season with Brett Gardner as one of their left field options, a divergent opinion on Gardner's ability has emerged among Yankee fans. As I wrote on Friday morning, Gardner is not, as many proclaim, the next Bubba Crosby. Yet, some see his approach to the plate as a sign that the slap-hitting lefty, despite a .388 minor league on-base percentage, won't excel at the Major League level.
One comment, in particular, is representative of what many believe to be Gardner's shortcomings. Said Dalelama, "Let me end the suspense—Gardner sucks. But takes the prettiest third strike down the middle of the plate. Nobody leaves the bat on the shoulder like Brett."
So we ask a question about Brett Gardner: Does he strike out too often and does he look at too many pitchers? First, some numbers: In his first 425 plate appearances, Gardner has struck out 70 times and 28 of those are of the looking variety. In 2009, his first full year in the Majors, he struck out 40 times in 284 plate appearances and 12 — or 30 percent — of those were looking. For his career, Gardner has struck out in 16.5 percent of his plate appearances but just 14.1 percent in 2009.
Overall, Major Leaguers struck out in 17.5 percent their plate appearances in 2009 and in 16.9 percent of the time in 2008. For now, it seems, Brett Gardner is around average when it comes to strike outs. For comparison's sake, Mark Teixeira struck out in 16.1 percent of his plate appearances but 43 of his 114 strike outs — or 37.7 percent — were looking. Teixeira is a different type of hitter than Gardner is, but the point is that we shouldn't put too much emphasis on those strike outs, looking or swinging.
Of greater concern is Gardner's approach at the plate. We want Brett Gardner to be swinging at strikes and taking pitches out of the strike zone. As simple and obvious as that sounds, that is one of the more challenging tasks a hitter faces. Chris Harihar at iYankees ran the numbers and found that Gardner seems to have a good batting eye:
According to FanGraphs' plate discipline data, Gardner swung at only 17.2% of the pitches that he saw off the plate. Believe it or not, when compared to eagle-eyed sluggers like Nick Swisher, Mark Teixeira, Alex Rodriguez, and Hideki Matsui, Gardner actually swung at fewer pitches outside of the zone than any other player on the Yankees. Interestingly though, while Gardner did not swing at balls, he also did not swing at many strikes. Last season, the speedy outfielder swung at 50.7% of the pitches thrown to him that were in the strike zone (the team average was 64.6%). The percentage stands as the lowest in-the-zone swing mark of any Yankee last season. All in all, Gardner swung at 34% of the pitches he saw, which was, again, the lowest percentage of all the club's hitters…

In addition, when actually swinging at pitches that were either in or out of the strike zone, in 2009, Gardner was actually very good at making contact. When swinging at a ball, the left/center fielder was rather Cano-esque, making contact 75.5% of the time. Furthermore, when swinging at a strike, Gardner made contact 91.9% of the time.
So here we begin to see the problem. Gardner has a very good eye for pitches outside of the strike zone but he seems to be a bit too discerning with pitches inside the zone. He took a lot of strikes — nearly half of them in fact — and seems to have earned a reputation as a player who will take too many pitches.
In the end, we see that Gardner's reputation as a looker isn't undeserved, but he's not quite a strike out machine. For him to succeed in 2010, he'll have to keep that K rate where it was last year or at least where it averages out for his career. If he's striking out 21.3 percent of the time as we he was in 2008, he will have to be walking a lot more, but if he can strike out around 16 percent of the time and swing at a few more pitches within the zone while maintaining his contact rate, he could be an effective nine hitter and a speed threat on the bases.