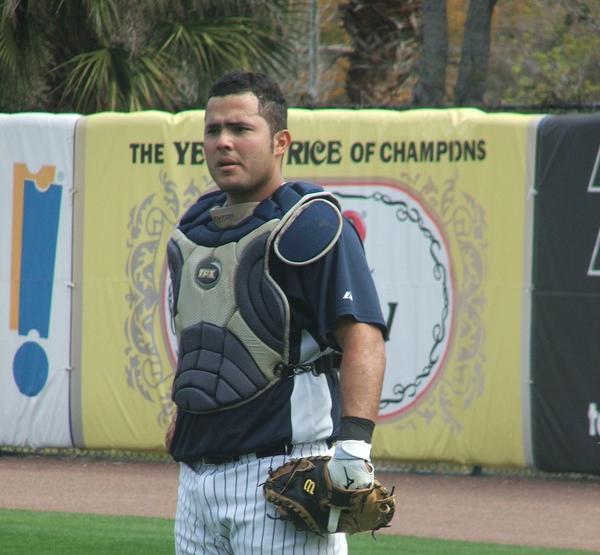 Early on in camp this year, the story to end all stories has been uber-prospect Jesus Montero. A career .700-.750-1.400 hitter in big league Spring Training, he has already made a big impression with his batting practice showings this year despite being in camp for just over a week. He's going to begin the 2010 season as the everyday catcher for Triple-A Scranton, though it's still hard to believe that through his age-19 season, Montero is a .325-.379-.509 hitter in 1,071 minor league plate appearances despite reaching Double-A.
PECOTA pegs Montero as a .299-.352-.498 hitter with 23 homers if given 528 plate appearances in the big leagues next year, which is obviously an extremely optimistic projection. For comparison's sake, Jorge Posada has matched that OBP and SLG in a single season just three times in his career. "He's going to hit," said one evaluator that Buster Olney spoke to. "There's no question about that. Some guys just know how to hit; he's like that." Yeah, he's going to hit, but not like that this early in his career.
Of course, Montero's bat was never the question, defense in. Olney discussed some of the things the Yankees are trying to help Montero become a passable catcher, including a unique set of throwing mechanics. Instead of popping up on both feet and firing to second, bench coach Tony Pena and the Yanks have him keeping his right foot in place while taking a short stride with his left foot. It sounds awkward, and I tried it a handful of times in my living room while writing this post, and it's definitely not a natural feeling. (Disclaimer: I'm most likely less athletic than Montero). Basically, the only way someone could pull this off consistently is if they have a strong arm, which Montero does.
I'm not sure how long he's been throwing like this, however he did thrown out 32% of attempted basestealers during his Double-A Trenton stint last season. Of course, he caught a grand total of 33 games for the Thunder, so this is statistically insignificant. Montero's thrown out just 23% of all attempted basestealers during his career, but that number isn't trustworthy at all because the Yanks don't emphasize their pitchers holding baserunners at the A-ball level and below. Frankly, we just don't know how well this has/will work.
The consensus is that Montero will not be a catcher moving forward. However, the Yankees are coming up with creative ways to make it work back there, even if it's just for the time being. It's not often catchers jump right into the big league lineup full-time as rookies, so all the Yanks will need Montero to do for the next few years is be able to fake it back there two or three times a week. The bat is so special, none of us will mind the defense.
Photo Credit: Bryan Hoch, MLB.com