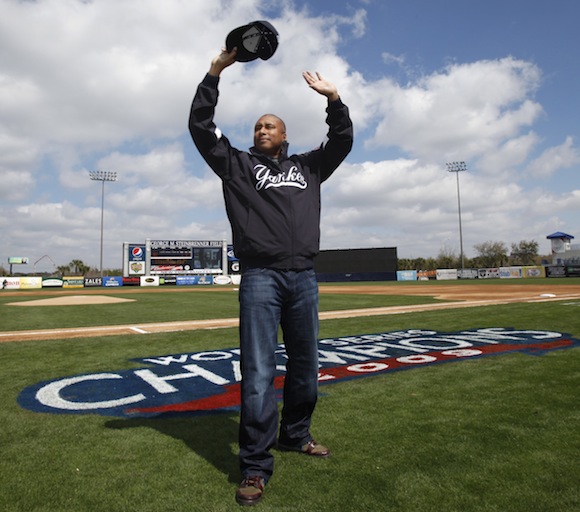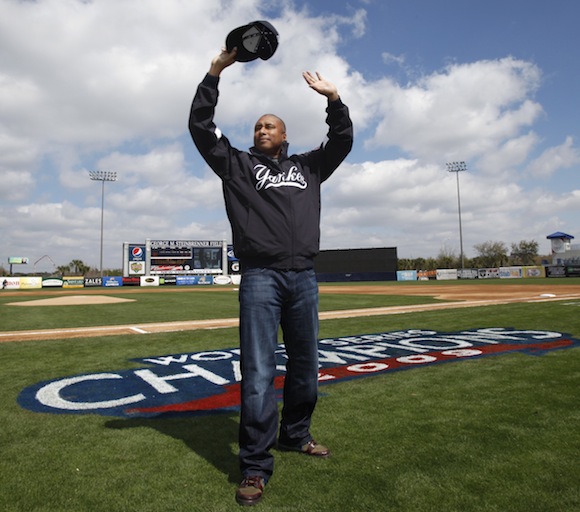 AP Photo/Kathy Willens
Bernie Williams hasn't played in a regular season game for the Yankees since Oct. 1, 2006. He went 1 for 1 as a pinch hitter in Game 162, and then played in just one game during the ALDS. He knew he was nearing the end of his career, but he couldn't convince the Yanks to give him a guaranteed deal. The team offered to invite him to Spring Training, and Bernie went home to nurse his wounded pride instead.
Now, three full seasons removed from his last game as a Major Leaguer, Bernie still feels the itch, and when he showed up at George M. Steinbrenner Field yesterday, he spoke with reporters about coming to grips with his forced retirement. "Someone said it takes a player three to five years to get used to not playing," Williams said. "I'm in my fourth year now, so I'm right between there. I miss it, but I like what I'm doing."
Bernie is 41, but he still thinks about coming back. "I think mentally I try not to really think about that too much," he said. "I go through periods of time within the past couple of years in which I go back and forth, and this doesn't help, being here and saying hi to the guys. It obviously brings a lot of the old feelings back, but I know that I'm doing something worthwhile in another field. Any way that I look at it, I can't lose. If I come back, that would be great. But if I don't, it's just a great opportunity to do something different and try to excel at it."
As much as he may want to rejoin the Majors, Bernie's time has passed. I hated seeing Bernie go fading away as he did, and it still pains me to hear my one-time favorite talk about wanting to come back. He tried that during the WBC in 2009 and ended up with a quad injury. It was an ignoble end, to say the least.
But what's done is done. Instead of dwelling on Bernie's tortured present, let's look at his distant past. As a top Yankee prospect in the late 1980s and early 1990s, Bernie was subject of more trade rumors than we could count. Scouts knew he would be good, but they couldn't foresee his peak from 1997-2001 when he hit .325/.411/.548 and led the Yanks to four World Series berths. And so into the Wayback Machine we go.
Would you, in 1989, have traded Bernie Williams for Jeff Blauser? That's what the Braves wanted to do. Blauser, then a highly-coveted 22-year-old, had just made his Major League debut and would go on to put up serviceable career numbers. He hit .262/.354/.406 and twice made the All-Star team. A deal was nearly in place that may or may not have involved Bernie.
Here's a more intriguing rumor: What about Barry Bonds and Bobby Bonilla for Bernie Williams, Kevin Maas, Roberto Kelly Jesse Barfield and a pitcher? It's a bit tougher to say "no" to Bonds. The Yanks maybe could have landed Bonds and Bonilla in a deal with Gerald Williams instead of Bernie. A Bonds/Bernie outfield would have been a sight to see in the late 1990s.
Perhaps something a little more recent would give us a taste of life almost without Bernie. The Yanks and Bernie nearly split up in 1998 when the team moved on Albert Belle after Bernie's contract demands grew too rich for their tastes, but that almost-divorce, rescued on Thanksgiving Eve, had its origins in the 1997 off-season. With Bernie nearing free agency and the Yanks not in love with their enigmatic almost-superstar, the team looked to trade him that winter and nearly did so to the Tigers. The deal would have sent Roberto Duran and Mike Drumright, Detroit's number one pick in 1995, to the Bronx for Bernie.
Why the deal was scuttled remains a mystery. Murray Chass speculated that (1) George quashed a deal then-GM Bob Watson negotiated on his own; (2) other baseball advisers didn't feel the Yanks were getting enough back from the Tigers; or (3) it was a negotiating ploy to get Bernie to lower his demands on the Yankees. No matter the reason, it would have been a disastrous trade for the Yanks. Drumright never reached the majors and today works in construction in Wichita, Kansas.
So Bernie remained that ever-elusive Yankee for Life®. He's trying to give up the sport, but it just keeps sucking him in. Even if his words make me wince today, I, for one, am quite relieved the Yanks never traded him as they often considered doing.