When Alex Rodriguez hit his 600th career homer on Wednesday, it was just another memorable moment in a career full of them. One of Alex's most infamous moments came during Game Four of the 2007 not for his actions on the field, but off it. That's when he (and agent Scott Boras) announced that he would be opting out of the final three years of his contract, allowing A-Rod to test the free agent waters. Coming off an MVP season in which he hit 54 homers and led the world with 9.2 WAR, it was a massive blow to a team looking old and on the way down.
We all know what happened next. A-Rod eventually re-signed with the Yanks, agreeing to the richest contract in baseball history, then went through a series of ups and downs en route to present day. But in the wake of his down season and all the talk about how the final seven years of his contract will play out, I got to thinking: what if A-Rod never opted out of his contract?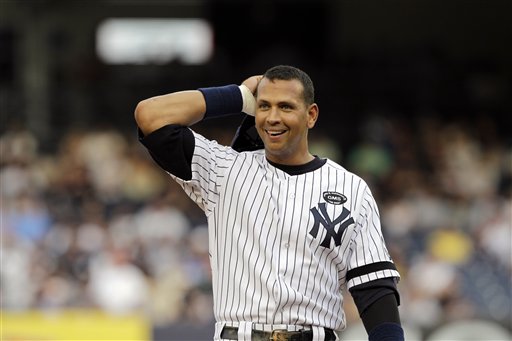 Let's assume for a second that Alex never opted out of his contract and everything went on to play out in exactly the same way that it did. The Yankees miss the playoffs in 2008, win the World Series in 2009, and do whatever they end up doing in 2010. Then after the season A-Rod's original ten year, $252M contract with the Rangers expires, and he hits the open market as a free agent along with Derek Jeter, Mariano Rivera, and some lesser Yanks. Let's think about this for a second.
A-Rod would have won at least two MVP awards and one World Championship with the Yanks. He also would have dealt with the public humiliation of being ousted as a performance enhancing drug user plus numerous other off-the-field moments frowned upon in the court of public opinion. On top of all of that, we're talking about a 35-year-old third baseman with hip trouble coming off what is on pace to be the worst full season of his career. Would the team be looking to re-sign him after the season, and if so at what cost? Perhaps the best way to look at this is to look at the alternatives.
The best of a bad free agent crop of third baseman is Adrian Beltre, who is having a simply fantastic season up in Boston. At 5.0 WAR he's been one of the six most valuable position players in all of baseball this season, and will surely be looking for more than the one year, $10M player option he'll inevitably decline to become a free agent. Another multi-year deal worth upwards of $12M per like the one he signed with the Mariners a few years back isn't out of the question for the 31-year-old. Lesser free agent options include Jorge Cantu, Pedro Feliz, Mike Lowell, and Ty Wigginton.
We can't know for sure who will be available in trades, but the Yankees are never afraid of going big game hunting. They would have the option of making a huge (and likely unsuccessful) play for Ryan Zimmerman, but more reasonable targets include Kevin Kouzmanoff, Mark Reynolds, Alex Gordon, and Jose Bautista. All have their pros and cons.
There's also not much on the way internally. Ramiro Pena obviously can't cut it as everyday player, and the other top candidates – Kevin Russo and Eduardo Nunez – are untested as regulars at the big league level. Brandon Laird was just promoted to Triple-A and is having a monster year, but at 22-years-old is he ready to go from his first Double-A at-bat to his first Major League at-bat in the span on 12 months? When is the last time the Yankees did something like that?
It's worth mentioning the possibility of re-signing Jeter, moving him to third and acquiring another shortstop would exist. The free agent market is barren on that front (Orlando Cabrera, Edgar Renteria, and Juan Uribe represent the best of a bad lot), the trade market is uninspiring (Brendan Ryan, Stephen Drew), and it's the same story as above with the internal options. Clearly, there's basically no way the Yankees would be able to replace A-Rod's production this offseason unless they were to spend big on Beltre.
I'd like to get a discussion going in the comments about what everyone things the Yanks would do in this hypothetical world where Alex never opted out of his contract and was set to become a free agent after the season. Knowing what we know now, my guess is that the Yanks would look to bring him back at a reduced price, something like $13-15M a year for three or four years. Still enough to make him one of the highest paid players in the game, but more in line with his current production level. A-Rod's unlikely to find that kind of money elsewhere, and hey, if he means all this stuff about loving his teammates and being happy to be with this organization, he'd take it.
Anyway, tell me what you think. The more I think about this, the more complex it seems to get.