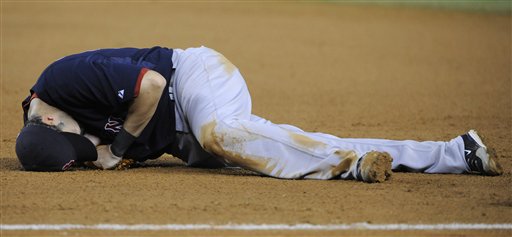 The Yankees failed to move any closer to securing a playoff berth last night, and they haven't made any progress on that front in the last few days either. It's time for that nonsense to stop. Yes, resting players is important, but it would be nice to win a damn game and actually clinch something first. Cut the crap and come to play. For my sanity.
Here's the starting nine…
El Capitan, SS
Swishalicious, RF
Texual Healing, 1B
A-God, 3B
RBInson, 2B
Mr. Thames, DH
Austin Powers, LF
Grandyman, CF
You Got Cerv'd, C
And on the bump, it's Ivan Manuel Nova.
First pitch is scheduled for a little after 4pm ET, and this gem will be on FOX. I don't think the Yankees have won a FOX Saturday game against the Red Sox since Bump Hadley outdueled Rube Walberg a few days before the Hindenberg burst into flames. Yeah, it's been a while. Try to enjoy the game.