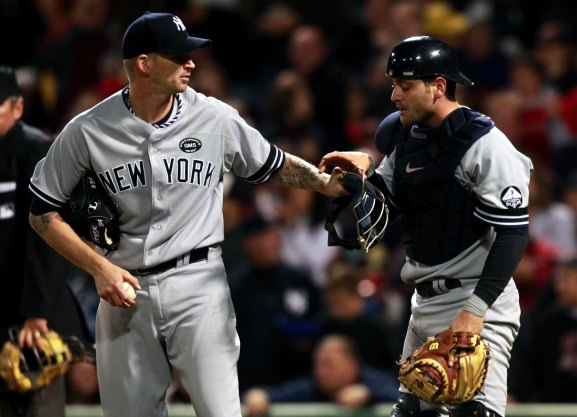 When he was standing on the mound, Burnett did not have his worst game. He got through six innings and allowed four runs, three earned, while striking out five and walking just two. That's not a $17.5 million performance, but with the way Burnett has pitched this season it was a welcome one. What wasn't welcome was a sequence that needlessly cost the Yankees a run.
I understand that the ump was indecisive with his call. The first thing they teach you, at the lowest level of umpiring, is to make your calls quickly and decisively. The first base ump delayed a bit, which might have caused some confusion. And yes, the runner very well might have been out. A few replay angles made it look that way. But none of that excuses Burnett losing focus of the still-live play. Not only did Daniel Nava score, but Josh Reddick advanced all the way to third with none out.
Thankfully Burnett did come back to strike out the next two hitters before getting Eric Patterson to line out to short. But even that wasn't without sloppy play. Francisco Cervelli dropped a pop-up, which would have made for a nice, easy out with the runner on third. That inning had the potential to be quite a bit worse, but the one run ended up being the difference.
One decision that came back to bite Joe Girardi was sticking with Royce Ring. Playing match-up is one thing, but doing it with a AAA lefty is another. He did his job by retiring J.D. Drew to end the seventh, and with four lefties coming up I suppose I understand the desire to leave him in. But after he walked the pinch-hitter Jed Lowrie I'm not sure I'd leave him in. That's probably second-guessing, though. In any case, Ring just gave up another single, but that set up the Red Sox to score two runs in the inning, tying the game.
The second run was of the most inexcusable kind. With one out and runners on first and second Ivan Nova pitched around pinch hitter David Ortiz and loaded the bases. That brought up No. 9 hitter Kevin Cash. Walking a guy with the bases loaded is already one of the most frustrating outcomes in baseball. This was the No. 9 hitter, a guy who has a .246 OBP this year and a .248 OBP lifetime. Yet Nova walked him. It induces hair-pulling and brick lobbing.
For the second straight game the Yankees had plenty of chances with runners in scoring position, but came up with a hit in just one of 16 chances. To which I say: eh. It happens sometimes. The A lineup wasn't in, so a poor or slumping hitter was just a couple of batters away at all times. The game would have been much more frustrating, though probably a bit quicker, had they gone, say, 1 for 3 with RISP.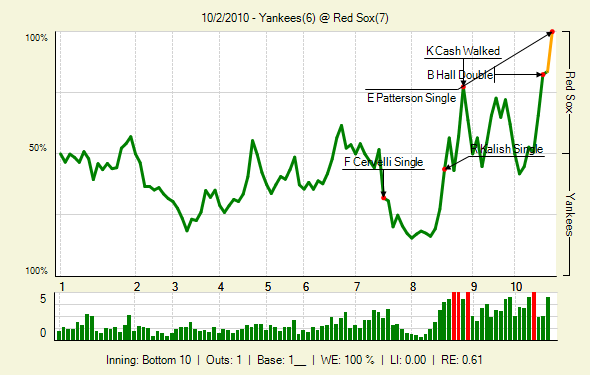 Here's the WPA stuff and here's the box score.
It now takes a Tampa Bay loss for the Yankees to win the East. I don't think it's a big deal either way. Home field is nice, but not necessary. The Yanks will hand the ball to Dustin Moseley, while the Sox will have John Lackey make one final start in the 2010 season.