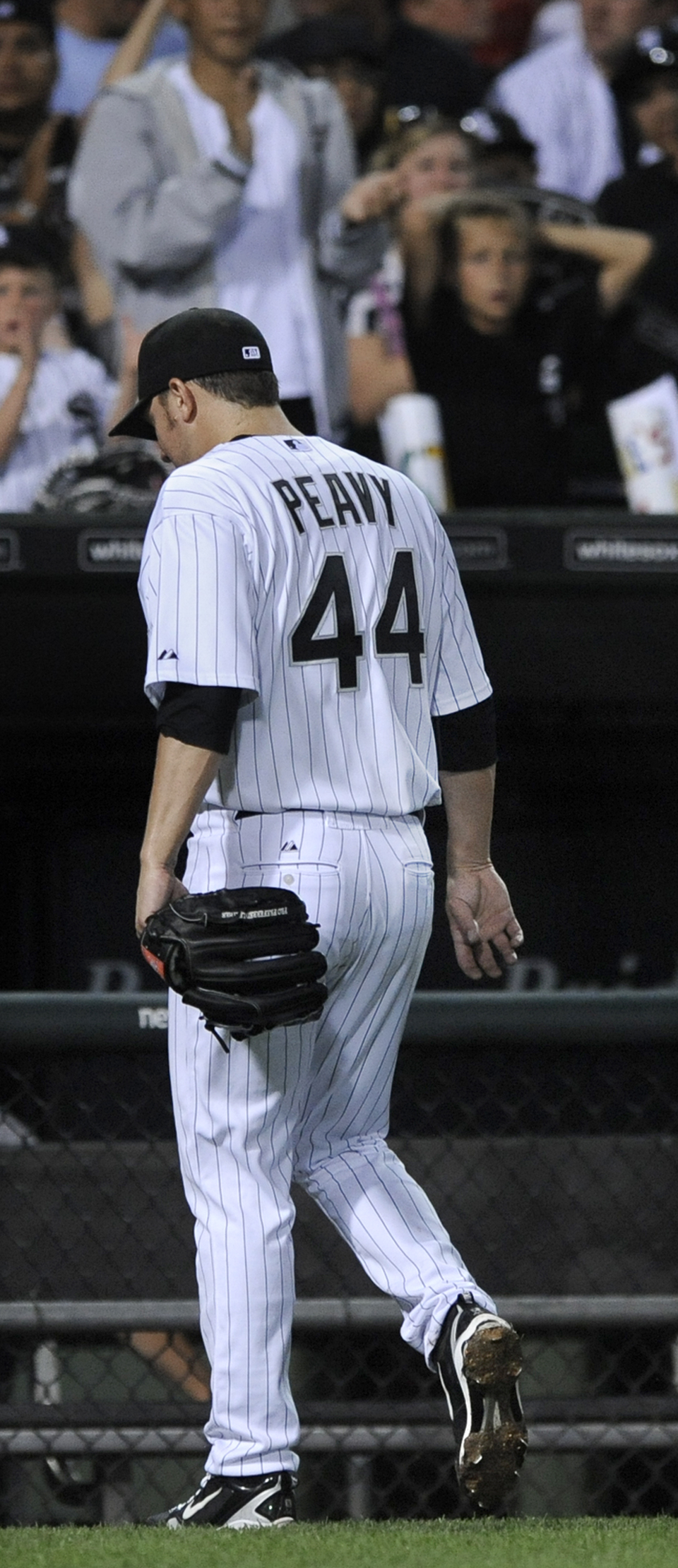 On July 6th, 2010 Jake Peavy threw a 94 mph fastball off the outside corner to Mike Napoli.  He then grimaced in pain, held his pitching arm awkwardly, and took himself out of the game.  You can see the video of his injury here.  Peavy had detached his lattisimus dorsi, a broad muscle in the back, and soon underwent season-ending surgery to reattach the muscle.  At the time Will Carroll described his injury accordingly:
Peavy has pulled the muscle out at the insertion. That's the point where it connects to the upper arm, as seen here. It's not the best comparison, but if you've ever broken down a chicken, this is very similar, though obviously there's a size (and species) difference. It's the same kind of muscles and tendons that are pulled apart when taking the wings off before adding the delicious sauce.
Despite the gravity of the injury, Peavy's surgery went well.  Nearly two months later Carroll updated readers on the status of Peavy's injury, saying:
Remember when Peavy tore the muscle off the bone in his shoulder? He had the surgery back in early July and he's making good progress. While he's a ways off from throwing, he's been cleared to begin a more involved rehab process including lifting weights and range of motion. Peavy is on track to be on a "normal" throwing program in January leading up to spring training.
The latest update, via CBSSports.com, is that Peavy is on track to begin a throwing program in early January.  White Sox GM Kenny Williams hasn't put a timetable on Peavy's return, but has also stated that he doesn't expect him back for the start of the season. There's a lot of runway between now and when Jake Peavy returns to the mound for the White Sox, but there is reason for Yankee fans to hope that he recovers in full.
Heading into the 2011 season, the White Sox may have the rare luxury of having more starters than spots in the rotation.  Along with Jake Peavy they boast Mark Buehrle, Gavin Floyd, John Danks and Edwin Jackson.  They also have the option of using Chris Sale in the rotation.  Sale is a rail-thin hard-throwing lefty drafted by the White Sox in the first round of the 2010 draft.  He spent time in Chicago's bullpen last summer, but is a starter by trade. Having Sale and a healthy Peavy may enable the White Sox to deal another one of their starters to fill holes elsewhere or to free up salary.  In fact, the White Sox seem to be thinking along the same lines.  Jon Heyman indicated as much in his Offseason Winners and Losers column a week ago, saying: "They flirted with the idea of trading Gavin Floyd, but appear to have decided they don't want to touch their rotation until Jake Peavy returns."
Before Cliff Lee broke our collective hearts and signed with Philadelphia, Mike reviewed Gavin Floyd as a possible alternative to signing Lee, concluding that Floyd would be an excellent Plan B.  Unfortunately, he noted that there were two big obstacles to the Yankees acquiring Floyd: the potential needs of the White Sox and the timing of the deal.  Mike wrote:
The problem I see is that the two teams don't really line up for a trade. Williams asked the Rockies for third baseman Ian Stewart in return and the Yanks simply don't have that kind of bat to give up. The ChiSox already have a speedy singles hitter in Pierre so Brett Gardner doesn't do much of anything, and you know they won't want Nick Swisher back. That leaves Curtis Granderson, but I can't imagine the Yanks will cut bait on him so soon after all the progress he made late in the season. Based on the present construction of their team, the White Sox are trying to win now, so a bunch of prospects probably won't cut it. I just don't see how this would work from where I sit, but KW likes to do crazy stuff, so maybe he figures out a three team trade or something. I'm not sure if the timing will work out either, meaning the ChiSox might want to act and make a trade before Lee is ready to sign, but that's the nature of the beast.
Fortunately, the question of when the White Sox may look to deal Floyd now appears more advantageous for the Yankees.  Cashman's stated plan is "patience", and if Andy Pettitte returns he might not attempt to do anything with the rotation until June or July.  The same questions regarding the White Sox's potential needs still linger, though, despite a busy offseason.  This winter the White Sox have solidified their lineup with Konerko and Adam Dunn, and strengthened their bullpen by inking relievers Jesse Crain and Will Ohman to multiyear deals.  Despite that, the team has a few holes. They jettisoned Bobby Jenks, and it wasn't a pretty ending, leaving Matt Thornton as the putative closer.  They've been linked to Rafael Soriano, but he appears to be out of their price range for now.  Their biggest hole remains at third base. Prospect Brent Morel has the inside track on the job, with Dayan Viciedo and Mark Teahen behind him on the depth chart, but it's possible that Morel's bat may not be strong enough for the position.  If so, the Sox may be looking for a replacement.
All told, a healthy Jake Peavy may enable the White Sox to deal one of their starters this summer.  Yet it's difficult to handicap how the White Sox roster, and the trade market this summer, will firm up.  An unexpected injury could change everything.  This is the price of needing to find players on the trade market rather than acquiring them as free agents: you become increasingly reliant on the relative health, performance and goals of other organizations.  There is little that Cashman could have done differently, but it doesn't change the fact that whether Gavin Floyd becomes available in a trade later this year may hinge simply on how well Jake Peavy's lat muscle heals.
By way of introduction, my name is Stephen and I'm very excited to join the River Ave Blues weekend crew.  The best way to contact me is via my Twitter account or by email (stephen dot m dot rhoads at gmail).