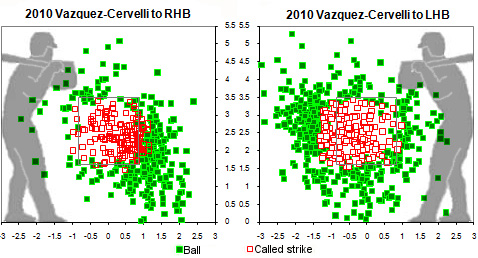 There's no better PitchFX analyst than Mike Fast, and today he used to the data to look not at pitchers, but catchers. The graph above shows Javy Vazquez's called balls and strikes from last season when Frankie Cervelli was catching. It's not terribly exciting by itself, but it is when you compare it to this graph that shows the same thing with Jorge Posada behind the plate (here's a gif for easy comparison). Yeah, big difference. Jorge's pitch-framing abilities have long been in question, but now we've got some hard evidence showing just how questionable they were.
Of course, we are looking at a small sample size of data, let's keep that in mind. Cervelli caught 110.2 of Javy's innings last year, Posada just 44.2. And we also have to remember that umpires tend to make mistakes, especially when they're looking over the catcher's shoulder and the ball is on the corner of the other side of the plate. I'm not making excuses for Jorge, because he's bad at pretty much everything behind the plate these days, just making sure you're aware of what's going on. Anyway, Posada's not going to do much catching this season, so it's no longer a concern.
My favorite graph from the post was this one, showing pitch location (horizontally) by age. The older the pitcher, the further away from the middle of the plate they pitch (denoted as 0). If only they knew then what they knew now, eh?
The article does not appear to require a Baseball Prospectus subscription, so now you really have no reason to check it out. Great stuff from Mike.